Trump Campaign Already Selling 'Fill That Seat' Shirts Following Ginsburg's Death
President Donald Trump's re-election campaign is already selling merchandise that references the newly vacant U.S. Supreme Court seat, which Republicans are eager to fill with Ruth Bader Ginsburg's replacement.
Ginsburg, the jurist whose legislative positions and personality earned her widespread renown in political and cultural spheres, passed away on Friday at the age of 87.
Conversation about who will take over Ginsburg's spot on the Supreme Court bench, and when they will be appointed to do so, surfaced shortly after her death. Seeing an opportunity to appoint a third Supreme Court justice nominee during Trump's first term, GOP lawmakers are looking to facilitate a nomination prior to the general election. Democrats are advocating to delay a new justice's appointment until after November 3.
Echoing chants heard during a Trump campaign rally in North Carolina on Saturday, the president's re-election campaign released a T-shirt with the phrase "FILL THAT SEAT" printed across the chest to its online store. The phrase sits between a graphic depiction of the White House and Trump's "Make America Great Again" campaign slogan in smaller lettering.
Trump's campaign unveiled the garment late Saturday night. Earlier, the president suggested he would appoint a new justice to replace Ginsburg next week in comments to reporters, according to The New York Times.
"We were put in this position of power and importance to make decisions for the people who so proudly elected us, the most important of which has long been considered to be the election of United States Supreme Court Justices. We have this obligation, without delay!" Trump tweeted on Saturday morning, tagging the Twitter account associated with the GOP Party.
On Friday, Senate Majority Leader Mitch McConnell, a Republican, said he is planning to allow the Senate to confirm a Trump appointee through an upcoming floor vote, despite blocking the same proceeding after Justice Antonin Scalia's death in 2016. At the time, he argued that U.S. voters should have a say in Scalia's replacement by way of their presidential pick.
Leading Democratic lawmakers, notably Senate Minority Leader Chuck Schumer, adopted the same argument in the wake of Ginsburg's passing.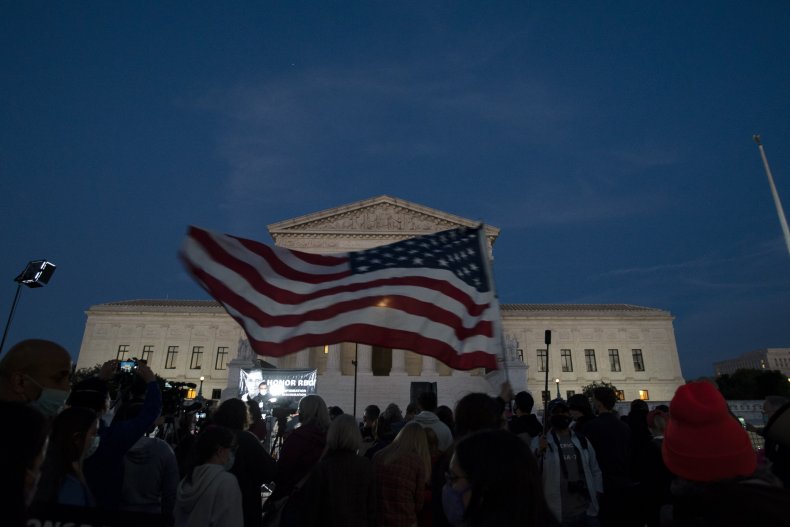 "The American people should have a voice in the selection of their next Supreme Court Justice," Schumer tweeted on Friday night. "Therefore, this vacancy should not be filled until we have a new president."
Newsweek reached out to the Trump campaign for comments, but did not receive a reply in time for publication.
Correction 8:29 PM ET: to fix a typo in Ruth Bader Ginsburg's last name in an earlier version of this story.