Trump Campaign Bans 'QAnon Attire' at North Carolina Rally
President Donald Trump's campaign banned supporters at a North Carolina rally from wearing clothing promoting the QAnon conspiracy theory on Wednesday.
As Trump supporters entered the president's campaign rally in Gastonia, North Carolina, they were greeted by a man apparently working for the campaign, who warned them that "QAnon attire" was among the list of items prohibited at the event, according to a short video appearing online.
"No signs, no e-cigarettes, no vapes," the man says in the video. "No pocket knives, no clothing with any obscenities, no QAnon attire."
The video does not show attendees reacting to the announcement in any significant visible way. A woman attending the rally told NBC News that she was "denied entry because she was both wearing a QAnon shirt and smoking a cigarette" but it is not clear if the policy resulted in any other people being turned away.
The evidence-free QAnon theory has been gaining in popularity among Trump supporters since it first emerged in 2017. Adherents have frequently been seen outside Trump events espousing the conspiracy while carrying signs or wearing clothing promoting it.
QAnon baselessly claims that leading Democrats and Hollywood "elites" control child sex trafficking rings, while sometimes engaging in implausible and grotesque activities, including eating babies. Trump is said to be secretly fighting the sinister plot, with a mass arrest of the alleged perpetrators, known as "the storm," predicted to occur at any moment.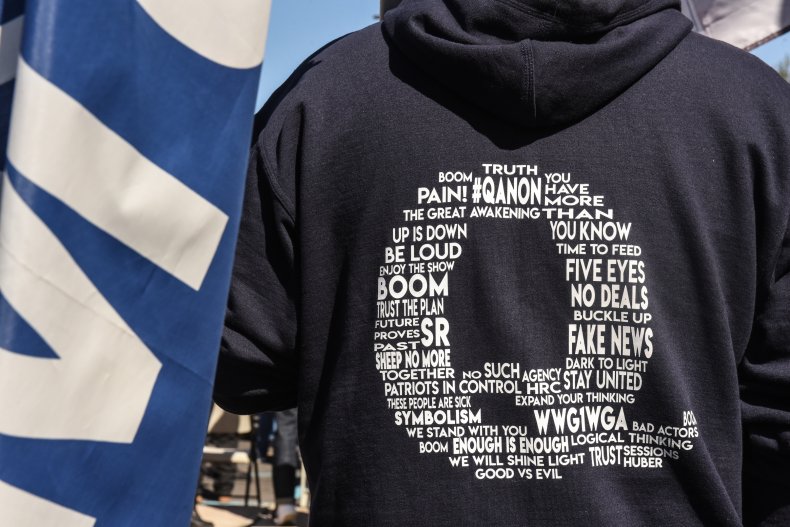 The conspiracy is based on anonymous postings to online anonymous messaging boards from a purported government informant known as "Q." It is not clear that Q is single person. Regardless of the source of the information, they almost certainly do not have access to any kind of insider government knowledge, as Q repeatedly makes predictions that are later proven to be false.
While the conspiracy has not received a full endorsement, believers have been buoyed by recent statements from the president, including his refusal to disavow it and his praise for those who believe it as people who "love our country very much."
The president has repeatedly claimed to be completely ignorant about the conspiracy when asked to comment on it, while also appearing to take care to praise and defend its adherents, who are among his most vociferous supporters.
"I know nothing about it," Trump told NBC moderator Savannah Guthrie during his town hall event last week. "I do know they are very much against pedophilia. They fight it very hard. But I know nothing about it."
Despite the claims of QAnon being highly questionable, a Yahoo/YouGov poll released Monday found that 50 percent of Trump supporters believed the conspiracy's central claim, that prominent Democrats are secretly controlling child sex trafficking rings. Only 17 percent questioned it, while 16 percent were willing admit that QAnon is "an extremist conspiracy theory with no basis in fact."
Newsweek reached out to the Trump campaign for comment.