Trump Campaign Paints Biden, Harris As Radical Liberals. But Voters Disagree
Democratic presidential nominee Joe Biden and his running mate Kamala Harris are viewed as more moderate than President Donald Trump and Vice President Vice Pence, despite repeated efforts to paint the challengers as radical liberals.
New polling data released by Morning Consult on Wednesday found that voters are more likely to see Trump and Pence as "very conservative" than they are to view Biden and Harris as "very liberal."
Asked to rate the 2020 presidential candidates on a sliding scale of 1 to 7, with 1 representing "very liberal" and 7 being "very conservative," voters gave Harris a rating of 2.5 and Biden a ranking of 2.7—putting the pair within 1.5 points of the "moderate" midpoint rating of 4.
Trump and Pence were further away from the moderate ranking, with the president given a 5.8 ranking on the conservative side of the scale while his vice president came within 1 point of the "very conservative" rating.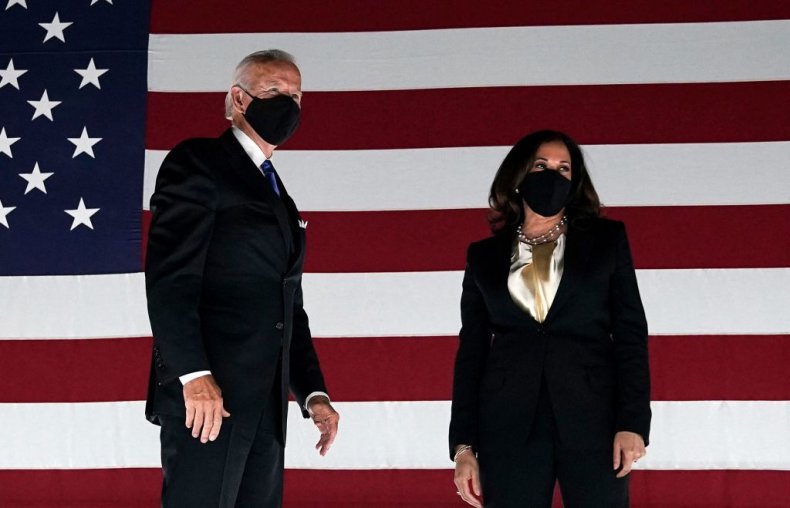 When the same poll was conducted in August, the presidential contenders all had identical ratings on the scale.
Morning Consult pollsters surveyed more than 10,300 likely voters between September 11 and September 13 for their latest poll. Its margin of error stands at 2 percentage points.
The new polling data showing that Trump's Democratic challengers were more likely to be viewed as moderate than him came in the wake of several campaign ads attacking Biden and Harris as radical leftists and tools of the radical left.
A snap attack ad released by the president's team in August claim Sen. Harris (D-CA) had contended for the Democratic party's presidential nomination "by rushing to the radical left" on policy. It also portrayed her as a proponent of "socialized" healthcare.
Appearing on the campaign trail earlier this month, Trump also said Biden had formed an "unholy alliance with the most extreme and dangerous elements of the radical left," and claimed Harris was more left-wing than Sen. Bernie Sanders of Vermont.
Another advert released by the Trump 2020 re-election team in late August accused Biden of being in "lockstep" with supposedly "radical" Democratic lawmakers, such as the progressive congresswoman Alexandria Ocasio-Cortez of New York.
"Biden and the far left are promising to crush middle class families with trillions in new taxes," the advert said.
The president has used his personal Twitter account to level similar accusations at the former vice president and his running mate with less than two months to go until election day. "Sleepy Joe Biden is just a Trojan Horse for the Radical Left Agenda," Trump tweeted in July. "He will do whatever they want!"
Newsweek has contacted the Trump 2020 campaign for comment on the new poll data. This article will be updated with any response.