Trump Campaign Boasts $26 Million Fundraising Haul on Day of Debate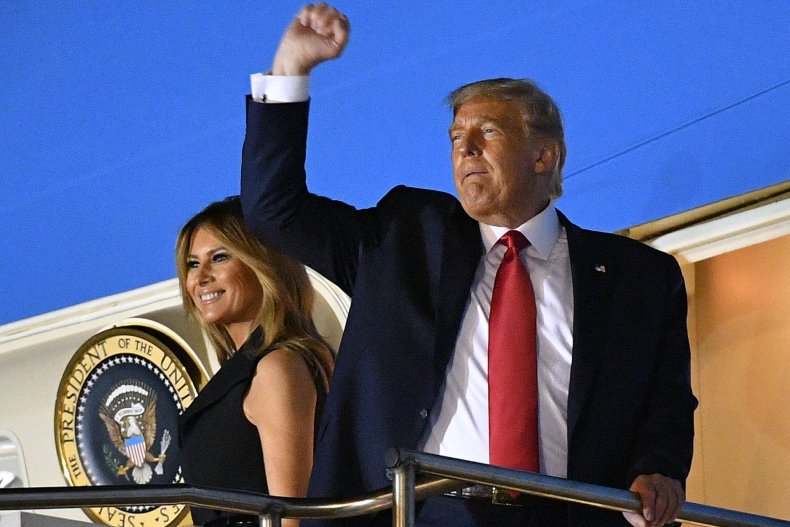 President Donald Trump's campaign said it had its biggest one-day digital fundraising haul ever around the final presidential debate with Democratic rival Joe Biden.
"We are the campaign with momentum," Trump campaign manager Bill Stepien told reporters Friday.
According to the Republican National Committee, the RNC, Trump's campaign and their authorized joint fundraising committees announced they pulled in $26 million for the day—exceeding 2016 levels.
"In the final days of 2016 we saw a surge in online donations which preceded a rise in public polling, leading directly to victory," Gary Coby, Trump 2020 digital director, said in a statement. "That surge is here again—triple in size and a week earlier than in 2016."
Trump has been lagging behind Biden in the polls nationally and in key battleground states. Biden also started the month with nearly three times as much cash in his campaign war chest as Trump.
But Stepien said the campaign isn't fixated on polls, which have shown some narrowing in recent days.
"As we've said all along, the public polls are catching up to our numbers," he said.
Biden's campaign didn't respond to Newsweek's request for comment or information about their fundraising numbers following Thursday night's debate.
Campaign finance reports released this week show Biden started October with $177 million in the bank. Trump's campaign reported it had $63 million.
Trump's campaign has been touting levels of "enthusiasm" for Trump's reelection, citing the massive crowds that have turned out for his rallies, despite the ongoing coronavirus pandemic.
"The race is for real," Stepien said.
Trump, Vice President Mike Pence and Trump's three eldest children have been on aggressive travel schedules to build support in the final stretch of the election.
Pence will hold events in Ohio and Pennsylvania on Friday, while Trump travels to Florida to campaign. Donald Trump Jr. has an event scheduled in Georgia, and Eric Trump will be in North Carolina. Ivanka Trump, who works for the White House as an adviser to her father, took part in a women's economic empowerment event in D.C.
Meanwhile, Biden is scheduled to spend the day in Wilmington, Delaware, where he will give a speech on how he would address the novel coronavirus that has killed more than 220,000 people in the United States. His running mate, U.S. Sen. Kamala Harris of California, is scheduled to take part in events in Georgia.
Trump and Biden clashed on the debate stage Thursday night about the approach to handling the coronavirus—whether business and other activities should be limited to try to slow the spread or life should return to a pre-pandemic normal, even though it's likely to lead to more cases and deaths.
"We're learning to live with it," Trump said early in the debate, before attacking his opponent for staying off the campaign trail. "We can't lock ourselves in a basement like Joe does."
The former vice president had a quick retort.
"He says we're learning to live with it, " Biden said. "People are learning to die with it."