Donald Trump's re-election campaign has dismissed and mocked efforts by the president's critics to suppress his New Hampshire rally turnout as "lame" and "foolish," after TikTok users and K-pop fans took credit for lower than expected turnout at his June rally in Oklahoma.
"Registering for a rally means you've RSVPed with a cell phone number and we constantly weed out bogus numbers. These phony ticket requests never factor into our thinking," Tim Murtaugh, communications director for Trump's campaign, told Newsweek.
"What makes this lame attempt at hacking our events even more foolish is the fact that every rally is general admission—entry is on a first come, first served basis and prior registration is not required," Murtaugh said.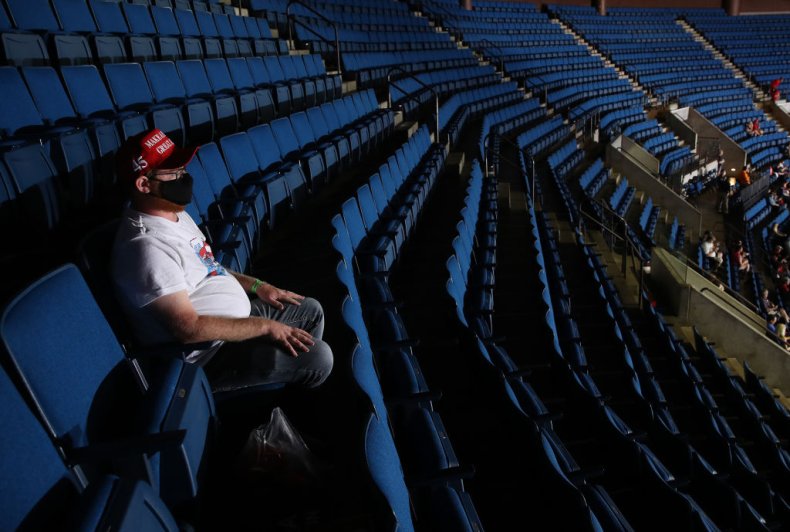 To reserve up to two tickets for the Saturday evening event in Portsmouth, individuals are required to include a valid phone number for verification purposes. However, reservations are not capped, meaning Trump critics could book an unlimited number of tickets and still not affect the turnout of the president's supporters.
But ahead of the Tulsa rally on June 20, social media users reportedly booked thousands of tickets. Before the event took place, the campaign boasted about the high level of interest, noting that more than 1 million people had registered online.
However, only 6,200 people showed up, according to the local fire marshal. The facility could have held up to 19,000. Although the campaign insisted that it had already weeded out many fake reservations, the anti-Trump social media effort drew substantial national media attention.
A similar effort has been underway since the New Hampshire event was announced.
"I just ordered two tickets for Trump's MAGA rally on July 11 in Portsmouth, NH. Too bad I won't be attending! It took me just 30 seconds to register. It would be a real shame if thousands of other people who didn't intend to show signed up for tickets," Jon Cooper, the former chair of the Democratic Coalition, tweeted Monday, tacitly encouraging others to follow his lead.
Other Trump critics on TikTok, Facebook and Instagram promoted the effort as well. The Facebook group Blue Revolution posted, "You know what to do," with a link to the event's reservation page. "Get couple tickets, comment 'DONE' below," the group wrote.
The left-wing Instagram page RogueDNC posted a screenshot of the campaign's event reservation page on Wednesday morning. It captioned the post: "Kids you know to do," with a winking emoji. The caption added, "You need a real cell number for a confirmation code."
Although many anti-Trump social media users have said they've booked more than two tickets, their efforts will only inflate the number of reservations. Those who support the president and wish to attend the rally will still be able to attend the event, regardless of how many spots are reserved in advance.