Trump Administration's 'Celebrity Tracker' Doc Confuses Ronda Rousey's Fictional WWE Arrest With Reality
Remember the backstage brawl between Ronda Rousey, Becky Lynch and Charlotte Flair on the Monday Night RAW before WrestleMania 35 in 2019? Well, apparently at least one person thought it was real.
According to a Thursday report from Politico, the United States Department of Health and Services' (HHS) top spokesperson, Michael Caputo, was tasked with overseeing an ad campaign to "defeat despair" over the coronavirus. Caputo, who was installed in April by President Trump, requisitioned $300 million from the Centers for Disease Control (CDC) to fund the campaign, and the campaign vetted at least 274 celebrities to potentially participate in PSAs.
Rousey was among those celebrities vetted. The vetting process included details about the celebrities' politics, including whether they had been personally critical of Trump, among other criteria.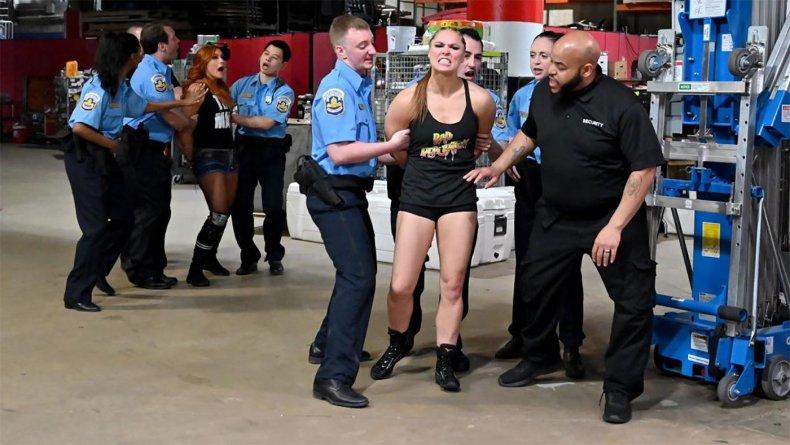 One document obtained by the House Oversight Committee, and shared with Politico, was titled "PSA Celebrity Tracker," which was a list of celebrities who could potentially contribute to the campaign.
Rousey's name was paired with the following notes: "Publicly supported Democratic Party candidate Bernie Sanders for 2016 election. Anti-feminist view at times. Arrested during WWE event in 2019."
That last line refers to the aforementioned backstage brawl during the April 1 episode of Monday Night RAW, during which Rousey, Lynch and Flair were handcuffed and taken into custody.
Of course, this was all for show, but the performance was good enough to make one person involved in the info-gathering process think it was real.
The campaign apparently collapsed following a Politico investigation last month that reported it was conceived in a meeting between Trump administration officials and campaign contractors. More documents obtained by the House Oversight Committee in its probe of the campaign also illustrated how political considerations shaped it, as those involved tried to get the ad on the air before Election Day.
Actor Dennis Quaid and gospel singer CeCe Winans, who agreed to participate in the campaign, withdrew following the September Politico report, stating that they were focused solely on promoting public health and not to be political. Other celebrities also pulled out.
HHS Secretary Alexa Azar has since ordered a review of the campaign.
"The review is ongoing," an HHS spokesperson said in a statement to Politico. "The plan has always been to only use materials reviewed by a department-wide team of experts including scientists from CDC who will ensure the latest scientific information is used to provide important public health, therapeutic and vaccine information."
President Trump's relationship with the WWE has gotten some media attention in the past. He was involved in a 2007 WWE storyline with Vince McMahon, and was inducted into the WWE Hall of Fame as part of the class of 2013. Trump also supposedly believed that the infamous limousine explosion with Vince McMahon at the end of 2007 was real, and called to make sure McMahon was ok.