Donald Trump Campaign Claims Half of El Paso Sign-Ups Were Democrats, Almost Three-Quarters Were Hispanic
Donald Trump's campaign has said his latest rally in El Paso, Texas, attracted more Democrats than any of his events since his election in 2016.
The president's campaign manager, Brad Parscale, told Axios that roughly 50 percent of the 30,000 people who were signed up for Monday's rally online were registered as Democrats. Another 25 percent were registered as swing voters and only about 25 percent identified as Republicans. Two-thirds of those registered for the event had voted in two or fewer of the past four elections.
Also, according to the Trump campaign, about 70 percent of people registered to attend the rally were Hispanic.
Parscale told the news outlet that the numbers show "that President Trump is building a coalition that extends far beyond the traditional Republican base" and that his fight for the border wall has "clearly energized" Democratic and independent voters.
But it's not clear how many of those who registered online for the event were inside the El Paso County Coliseum, where the rally was held, or in the crowd assembled outside the venue. Throughout the rally, Trump thanked local law enforcement for getting 10,000 people into the stadium and boasted that "tens of thousands of people are watching the screens outside."
But the El Paso Fire Department refuted the president's claim, stating that only 6,500 people were inside the venue for the rally.
The event was Trump's first rally of the year, during which he made his case for a wall between the U.S. and Mexico, just days before Congress's deadline to make a deal on government funding and border security.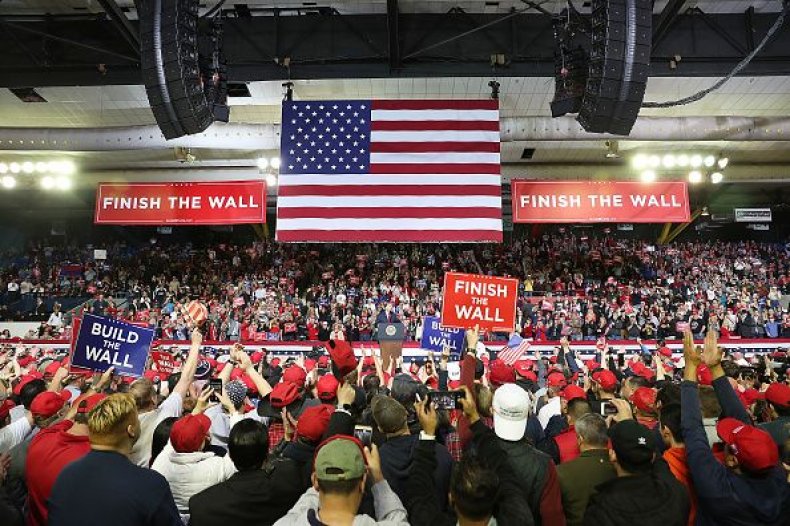 "We need the wall, and it has to be built," Trump told the crowd. He also added that "progress is being made" among lawmakers in Washington D.C. to reach a deal on a spending bill and avoid another government shutdown. The previous partial shutdown over border security was the longest in U.S. history, lasting for five weeks from late December to January 25.
Trump also used the rally as an opportunity to boast about lower crime rates in areas around the southern border where walls have been built.
"You know where it did make a big difference? Right here in El Paso," Trump said. "And I've been watching where they're trying to say, 'Oh, the wall didn't make that much [difference]....' Well, you take a look at what they did with their past crimes and how they made them from very serious to much lesser. You take a look at what the real system is."
While Trump was in town, Texas Democrat Beto O'Rourke held a competing event opposing the president's immigration agenda. Since his failed Senate bid in 2018, O'Rourke has been mulling over the prospect of a potential 2020 White House run.
"We have so much to give, so much to show the rest of the country," O'Rourke said. "Here, a city that has been one of the safest in the United States of America for 20 years and counting.... Walls do not save lives. Walls end lives."