Ahead of the first presidential election, the Trump Campaign released a list of "17 Questions Joe Biden Must Answer in the Debate" on Monday.
The first question targeted the Democratic nominee's son, Hunter, and a number of his international financial transactions, including "a $3.5 million wire transfer from a Russian billionaire" and "a joint back account with a Chinese national."
"Why would people connected to the Russian and Chinese governments want to give your son millions of dollars?" the campaign asked Trump's opponent.
The page on the Trump campaign site links to an article from the New York Post about a wire transfer mentioned in an 87-page report released by Senate Republicans last week.
The report, led by the committees of Sens Ron Johnson and Chuck Grassley, said that Hunter Biden's investment firm, Rosemont Seneca Partners, received nine wire transfers from Elena Baturina, a Russian billionaire and the wife of the former mayor of Moscow, in 2015.
According to the probe, former members of the Obama administration voiced concern that Hunter's affiliations with Baturina could appear as a conflict of interest with Joe Biden's role as vice president.
Johnson and Grassley also reported that the younger Biden had several associations with Chinese nationals, including one that "financed a $100,000 global spending spree with James Biden and Sara Biden," the brother and sister-in-law of the Democratic nominee.
"These were just some of the findings from their investigation into potential conflicts of interest arising from Hunter Biden accepting a position on the board of, and taking millions of dollars from, Burisma, a Ukrainian energy company with a long-standing reputation for corruption, while his father, Joe Biden, was vice president and the public face of the Obama administration's handling of Ukraine policy," the U.S. Senate Committee on Homeland Security and Governmental Affairs said in a press release.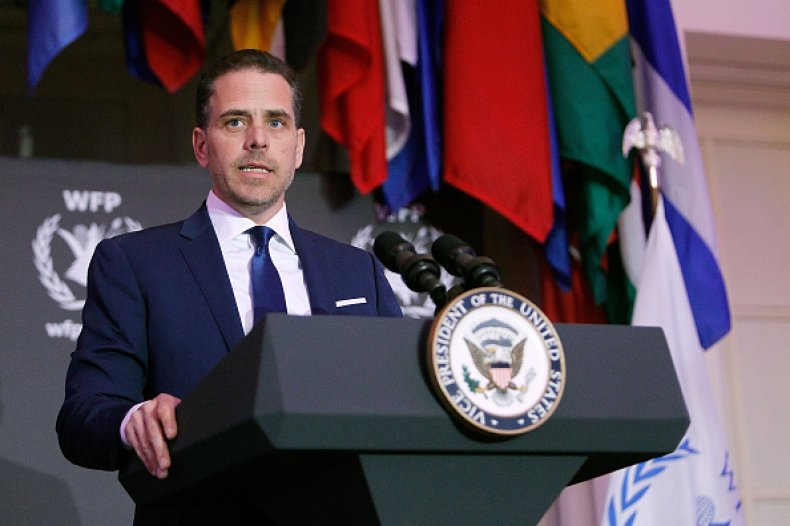 Andrew Bates, a spokesperson for Joe Biden, told the Post that Johnson "wasted months" on the report and diverted his committee "away from any oversight of the catastrophically botched federal response to the pandemic."
In the list of 17 questions, the Trump campaign also challenged Biden on his enrollment at Delaware State University, his stance on replacing late Justice Ruth Bader Ginsburg's Supreme Court seat ahead of Election Day, and his position on a Minnesota bail fund that gained prominence in the wake of George Floyd's death, among other issues.
Newsweek reached out to the Biden campaign for comment but did not hear back before publication.
Both presidential candidates are expected to answer questions about their individual records, the Supreme Court, the coronavirus pandemic, racial tensions across the nation, the economy and the integrity of the election in Tuesday's 90-minute debate.