Trump Campaign Demands Recount by Hand, Not Machine, of Every Georgia Ballot
President Donald Trump's re-election campaign has called for all ballots cast in Georgia to be recounted by hand instead of by machine, and has threatened to take the issue to court if the Republican Secretary of State Brad Raffensperger does not take action himself.
Georgia Rep. Doug Collins (R), who was picked to lead the Trump camp's Georgia recount push over the weekend, said the state should also "check for felons and other ineligible persons" who might have cost votes in the battleground state in last week's elections.
In a statement posted to social media by The Atlanta Journal-Constitution reporter Patricia Murphy, the GOP lawmaker added that the Trump campaign sought a "full comparison" of absentee ballots alongside in-person and provision ballots.
Releasing the demands on Tuesday morning, Collins said: "As we begin the recount process, there are three things we are formally requesting today from Secretary of State Brad Raffensperger. First, there must be a full comparison of absentee ballots cast and in-person and provisional ballots cast throughout the state.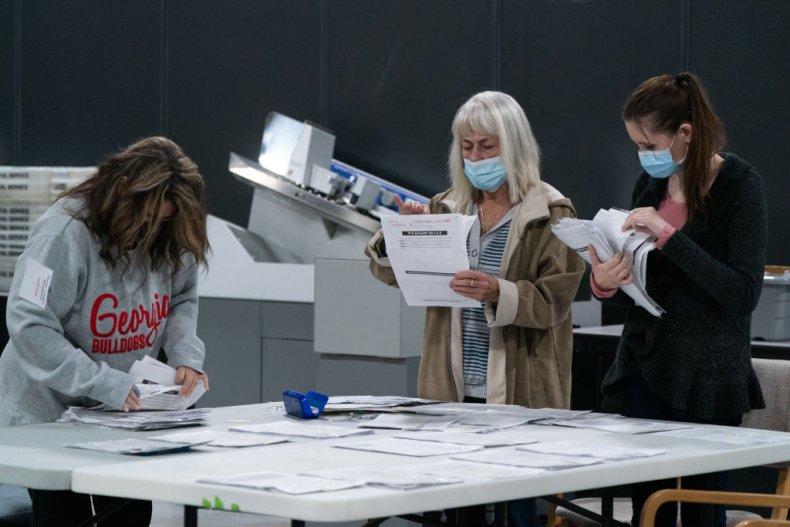 "Second, there must be a check for felons and other ineligible persons who may have cast a ballot. Third, and most importantly, the Secretary of State should announce a full hand-count of every ballot cast in each and every county due to widespread allegations of voter irregularities, issues with voting machines, and poll watcher access.
"We can—and we will—petition for this in court after statewide certification is completed if the Secretary of State fails to act, but we are hopeful he will preemptively take this action today to ensure every Georgian has confidence in our electoral process."
Newsweek contacted the Georgia Secretary of State's office for comment and further details. This article will be updated with any response.
Rep. Collins issued his remarks after Governor Brian Kemp tweeted that the Georgia election results would include "ONLY legally cast ballots" on Monday evening, leading the president to preemptively declare victory in the state.
Trump's re-election team have complained about a supposed "lack of transparency" in the tabulation of votes, "improperly harvested" ballots and other alleged "irregularities" over the past week, reflecting complaints made in other states where they have filed suits over election processes.
Georgia's Republican Lt. Governor Geoff Duncan seemed to pour cold water on the claims on Monday as he told CNN that his office had not received notice of any "credible" instances of mass voter fraud.
But he added that his team was still willing to investigate any credible reports of widespread electoral fraud should they be reported.
At the time of writing, President-Elect Joe Biden leads Trump by a little more than 12,000 votes in Georgia with more than 98 percent of the estimated vote counted, according to The New York Times' latest tally.