Trump Campaign Dismisses Maryanne Trump Leaked Criticism as 'Sibling Rivalries,' While Pelosi Calls It 'Heartbreaking'
Jason Miller, a senior adviser to Donald Trump's reelection campaign, dismissed leaked audio of the president's elder sister Maryanne Trump Barry strongly criticizing her brother's administration as "sibling rivalries." Meanwhile Speaker of the House Nancy Pelosi called the comments from the retired U.S. circuit court judge "heartbreaking."
"His goddamned tweets and lying, oh my God," Barry, 83, said of her brother in the leaked audio clips from 2018 and 2019 recorded by niece Mary Trump. She said her younger brother "has no principles."
"The phoniness of it all ... the phoniness and this cruelty. Donald is cruel," she said. Under New York law, the secret recordings were legal.
"Sibling rivalries are nothing new in the world. It's been going on since the beginning of time," Miller said during an interview with NBC News' Meet The Press on Sunday when he was asked about the audio, which was first reported by The Washington Post on Saturday,
"This is something unfortunately when you get to the White House you have family members who sometimes decide to voice their sibling rivalries or frustrations," he said.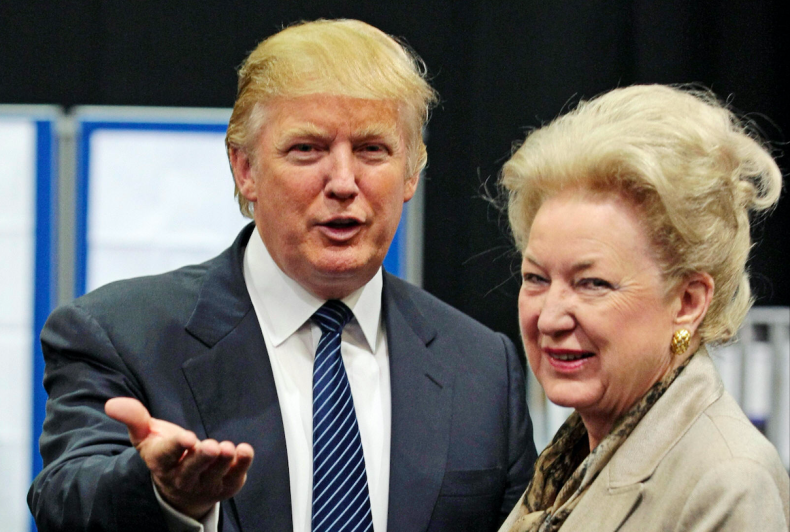 But Pelosi, a California Democrat, raised concerns that the audio shows that even the president's own family disapproves of his tenure in the White House.
"It's heartbreaking to think that a family member of the president of the United States would have that view of him," Pelosi said during a Sunday interview with CNN's State of the Union. "You know, the president is calling everything a hoax. He calls the virus a hoax for awhile, he's called the Russian interference in our election a hoax. He calls everything a hoax, which is just a projection of what he is, a hoax." she said.
"This is further evidence of his inauthenticity and his lack of integrity, a hoax," the speaker argued.
Newsweek reached out to the Trump campaign for further comment, but did not receive a response by the time of publication.
The president downplayed the leaked audio, saying in a Saturday statement: "Every day it's something else, who cares."
Mark Meadows, White House chief of staff, dismissed the leaked criticism as well.
"You know, just another day and another attack," Meadows told ABC News' This Week on Sunday. "The president that I have the privilege of serving is not the one that's being described on a 15-hour ... secret tape."
Mary Trump, who recorded the leaked audio and is the daughter of the president's eldest brother Fred Trump Jr., published a book about her uncle and family titled Too Much and Never Enough. It was released last month, despite legal efforts mounted by the family to block its publication. A psychologist, Mary Trump said that for her uncle, lying has long been "a way of life."
About the leaked audio and the book, former Trump administration official Anthony Scaramucci, who now publicly opposes the president, said that Mary Trump had done voters "a service."
"Mary Trump has done a service to the electorate by at least explaining, in a clinical way, the manifestation of the president's personality and why we're in such a bad state," Scaramucci told CNN on Sunday.
Trump Campaign Dismisses Maryanne Trump Leaked Criticism as 'Sibling Rivalries,' While Pelosi Calls It 'Heartbreaking' | U.S.