Trump Campaign Downplays News of PA USPS Whistleblower Backtracking on Tampered Ballot Claim
The Pennsylvania whistleblower who claimed that USPS supervisors were tampering with ballots mailed after Election Day has recanted his allegations, the U.S. Oversight Committee said Tuesday.
In a tweet, the committee said that the whistleblower recanted following questions from investigators working the case.
The whistleblower had previously wished to remain anonymous but revealed his identity as Richard Hopkins, a USPS employee in Erie, Pennsylvania, via Project Veritas on Friday. Hopkins said he would testify under oath and signed a sworn affidavit with allegations of ballot tampering and fraud.
Following the news of Hopkins' recantation, Tim Murtaugh, Director of Communications for the Trump campaign, said the USPS worker filed a "detailed affidavit."
"He named names, he described explicitly what it is that he experienced, and we don't know what kind of pressure he has been under since he publicly made those statements," Murtaugh continued in a statement to Bloomberg's Josh Wingrove.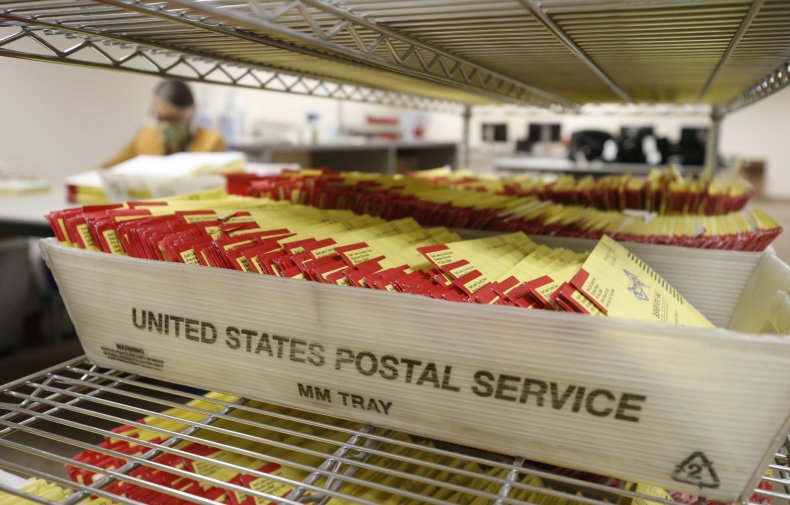 James O'Keefe, the founder of Project Veritas, also responded to the committee's tweet and claimed that he has a video to prove Hopkins was "coerced" into recanting.
"We have recordings of the federal agents, who coerced this man through a 4-hour interrogation without representation, who stands by his original affidavit," tweeted O'Keefe. "Standby for recordings doubling down on backdating ballots."
A few hours following O'Keefe's tweet, a 46-second video of Hopkins saying that he didn't recant was posted to the Project Veritas YouTube channel.
Although vote totals are not yet official and President Donald Trump has not yet conceded, the Associated Press, alongside major networks, called the election for Democratic nominee Joe Biden on Saturday after he was projected to win Pennsylvania. With the state's 20 electoral votes, Biden surpassed the 270 needed to secure the White House.
In the hours following the announcement of Biden as the projected winner, Republican South Carolina Senator Lindsey Graham issued a statement that he received the affidavit from Hopkins claiming that that post office supervisors had a plan to tamper with ballots mailed after the election.
Graham said he will be calling on the Department of Justice and the U.S. Postal Service to investigate these claims after receiving the allegations.
However, the Oversight Committee on Tuesday said that "USPS IG investors informed Committee staff today that they interviewed Hopkins on Friday, but Hopkins recanted his allegations yesterday and did not explain why he signed a false affidavit."
Trump has repeatedly claimed that Democrats have "stolen" the election and that there has been widespread voter fraud, despite not offering substantial evidence.
USPS and the Trump campaign didn't respond to Newsweek's request for comment in time for publication.
Update, 8:26 p.m., 11/10/20: This story has been updated to include Hopkins' denial that he recounted his story to the U.S. Oversight Committee.