President Donald Trump's campaign filed a lawsuit in Georgia on Wednesday evening, asking that state laws be followed as absentee ballots are being processed. This latest action makes Georgia the third key battleground state the campaign has sought court intervention following Election Day.
Earlier in the day, the Trump campaign took legal action in Pennsylvania and Michigan, the latter which was called by a number of news outlets for Democratic nominee Joe Biden.
Republicans have begun to worry about securing Georgia as votes continue to be tabulated in Fulton County, the state's largest county by population. The city of Atlanta and the surrounding metro area are also located in Fulton County.
Election officials said they expect results to emerge around midnight or early Thursday.
"We're going to finish tonight," Fulton County Elections Director Richard Barron said of the Democratic stronghold's ballot counting.
Barron said he is bringing in more workers to continue counting the remaining 142,000 absentee ballots. As of 7:15 p.m. ET, he said 106,000 absentee votes had already been counted.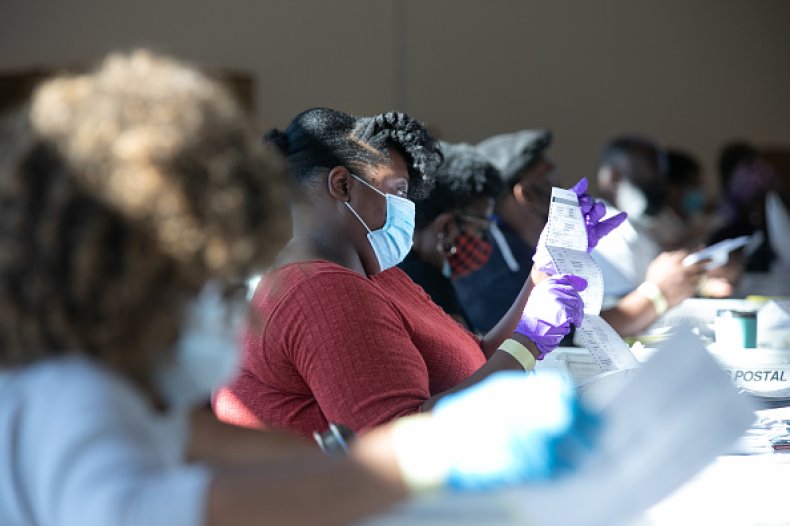 The lawsuit from the campaign argues that all mail-in ballots must be received by 7 p.m. ET on Election Day.
"But today, a Republican poll observer in Georgia witnessed 53 late absentee ballots illegally added to a stack of on-time absentee ballots in Chatham County," Justin Clark, the Trump campaign's deputy manager and senior counsel, said in a press release.
"President Trump and the Georgia Republican Party have filed suit to require all Georgia counties to separate any and all late-arriving ballots from all legally cast ballots to ensure a free, fair election in which only legal, valid ballots count," Clark added.
Georgia's 16 Electoral College votes could be enough to send Biden to the White House, provided he is able to hold onto Arizona. While other networks have refrained from calling Arizona, Fox News said on early Wednesday that Biden would win the state.
The Trump campaign has also requested a recount in Wisconsin, which has been called for Biden by most outlets.
The president prematurely claimed victory in Georgia as well as Pennsylvania, Michigan and North Carolina on Twitter Wednesday afternoon. The tweet has since been flagged by the social media giant for containing content that "is disputed and might be misleading about an election or civic processes."
Newsweek reached out to the Democratic Party of Georgia for comment.
Updated 7:55 PM ET, with additional information.
Correction 8:20 p.m. ET This story and headline were corrected to say the lawsuit is seeking for state laws to be followed on absentee ballots in Georgia. An earlier version of this story said the campaign was seeking to halt ballot counting.
Correction 10:57 p.m. ET An earlier version of this story said Wisconsin was called for Trump instead of Biden.