Trump Campaign to Fly July Fourth Banners Across 13 Beaches at Peak Times Amid Coronavirus Surge
As President Donald Trump continues to tout big Independence Day celebrations, his 2020 campaign is taking to the sky to spread a holiday message.
The campaign announced Saturday that it would be flying banners over 13 beaches across the U.S. during peak times throughout the Fourth of July weekend.
"President Trump respects the American flag and is standing up for our nation's great history," Tim Murtagh, the campaign's communication director, said in a statement. "This Independence Day, Team Trump will fly banners across the country to remind Americans that President Trump will always defend the freedom and liberty that we all enjoy."
The banners will be flown over three locations in Florida, including Pensacola, Daytona Beach and Jacksonville. Other locations include Myrtle Beach, South Carolina; Virginia Beach, Virginia; Atlantic City, New Jersey; Bel Mar, New Jersey; Long Island, New York; Cleveland, Ohio; Erie, Pennsylvania; Detroit, Michigan; Chicago, Illinois; and Milwaukee, Wisconsin.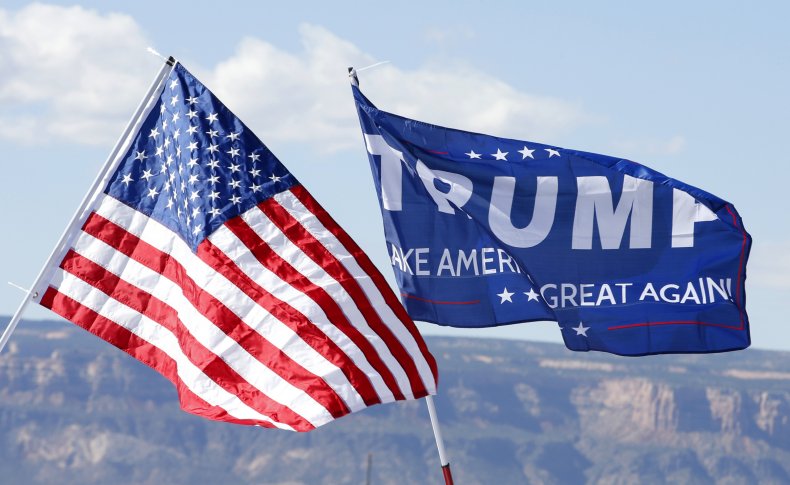 Senior campaign adviser Lara Trump said in a July Fourth statement that, "For nearly 250 years, our country has endured every challenge and obstacle that has threatened her survival—and she will continue to be the brightest beacon of liberty and freedom in the world."
The president kicked off the weekend with an address at Mount Rushmore in South Dakota on Friday evening. As several thousands of people gathered for the event, no one was enforced to maintain social distancing or wear a face mask.
He is set to follow-up that event with a "Salute for America" celebration in Washington D.C. on Saturday. The festivities— which is expected to attract thousands of people with a speech from the White House South Lawn, fireworks and military flyover—is going on as scheduled despite concerns from the mayor that it could spread coronavirus.
"We've communicated to them that we do not think this is in keeping with the best CDC and Department of Health guidance. But this event will take place entirely on federal property," D.C. Mayor Muriel Bowser said in a news conference earlier this week.
White House press secretary Kayleigh McEnany told reporters on Wednesday that wearing a mask will not be mandatory for Saturday's festivities.
Many states have canceled or seriously subdued their Fourth of July celebrations as coronavirus cases continue to surge. The infection curve is rising in about 40 states, according to data from John Hopkins University. The U.S. set a record for coronavirus cases on Thursday, with more than 55,000 new cases reported. It was the largest single-day total since the start of the pandemic.
The country added 52,104 cases on Friday, bringing total confirmed infections to almost 2.8 million cases. Florida, Texas, California and Arizona are among the states hit hardest in recent days.
Newsweek reached out to the Trump campaign for further comment, but did not receive a response in time for publication.