Trump Campaign to Fly 'Keep America Great' Banners Over Beaches on Memorial Day As States Struggle With Overcrowded Shores
President Donald Trump's 2020 reelection campaign will fly "Keep American Great" banners over at least eight reopened beaches during peak hours on Memorial Day weekend as some states struggle with containing overcrowded coastal locations amid the pandemic.
The Trump campaign plans to employ aerial advertising to reach beachgoers throughout this weekend, starting on Saturday, according to a press release. These locations include Galveston in Texas, Pensacola and Daytona Beach in Florida, Hilton Head and Myrtle Beach in South Carolina, Virginia Beach in Virginia, as well as New Jersey South and New Jersey North.
"President Trump is boldly leading our country to a better and brighter future," said Tim Murtaugh, Trump 2020 Communications Director. "This Memorial Day, Team Trump is reminding Americans that President Trump will never stop working to 'Keep America Great' on their behalf."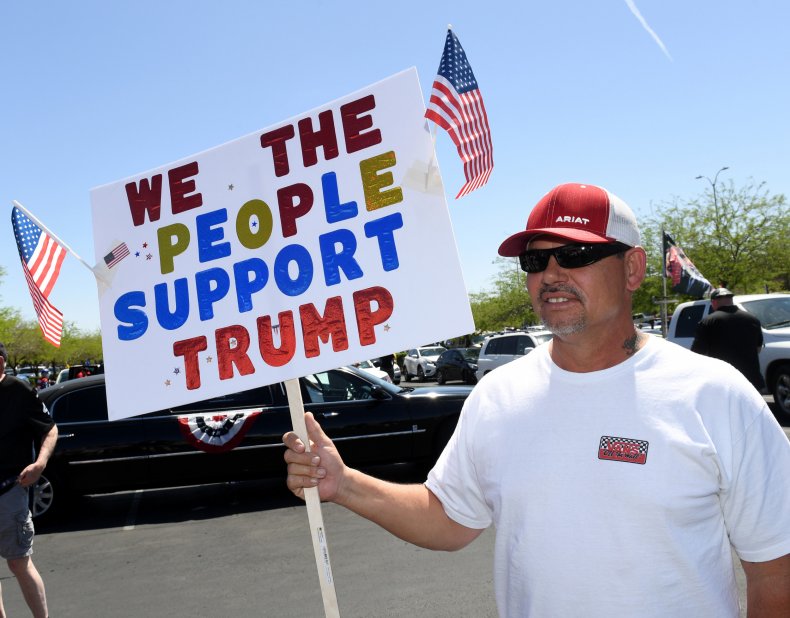 Deborah Birx, a member of the White House Coronavirus Task Force, told reporters earlier this week that Americans are allowed to head to beaches on Memorial Day weekend, but warned individuals to follow the Center for Disease Control and Prevention's (CDC) social distancing guidelines.
"You can go out. You can be outside. You can play golf. You can play tennis with marked balls," Birx said. "You can go to the beaches if you stay six feet apart. But remember that that is your space, and that's a space that you need to protect and ensure that you're social distanced for others."
While many beaches in parts of the country will be open for the long weekend, rules still vary from state to state. For example, New Jersey Governor Phil Murphy has asked beachgoers to follow health and safety guidelines, including social distancing and wearing a face covering, during all outings.
Americans excited for their first big break from months-long shutdowns crowded beaches and other recreational areas across the country on Saturday, forcing some closures as officials struggle to ensure safety from the coronavirus outbreak.
The Daytona Beach News-Journal shared images on Saturday of crowds of people on beaches, some appeared to be ignoring social distancing guidelines. "Without a doubt, this is one of the busiest weekends I've seen in many years," Volusia County Beach Safety Deputy Chief Andrew Ethridge told the paper. "We have 47 miles of beach in Volusia County and every bit of it has crowds."
Galveston public safety officials expect roughly between 250,000 and 500,000 visitors this Memorial Day weekend. Authorities have been preparing lifeguards to encourage social distancing, but Galveston Island Beach Patrol Chief Peter David told local news that his team does not "have the ability to make that our top priority" and hopes to increase staff in the coming weeks to deal with the overcrowded shores.
Newsweek reached out to the Trump campaign for further comment. This story will be updated with any response.
The Trump campaign banners will fly during the following times:
Galveston, TX: Sunday 11am - 2pm / Monday 11am - 2pm
Pensacola, FL: Saturday 10:30am - 2:00pm Window / Sunday 10:30am - 2pm Window
Daytona Beach, FL: Saturday 12:30pm - 3:30pm / Monday 12:30pm - 3:30pm
Hilton Head, SC: Sunday 2pm - 5pm / Monday 11am - 2pm
Myrtle Beach, SC: Saturday 12:30pm - 3:30pm / Monday 12:30pm - 3:30pm
Virginia Beach, VA: Saturday 11am - 2pm / Sunday 11am - 2pm
New Jersey South: Saturday 11am - 2pm / Sunday 12pm - 3pm
New Jersey North: Sunday 1:30pm - 4:30pm / Monday 1:30pm - 4:30pm