Trump Campaign Has Directly Contacted Nearly Triple the Voters It Reached in 2016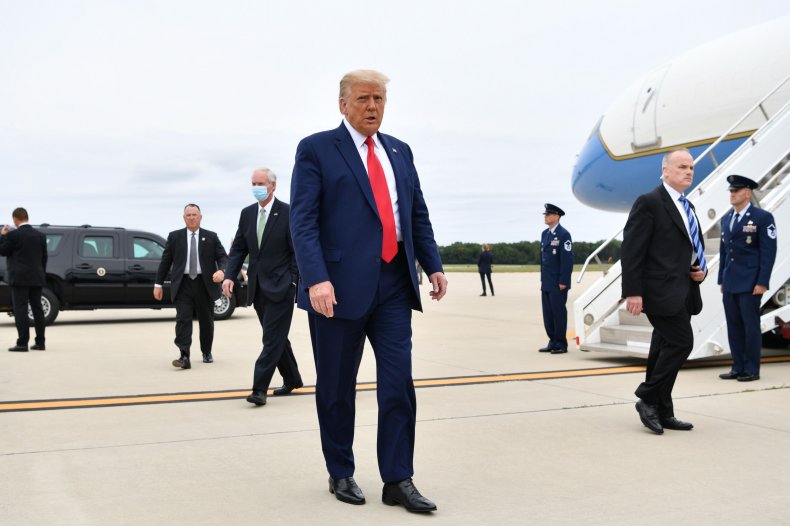 Donald Trump's campaign for reelection has nearly tripled the number of voters directly contacted than it did at this point four years ago.
In 2020, Trump's campaign has had direct contact with 89.8 million voters—person-to-person calls, event attendance or speaking to someone in person by knocking on their door—compared to 32.5 million four years ago, Trump campaign manager Bill Stepien told reporters this week.
"No campaign in recent memory has had the advantage we've had on the ground," he said.
Trump's supporters say they hope that the aggressive push will give him an advantage in November, but former Vice President Joe Biden's team also has built robust online and phone efforts.
Both Trump and Biden have had aggressive on-the-ground campaigns, though Trump and his running mate Mike Pence have been more willing to do in-person events despite the pandemic.
Biden has spent much of the spring and summer away from the campaign trail to avoid the coronavirus pandemic, while Trump has been aggressively hitting up key battleground states.
"From our perspective, this is when the campaign wants to be on offense," Trump campaign manager Bill Stepien said.
Biden campaign spokeswoman Rosemary Boeglin told Newsweek that her candidate is taking a different approach.
"Joe Biden continues to lead by example—from the campaign trail to our ground game—demonstrating that running a vigorous campaign and energizing voters can be done without putting fellow American's lives at risk," Boeglin said. "Donald Trump's campaign, on the other hand, has functioned just like their boss: with a total disregard for the health and safety of the American people, and with a very loose grip on reality, which we have seen time and again particularly with regards to facts and data."
Boeglin didn't provide numbers on how many direct contacts the Biden campaign has had with voters.
But both of the campaigns have focused heavily on Arizona, Wisconsin, North Carolina and Florida in recent weeks, with Trump and Pence making several trips. Biden, meanwhile, has had a less formal public schedule while leaning heavily on virtual events.
Supporters in other states have managed to get in on the action, too.
Trump won 57.8 percent of the vote in Mississippi four years ago. Normally, people of both parties would be hitting the campaign trail to canvass for their candidates outside of a state that's reliably Republican, but the coronavirus pandemic has limited in-person activities and prompted a more robust telephone-driven effort.
Lucien Smith, chairman of the Mississippi Republican Party, said Trump's GOP supporters there have broken a direct voter contact record through phone banks and on-the-ground canvasing.
"There's a lot of interest in what they can do to help the president win in November," Smith told Newsweek.
He said more people are volunteering to make calls than before.
"The headquarters is now your living room," Smith said. "That's the beauty of it."