Trump Campaign Has Five Remaining Election Lawsuits in Georgia, Pennsylvania
President Donald Trump's campaign currently has five remaining lawsuits in Georgia and Pennsylvania, disputing the results of the 2020 election.
Following Joe Biden's projected victory in the 2020 presidential election, Trump and his campaign filed lawsuits in several states, most of which the president lost.
In Georgia, Trump's campaign only has one pending lawsuit, which was filed by Atlanta attorney Lin Wood against Secretary of State Brad Raffensperger. According to DemocracyDocket.com, the lawsuit challenges "the inclusion of absentee ballots for the general election in Georgia." This lawsuit was assigned to U.S. district Judge Steven Grimberg.
Two other lawsuits in Georgia; Brooks v. Mahoney, which was filed in the U.S. District court for the Southern District of Georgia and In re: enforcement of election laws, which was filed in the Superior Court of Chatham County, were both dismissed.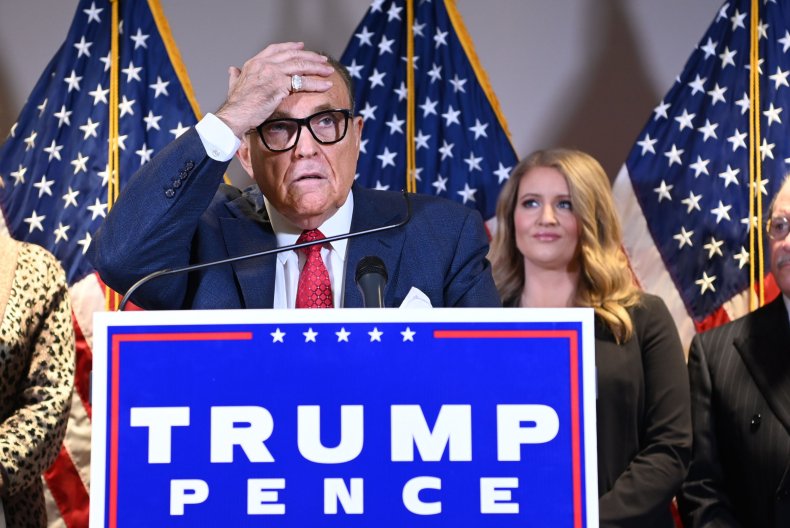 In Pennsylvania, Trump and his campaign currently have four actively pending lawsuits. Trump v. Boockvar, which was filed in the U.S. District court for the Middle District of Pennsylvania. Trump's campaign recently issued an amended complaint in this suit, where they allege that the campaign was denied access to observe the voting process through Republican poll watchers.
On Tuesday, Trump's attorney Rudy Giuliani made sweeping claims of widespread voter fraud but Mark Aronchick, who argued on behalf of several county election boards said his arguments were "disgraceful."
According to a court filing, Trump's campaign intends to file a second amended complaint "to restore claims which were inadvertently deleted from their amended complaint, and to add claims based on newly learned facts."
Republican Party v. Boockvar, which was filed in the U.S. Supreme Court is also currently pending. This lawsuit asked the Supreme Court to review a ruling from the Pennsylvania Supreme Court which allowed election officials to count ballots that were received three days after election day, if postmarked by November 3. Trump's campaign and Republicans in the state claim that these ballots should be invalidated. U.S. Justice Samuel Alito ordered counties in the state to separate ballots that arrived after November 3, but the U.S. Supreme Court has not taken action in this case yet.
In the Court of Common Pleas of Bucks County, Trump's campaign filed another lawsuit asking to review a decision made by county election boards, which denied their request to stop the counting of ballots that the campaign and state Republicans believe to be deficient. A hearing date has been scheduled for this lawsuit.
The fourth pending lawsuit was filed by Trump's campaign in in Philadelphia's Court of Common Pleas. According to DemocracyDocket.com, In re: Canvass of Absentee and Mail-In Ballots of November 3, 2020 General Election seeks a review of "Philadelphia County Board of Elections' decision to count five different categories of mail-in/absentee ballots."
Trump's campaign appealed to the Commonwealth Court after the Philadelphia Common Court of Pleas ruled against the suit, but not the board of elections in Philadelphia is asking for the case to be transferred to the state's Supreme Court.
Trump's campaign also has a pending lawsuit in Nevada, Law v. Whitmer, which was filed in the state's First Judicial District Court. The suit was filed on behalf of six candidates for presidential electors for Trump, and claims that "substantial irregularities, improprieties and fraud" were found in the state's general election.
While speaking to CBS News on Monday, Harvard Law School professor Nicholas Stephanopoulos, said, "There have been something like 30 or 40 of these lawsuits filed in Michigan, Pennsylvania, Nevada, Arizona, Georgia, and so on. To this point, dozens of defeats have piled up for the Trump campaign."
Newsweek reached out to Trump's campaign for comment but did not receive a response in time for publication.