President Donald Trump's campaign has been inadvertently funding Chinese state media through automated YouTube advertisements, according to a new study from Washington-based technology firm Omelas Inc.
A review of thousands of videos from early August found 22 Trump campaign ads played on channels linked to the Chinese government, including China Global Television Network and China Radio International.
For each dollar the campaign spent on a state media outlet, YouTube sent 55 cents to the same.
"Money meant to portray Trump as standing up against America's adversaries instead showed him paying them to spread their propaganda," the study said.
The analysis notes that although the dollar amounts are small, the flow of advertising revenue illustrates the limited control advertisers have over where their ads appear.
The findings come amid the escalating feud between the Trump administration and China. Since the beginning of the coronavirus pandemic, already strained relations due to an ongoing trade war continued to sour with the president blaming China for the outbreak.
The virus was first detected in the Chinese city of Wuhan late last year. More than 20 million people have been infected globally and 164,681 people in the U.S. have died from COVID-19 as of August 12, according to data from Johns Hopkins University.
Concerns over security have also become a main point of conflict. The Trump administration has portrayed China as a threat to the U.S.' national security and Secretary of State Mike Pompeo has exacerbated this message on a foreign policy level.
Most recently, Trump released an executive order halting transactions between U.S. companies and the video app Tik Tok, which is owned by Chinese technology firm ByteDance.
On Tuesday, Trump said his relationship with Chinese President Xi Jinping, who he was once close with, has deteriorated as coronavirus cases swept the nation.
"We have a much different relationship with China now," Trump told Outkick host Clay Travis. " I still have a good relationship but once the plague—I call it the plague—came in from China, the relationship changed."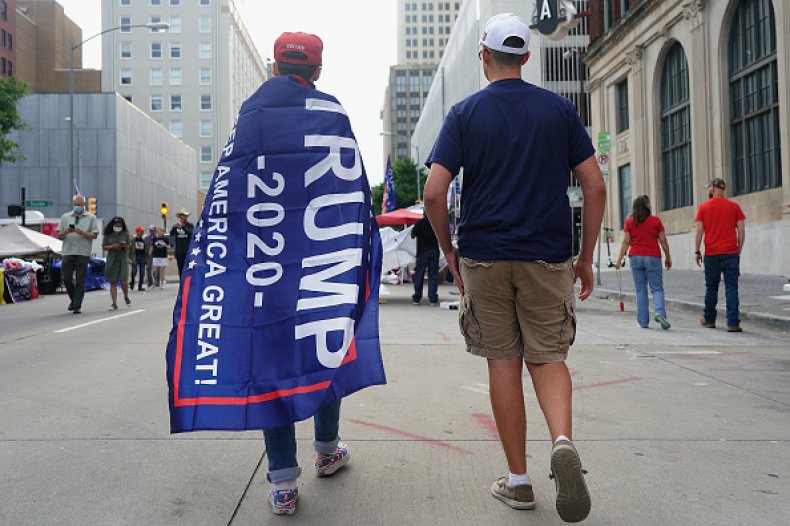 The Omelas study also found an additional 39 Trump campaign ads running on channels linked to the Russian government, including TV network RT.
But the campaign said when it comes to targeting viewership, they have only been able to specify the age, gender and postal code of YouTube users.
"We don't target those YouTube channels. Per YouTube, political advertisers globally are only able to target their ads using age, gender, postal code and contextual information from users," the campaign's deputy national press secretary Samantha Zager said in a statement sent to Newsweek.
According to data from Google, The Trump Make America Great Again Committee and Donald J. Trump for President Inc. have spent $48 million on ads on Google platforms, including YouTube, since May 2018.
A Google spokeswoman told Bloomberg that advertisers "have robust controls to opt-out" of certain channels but political campaigns typically run wide marketing campaigns that don't target specific YouTube channels.
"This report appears to fundamentally misunderstand why a voter might see an election ad on a specific channel," she said. "Political advertisers commonly run campaigns on all news channels and direct those campaigns broadly at users in battleground states like Missouri."
Omelas' chief technology officer Ben Dubow said the study is not claiming that the Trump campaign intentionally targeted these channels to run their ads.
Dubow argues that what's most important is that allowing the dominance of state media on sites like YouTube "makes mishaps like this inevitable without proper precautions."
"A voter is likely to watch RT because YouTube recommends RT so often it's the top news network on the platform. A voter is likely to see an ad there because YouTube has taken no steps to let advertisers easily opt out of funding the propaganda channels of dictators," he said.
Update 12/08/20 1:12 p.m. This story was updated with comment from Dubow.