Trump Campaign Invites Couple Who Pointed Guns at Protest to Virtual Event
Mark and Patricia McCloskey, the St. Louis, Missouri couple who gained a measure of fame after brandishing weapons at a group of protesters in their neighborhood, appeared Friday on an online program presented by President Donald Trump's reelection campaign.
Video of the McCloskeys pointing guns at demonstrators appeared on social media after the incident. Mark McCloskey can be heard yelling at the crowd to "keep moving" while holding what appeared to be an assault rifle. Patricia McClosky held what appeared to be a semi-automatic pistol in her hand. President Trump retweeted the video in June with no accompanying caption. While many have criticized the McCloskeys for threatening marchers in a peaceful protest, Mark McCloskey indicated Friday that was an incorrect appraisal of the situation.
"The so-called peaceful protest kinda ended when they smashed through the gate into my neighborhood and poured into my front yard," Mark McCloskey said on Making the Case, a campaign program co-hosted by Donald Trump Jr. and Kimberly Guilfoyle.
"We're talking two, three hundred, I think the estimates are as much as 500 people all rushing at us, coming towards us," he added. "We were just out on the east patio trying to barbecue dinner."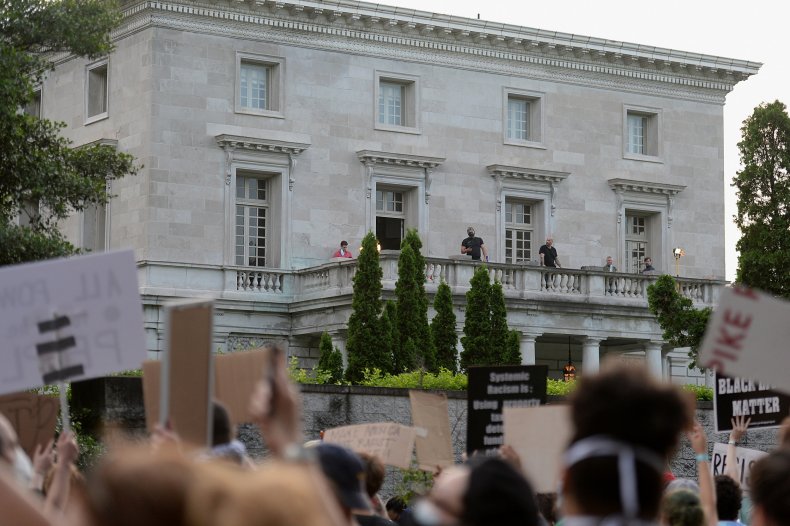 Patricia McCloskey said that after she saw the neighborhood private security vehicle parked with its lights flashing in the midst of the protest, she "knew we were on our own and this was it. And we were terrified."
Police seized the assault rifle from the McCloskey home under the auspices of a search warrant. St. Louis Circuit Attorney Kim Gardner said her office was investigating the case although charges have yet to be filed against the McCloskeys. On Wednesday, Republican Missouri Senator Josh Hawley wrote a letter to U.S. Attorney General William Barr calling for an investigation into Gardener for allegedly violating the McCloskeys' rights.
"There is no question under Missouri law that the McCloskeys had the right to own and use their firearms to protect themselves from threatened violence, and that any criminal prosecution for these actions is legally unsound," Hawley wrote. "The only possible motivation for the investigation, then, is a politically motivated attempt to punish this family for exercising their 2nd Amendment rights."
Newsweek reached out to the U.S. Department of Justice for comment.
Missouri is a "stand your ground" state with policies on the books allowing homeowners to defend themselves and their property with force. Under the state's Castle Doctrine, residents do not have to retreat before firing on trespassers who illegally enter their yards or driveways.
During a news briefing on Tuesday, Governor Mike Parson indicated that he had been spoken with President Trump about the McCloskey incident. "The conversation I had with the President," Parson said, "said that he would do everything he could within his powers to help with this situation and that he would be taking action to do that."
Gardner commented on the case to Newsweek on Tuesday, saying that she was "reviewing all the available facts and the law and will apply them equally, regardless of the people involved."