Trump Campaign Knew Consultant Was Behind Joe Biden Parody Site. Does That Make It a Campaign Finance Violation?
Multiple members of President Donald Trump's re-election campaign knew that one of their colleagues was the creator of the Joe Biden parody site before his identity was disclosed last week, a campaign source familiar with the matter told Newsweek.
In late June, The New York Times published a report revealing Trump campaign consultant Patrick Mauldin as the digital guru behind JoeBiden.info, a website "parody" of the Biden campaign that was designed to highlight unfavorable quotes and notable gaffes from the former vice president.
While his campaign activities and his extracurricular activities appear to be separate functions, Mauldin's dual status as a bona fide campaign worker and off-duty web guru raises the question of potential campaign finance violations.
The campaign source, who spoke to Newsweek on the condition of anonymity, said that a couple of members of the Trump campaign learned that Mauldin, who makes videos and other digital content for the campaign, according to The Times, was the site's creator earlier this year. Additionally, several members of Trump's initial campaign for president in 2016 knew of Mauldin's involvement around the same time. The Times report from June 29, which was the first time Mauldin's status as the site's creator was made public, said that the campaign knew of the website but did not provide further details.
The source would not disclose exactly who on the campaign knew or how high ranking they were. Although it is impossible to say precisely who on the campaign was aware, given the possibility that individuals who knew could have told others.
The Trump campaign did not immediately respond to a request for comment.
Responding to the earlier Times story, Trump campaign communications director Tim Murtaugh said: "We think it's great that talented supporters of President Trump use their own time to help his re-election. We appreciate their efforts in their own time with parodies like this that help the cause."
Federal campaign finance rules generally permit any domestic entity to make unlimited political expenditures as long as they aren't coordinated with a campaign. If a political activity is undertaken "in coordination" with a campaign, it would no longer be independent and would be subject to contribution limits or may need to be reimbursed as a campaign expense.
"If it is coordinated then that means that it needs to be paid for with hard money and it would need to be properly reported to the Federal Election Commission (FEC) as a campaign expenditure," Ciara Torres-Spelliscy, a professor of election law at Stetson University, told Newsweek.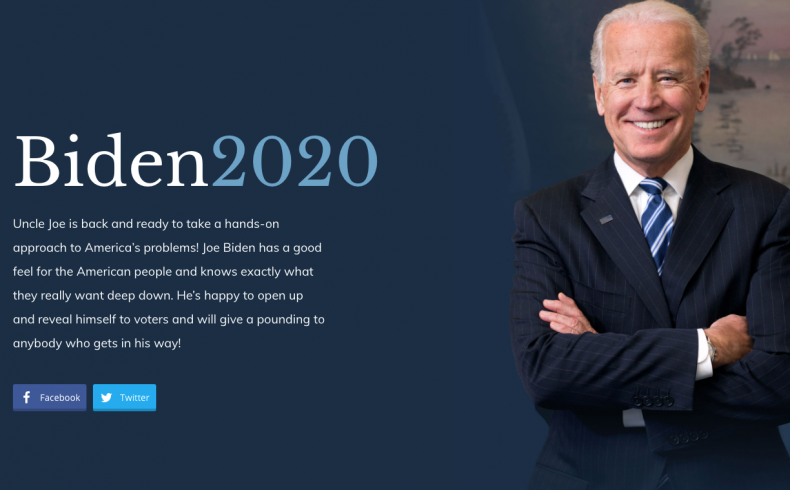 The FEC defines coordination as any actions taken "in cooperation, consultation or concert with, or at the request or suggestion of" a candidate or candidate's campaign.
If such work is determined to be coordination, then funds spent in support of it would likely need to be reported as a campaign contribution and cannot exceed individual donation limits. The site itself could also have to add additional disclaimers indicating it was authorized by the campaign.
Adav Noti, the senior director for trial litigation at the Campaign Legal Center and a former acting assistant general counsel at the FEC, told Newsweek that a critical factor in determining coordination would be whether any of Mauldin's work was done on campaign time or using campaign resources.
When reached for comment, Mauldin ruled out this possibility, telling Newsweek that "none of the work on the site was done during billable hours for the campaign whatsoever."
"It was not instigated, directed, paid for or worked on with anyone in the campaign," he said. "This was entirely done 100 percent by me on my own time."
Noti said that the propriety of Mauldin's work would hinge on "the structure of his relationship with the campaign."
It may well be permissible if Mauldin "is just working a couple hours a week as an independent contractor, and then separately truly doing this on his own time." But Noti identified several other factors that could tilt the balance toward coordination, even if ostensibly conducted separate and apart from campaign work.
"It matters what the campaign knew about the activity and whether they explicitly or implicitly condoned or blessed it," he said. "It's very fact-specific, so it depends on what their response was to knowing."
If Mauldin's colleagues discovered the website's origins by themselves, "then they might have a stronger argument that it was independent."
But Noti cautioned that if Mauldin expressly told the campaign of his work, then coordination could certainly come into play.
"The Federal Election Commission has ruled on this," he explained to Newsweek. "If someone goes to a campaign and says, 'I'm going to spend $10,000 to do 'x' in support of you,' and the campaign person nods and says nothing, that's almost certainly a coordinated expenditure."
"It would be different if he didn't tell them and they just found out somehow," Noti added.
But Andrew Herman, a campaign finance lawyer at the D.C. law firm Miller & Chevalier, played down the notion that knowledge of Mauldin's involvement alone, regardless of how it came about, could trigger coordination issues.
"If that were the only fact, that the campaign had knowledge, I don't think that would be sufficient to establish coordination according to the way it has been defined in the past by FEC election rules," he told Newsweek.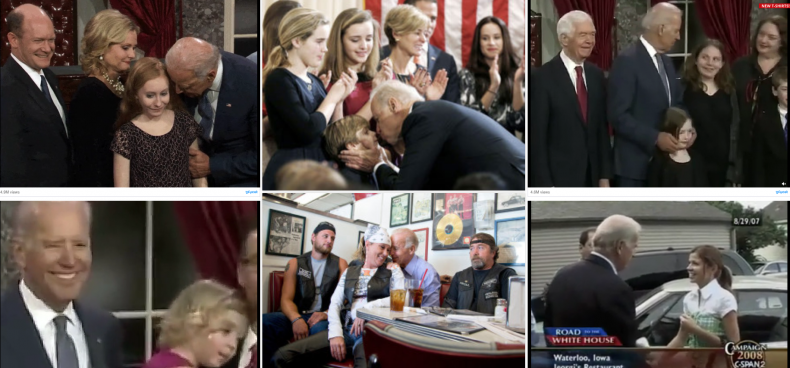 One exception to mandated reporting of campaign contributions, even when coordinated, is for uncompensated volunteer activity. Though Noti said that "those folks are usually not compensated by the campaign in any way, and to call it uncompensated, if you're being paid by the campaign separately, would be legally dicey."
The domain name JoeBiden.info was purchased in May 2015, according to DNS records maintained by the Internet Corporation for Assigned Names and Numbers (ICANN).
A review of the early iterations of the site using the Internet Archive's Wayback Machine shows that, after the site's creation, content was likely sparse. A website header memorialized by the Archive read: "Joe Biden Gaffes >> A Collection of Joe's Most Embarrassing Moments." The source code included tags to help it rank well in search results, including "Biden 2016," "Joe Biden Gaffes" and "creepy."
Around mid-March of this year, the website went through a significant redesign, a review of the Archive shows, resulting in a sleek, mobile-friendly user interface that was packed with memes, quotes and policy positions from the former vice president that begged to be shared widely on social media. The redesign occurred just a month before Biden officially launched his campaign for president and at a time when his participation was all-but-certain.
"Uncle Joe is back and ready to take a hands-on approach to America's problems," the website's header reads, an allusion to allegations of inappropriate, but not sexual, touching leveled against Biden around the time of his campaign's rollout.
In May 2019, nearly 830,000 unique visitors accessed the JoeBiden.info parody site, according to the web traffic analytics firm SimilarWeb. By comparison, Joe Biden's official campaign site only reached as far as about 567,000 unique visitors.
Part of the success in overtaking the Biden campaign website is owed in part to the social media platform Reddit, where, as the Times report noted, Mauldin first began promoting his creation.
JoeBiden.info earned 230,000 visits that originated from various social media websites from April through June, nearly 55 percent of which were referred from Reddit, according to SimilarWeb. On the other hand, Biden's campaign website earned only 210,000 social-generated visits for the same period of time, and over 62 percent of these came from Facebook users.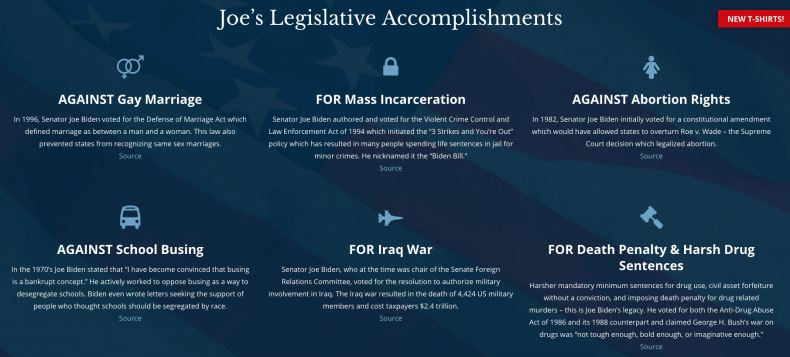 The parody site once outranked Biden's official campaign on Google search—partly because it was launched before the official campaign site—but that feat has since been undone, according to search ranking analytics from SpyFu. Biden's site is now ranked higher and regularly generates more organic search traffic than the parody site, around double during the month of June.
Still the parody site has helped renew unwanted attention to a scandal that has dogged Biden's campaign from the outset. The former vice president had spent months alternately explaining, apologizing for or defending his physical interactions with women during the span of his political career. While none of the allegations involved sexual misconduct, some women have contended that Biden violated their personal space.
A disclaimer at the bottom of the parody site alerts visitors that it is not intended to represent the Biden campaign: "This site is political commentary and parody of Joe Biden's Presidential campaign website. This is not Joe Biden's actual website."
Noti, the campaign finance lawyer, emphasized that the nature of potential coordination issues will come down to the specificities of who in the campaign knew what and how they were made aware of it.
"If there was any communication between a campaign official and an employee or contractor about work like this, it's going to be very hard to say it wasn't coordinated," he said. "Unless the substance of this coordination was, 'Gee, stop this. You're going to get us in trouble.'"
Herman, on the other hand, thought the standard would need to be a bit higher, requiring an "active exchange of information" between both parties.
"It's all very wink wink, nudge nudge," he said. "But it's an enormous loophole. You could drive a truck through that loophole."