Trump Campaign to Launch 'Veterans for Trump' Coalition After Syria Withdrawal Leaves Some Feeling Uneasy
President Trump's 2020 reelection campaign has announced the formation of Veterans for Trump, an attempt at recruiting and connecting with veterans—in spite of the fact that the President's withdrawal of military forces from Syria has made him a controversial figure in some military circles.
"Veterans for Trump," like "Latinos For Trump" and "Women for Trump," is a targeted outreach campaign seeking to train volunteers for the president's reelection campaign. The end goal is to build support for the president in each selected target demographic.
"Veterans finally have a president fighting to ensure that their sacrifices to our country are not forgotten," said Brad Parscale, Trump campaign manager, in an email sent to Newsweek. "That fight began with finally giving veterans the care they deserve and signing legislation that creates unparalleled opportunity after their service. The VA MISSION Act, Forever G.I. Bill, and a commitment to veteran's job training have made a generational impact for the men and women who have served. The era of empty promises is over. President Trump is keeping his word to America's veterans."
"Veterans are leaders in business, government, church, and our communities; and now we need to lead again to support a President who has repeatedly delivered for us," said Jeff Landry, Co-Chair of Veterans for Trump in an email sent to Newsweek. "President Trump continues to keep his promise to fight for veterans. We finally have a VA system that is working in the right direction. We now have increased job opportunities and the lowest unemployment rate ever among veterans. Re-electing President Trump means four more years of progress for veterans and a champion in the White House for our causes."
The campaign mentioned the president's revamping of the Department of Veterans Affairs, and record unemployment rates among veterans as proof of the president's commitment to former servicepeople.
In his continuing commitment to promoting the military's health, the president plans on attending a massive Veteran's Day Parade on November 11 in New York, becoming the first sitting president to do so. The parade boasts 25,000 participants annually and thousands of spectators, according to The Military Times.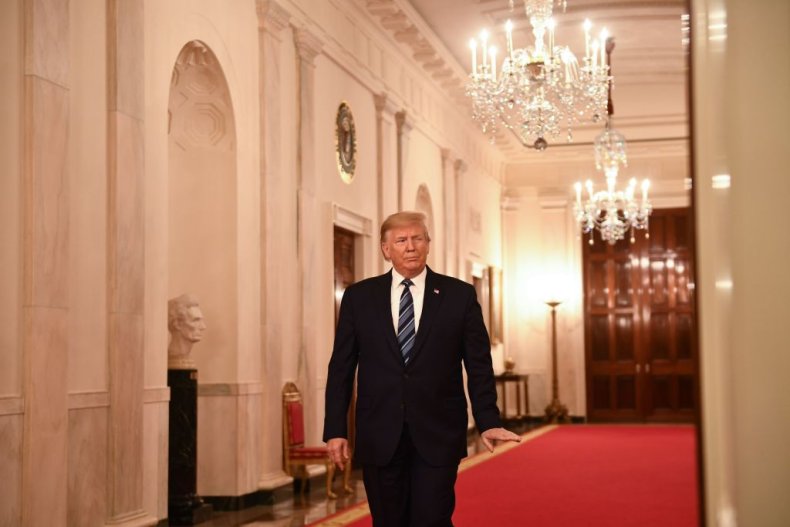 Veterans have historically been a strong voting base for the President. In 2016, 57 percent of veterans voted for him, and as of September, 57 percent of them approve of how he's handled his duties as commander-in-chief, according to a Pew Research Poll, compared to 51 percent in July. The poll also said 48 percent of veterans polled said that the president's policies have made the military stronger.
However, some veterans have expressed displeasure about the president's choice to withdraw troops from the Syrian border, leaving Kurdish soldiers to defend the territory alone.
"As a guy that served in the military and really got into politics because I believe in the role America plays, to see this yet again, you know, leaving an ally behind, abandoning people that we frankly told that we were going to be with is disheartening, depressing," Rep. Adam Kinzinger (R-Ill.) said on CBS' Face the Nation earlier this month. Kinzinger is also an Air Force veteran.