A lawyer for President Donald Trump's re-election campaign contradicted the president in an Arizona court on Thursday, claiming that the campaign is "not saying anyone is trying to steal the election" but rather that "good faith errors" were made during the ballot count.
Kory Langhofer, one of the campaign's lawyers, appeared in a Maricopa County court to argue a lawsuit filed last week alleging that some poll workers "incorrectly rejected" in-person ballots on Election Day, possibly affecting final vote tallies, the Arizona Republic reported.
Trump lost Arizona to President-elect Joe Biden by a margin of 11,537 votes, according to the Associated Press. But the president and a number of his associates have claimed without proper evidence that before, during and after the November 3 election widespread instances of voter fraud and other irregularities threw the race in his opponent's favor.
In addition to Arizona, members of Trump's team and the Republican Party have filed lawsuits in Georgia, Nevada, Michigan and Pennsylvania—all states the president has either already lost or appears to be losing.
"If you count the legal votes, I easily win," Trump said during a November 4 White House press briefing. "This is a case where they're trying to steal an election. They're trying to rig an election, and we can't let that happen."
But Langhofer diverted sharply on Thursday from his boss' messaging. "This is not a fraud case. We are not alleging fraud. We are not saying anyone is trying to steal the election," the lawyer said during the evidentiary hearing.
Instead, Langhofer claimed there were "good faith errors" on behalf of poll workers during the ballot count, according to New York Times reporter Alan Feuer.
Newsweek contacted the Trump campaign for comment but did not hear back in time for publication.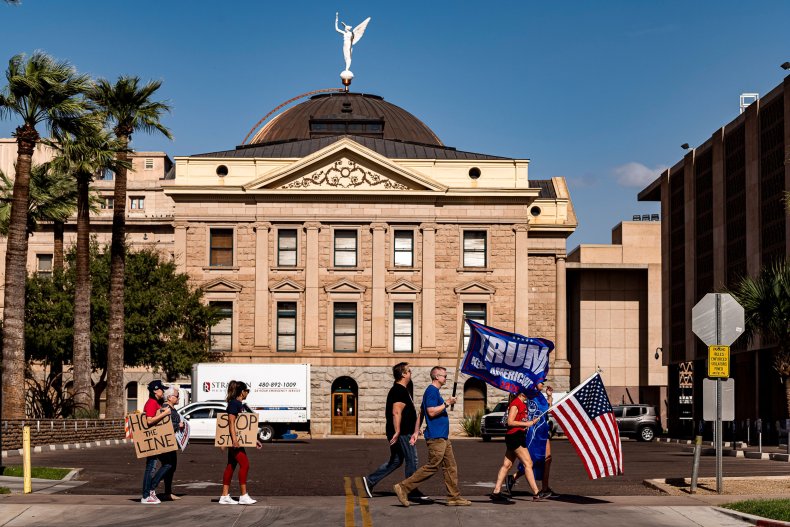 The Maricopa County lawsuit, filed on behalf of the campaign, the Republican National Committee and the Arizona Republican Party, alleges that poll workers disregarded procedures designed to give voters a chance to correct ballot mistakes on Election Day, according to the Republic.
Trump's re-election team is particularly concerned with "overvotes," which occur when voters mark more options than allowed in a particular race. Ballot machines are programmed to alert voters when an overvote is detected; the voter then has a choice of either requesting a new ballot or casting the original ballot with the warning that overvotes may not be counted, the Republic reported.
Voters who choose to proceed with their original ballots are entitled to a manual inspection by a poll worker. The Trump lawsuit alleges that elections officials disregarded that step, allowing for legitimate votes to go uncounted, according to the Republic.
The Trump campaign wants officials to manually reinspect those ballots and discard votes only in cases when "it is impossible to positively determine the voter's choice," the Republic reported. But Maricopa County officials have estimated fewer than 200 ballots are of concern in the presidential race, not the thousands the plaintiffs claim, according to the Republic.
A county lawyer said during Thursday's hearing that "99.998 percent" of the total ballots cast for president in Maricopa were accurately recorded, Feuer tweeted.
Evidence brought forth by the Trump campaign to back their assertions also appears to be lacking. Langhofer explained in court that the process for gathering such evidence included an online form where complainants could send in submissions detailing an incorrectly discarded ballot.
Attorneys then visited the complainants' homes to further examine the claims, finding that a subset of the sworn statements were filled with lies and "spam," Langhofer said. The lawyers did not enter those faulty submissions as evidence in the lawsuit, but did include ones where they could not prove whether the submission was false, Law and Crime reported.
"How is that a reliable process of gathering evidence?" Maricopa County Judge Daniel asked Kiley, who blocked admission of the so-called evidence, according to Law and Crime.
The hearing began Thursday morning and is expected to last most of the day.