Trump Campaign Lawyer Tells PA Judge He Has 'No Knowledge' of Voter Fraud Related to Ongoing Ballot Count
Jonathan Goldstein, an attorney representing President Donald Trump's reelection campaign, told a Pennsylvania judge that he was not aware of fraudulent ballot counting procedures in the state's Montgomery County during a Tuesday appearance in court.
The Trump campaign filed a lawsuit one day prior aiming to challenge election results against Pennsylvania Secretary of State Kathy Boockvar and local Election Boards in seven counties, including Montgomery.
The campaign's Montgomery petition claimed that election officials illegitimately counted roughly 600 absentee and mail-in ballots, which it said should have been tossed out due to "deficiencies."
However, when a judge presiding on Montgomery County's Court of Common Pleas pressed Goldstein to address whether tabulation procedures affecting those ballots in question constituted fraud, Trump's attorney said they did not.
"I am asking you a specific question, and I am looking for a specific answer. Are you claiming that there is any fraud in connection with these 592 undisputed ballots?" a judge asked during Tuesday's hearing, according to the court transcript.
"To my knowledge at present, no," Goldstein replied. Earlier, the attorney sidestepped a similar inquiry from the court, acknowledging that "accusing people of fraud is a pretty big step."
"We're all just trying to get an election done," he continued. "We think these [absentee and mail-in ballots] were a mistake, but we think they are a fatal mistake, and these ballots out not to be counted."
Trump's reelection campaign filed about a dozen lawsuits targeting ballot counting procedures across the U.S. last week, after early reporting placed him ahead of Biden in swing states that flipped as election officials continued to collect and tally votes cast by mail. Alongside the campaign's efforts to contradict election results in court, Trump, without evidence, repeatedly claimed that voter fraud and Democratic corruption cost him the presidential race. His allegations connecting increased use of mail-in ballots this year, in light of the coronavirus pandemic, are unsubstantiated and widely considered to be false.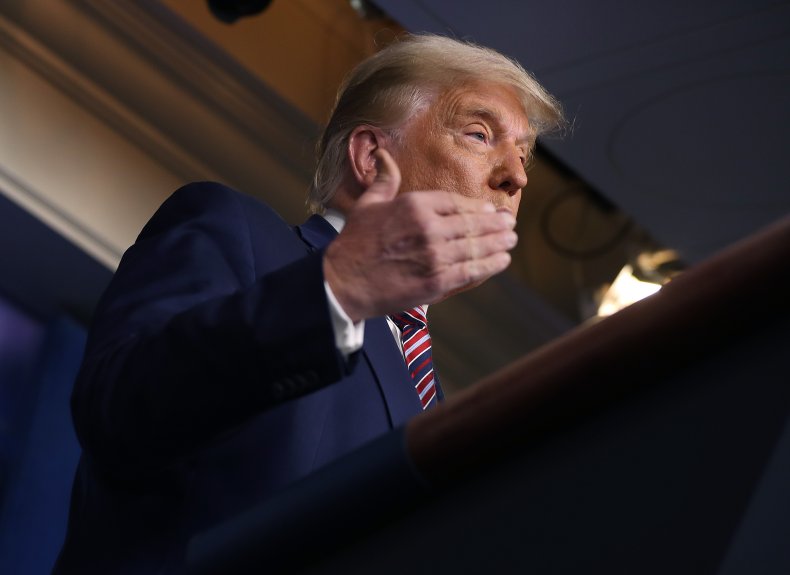 Amid its wave of lawsuits, the Trump campaign initiated multiple legal proceedings in Pennsylvania, a critical battleground state both candidates campaigned fiercely to win during the final stretch of election season. Several media outlets, including the Associated Press, projected Biden as the winner in Pennsylvania on Saturday, putting him over the 270 electoral votes needed to win the White House.
Newsweek reached out to the Trump campaign for additional comments but did not receive replies in time for publication. Goldstein said told Newsweek he stands by his comments reflected in the court transcript.