Trump Will Campaign for Ted Cruz Despite Years of Insulting His Family and Integrity
President Donald Trump will campaign for Senator Ted Cruz in Houston on Monday night.
The president will be speaking at a rally at the Toyota Center, which holds 18,000 people. At least 70,000 have signed up for the event, according to the Houston Chronicle, which cited Houston Police Chief Art Acevedo.
The Texas incumbent, who Trump repeatedly maligned during the 2016 presidential primary, is facing a surprise Senate challenge from Democratic candidate Beto O'Rourke.
Texas is a reliably red state that has not elected a Democrat to a statewide position since 1994, according to Slate. O'Rourke is back 7 percent, according to a recent CNN poll.
Cruz won 56.6 percent of the vote in 2012, The New York Times reported.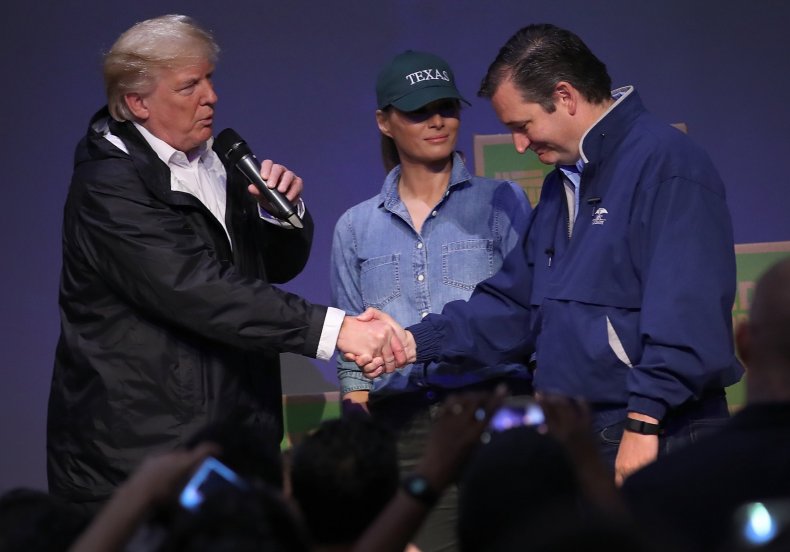 The president's appearance at the Houston rally further signals reconciliation between the two former political rivals.
In 2016, Trump and Cruz frequently traded barbs during the contentious Republican primary contest. Trump called Cruz a liar, disparaged the senator's wife by calling her ugly and insinuated Cruz's father was involved in the assassination of President John F. Kennedy. Cruz retaliated by calling Trump a "sniveling coward," questioning whether Trump had mafia connections and disparaging him a "a small and petty man who is intimidated by strong women."
At the 2016 Republican National Convention, Cruz dealt another blow to Trump when he refused to endorse the Republican presidential nominee, saying "I am not in the habit of supporting people who attack my wife and attack my father." He capitulated months later, writing on Facebook "After many months of careful consideration, of prayer and searching my own conscience, I have decided that on Election Day, I will vote for the Republican nominee, Donald Trump."
The two have since continued to mend previous tensions.
Less than two months after taking office as president, Trump invited Cruz and his family to dine at the White House.
Ted Cruz wrote a fawning profile of Trump for Time Magazine's list of the 100 most influential people of 2018.
"The same cultural safe spaces that blinkered coastal elites to candidate Trump's popularity have rendered them blind to President Trump's achievements on behalf of ordinary Americans," Cruz wrote. "President Trump is doing what he was elected to do: disrupt the status quo. That scares the heck out of those who have controlled Washington for decades, but for millions of Americans, their confusion is great fun to watch."