Trump Campaign Mulling National Election Lawsuit to 'Really Expose Corruption,' Rudy Giuliani Says
Key players in Donald Trump's campaign vowed to pursue legal action against those trying to "steal" the election from the president, including a possible lawsuit on the national level.
The election has yet to yield an official winner, and in a race this close, every vote matters. Key battleground states, including Michigan and Pennsylvania, are still counting ballots, which has irked the Trump campaign because it considers this a way to turn the tide in Joe Biden's favor.
As expected, the Trump campaign filed a number of lawsuits on Wednesday. The goal of the suits in Michigan and Pennsylvania is to temporarily halt ballot counting until the campaign is given "meaningful" access to the process and the ability to review ballots that were already opened and processed. Additional lawsuits could be coming as well.
"We're going to take a very good look at whether we bring this nationally.... Quite possibly we'll do a national lawsuit and really expose the corruption of the Democrat Party," Rudy Giuliani, Trump's lawyer, said during a Wednesday briefing in Philadelphia. "This is beyond anything I've ever seen before."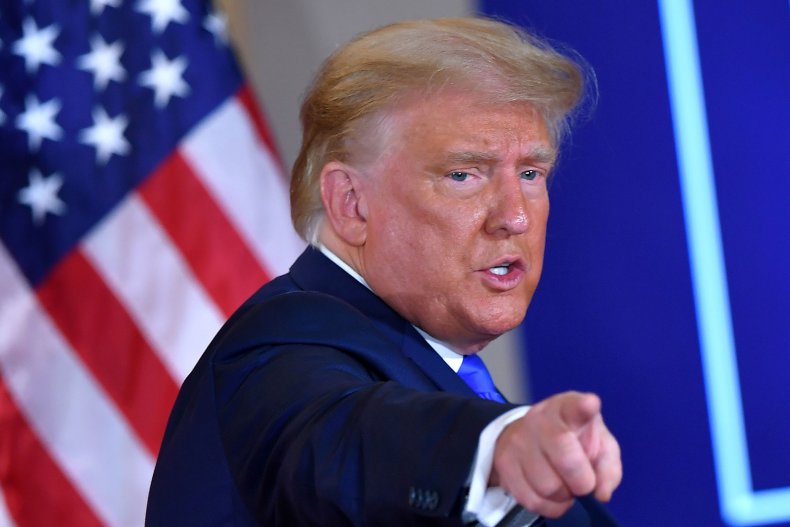 Giuliani added that the campaign would file a second lawsuit in Pennsylvania and a third in federal court to prevent the inclusion of "fraudulent" ballots in the state's total number of votes. He noted the campaign's inability to look at each ballot, saying it had a legal right to "observe" ballot counting. Instead, observers had to be 20 or 30 feet away, Giuliani said, meaning they couldn't see if a ballot was properly postmarked, addressed and signed, three matters that could lead to ballot disqualification.
"This is a concerted effort by the crooks of the Democratic Party," Giuliani said, calling the judge who ruled against their initial lawsuit a "political hack."
Newsweek reached out to the Democratic National Committee for comment but did not hear back in time for publication.
Trump trails Biden in Michigan by 1 percentage point, while in Pennsylvania he has a 5-point lead. Giuliani also railed against the failure to call the race in Pennsylvania. As of Wednesday evening, 86 percent of the vote had been reported, and Trump had a 300,000-vote lead over Biden.
"How many votes do you have to be ahead for a Republican to win here?" Giuliani asked.
However, that gap is expected to narrow as mail-in ballots are counted. On Monday, Trump criticized the U.S. Supreme Court for allowing Pennsylvania to count ballots three days after the election, a move that the president said would allow "rampant and unchecked cheating and will undermine our entire system of laws."
Eric Trump, the president's son, called the Pennsylvania ballot counting procedures "absolute fraud" during Wednesday's briefing and said filing a lawsuit was the "last thing we wanted to do" but the "rampant corruption" couldn't be tolerated. He, like the Biden campaign, remained confident that his candidate would take Pennsylvania.
The stakes are high in Michigan and Pennsylvania, because if Biden takes those two states, he'll reach the 270 Electoral College votes he needs to secure the presidency. The Trump campaign is also looking toward demanding a recount in Wisconsin, a state that Trump lost by less than 1 point, and Giuliani said a lawsuit will be filed there.
Correction: An earlier version of this story incorrectly said the U.S. Supreme Court decided on Monday to allow Pennsylvania to count ballots three days after the election. On Monday, President Donald Trump criticized the court's action, which came on October 19.