Cambridge Analytica, a data analytics firm hired by Donald Trump's election team, harvested data on 50 million Facebook users for targeted political propaganda campaigns, reported The Observer and The New York Times on Saturday.
Cambridge Analytica also held previously undiclosed discussions with Russian energy firm Lukoil, according to reports.
The reports followed Facebook suspending the company from its platform late Friday for improperly storing the user data of 270,000 users. The new Observer and The New York Times reports reveal, however, that the infractions went well beyond those cited by the social media giant in its suspension notice and said that Cambridge Analytica had stolen the data of tens of millions of people.
The Massachusetts attorney general said her office was launching an investigation after the news reports.
"Massachusetts residents deserve answers immediately from Facebook and Cambridge Analytica," Maura Healey said on Twitter in a post that linked to a Times report.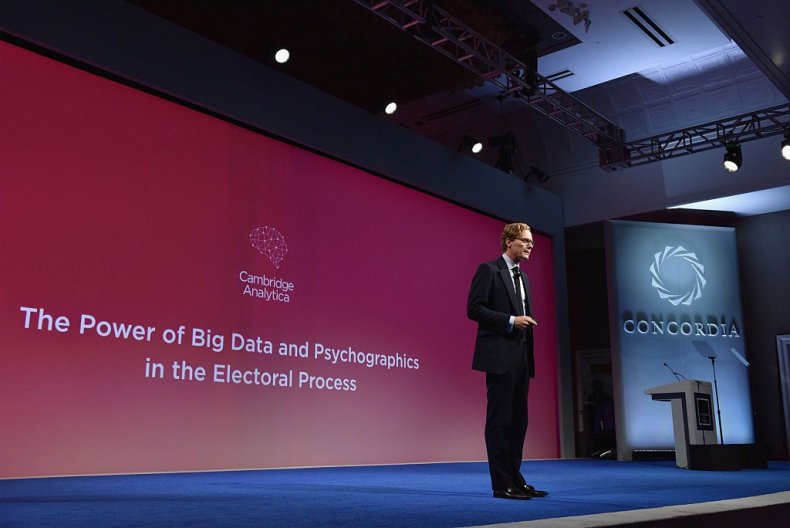 The United Kingdom's Information Commission also announced on Saturday they are conducting an investigation of Cambridge Analytica, which also had clients in the country.
"Any criminal and civil enforcement actions arising from the investigation will be pursued vigorously," said Elizabeth Denham, Information Commissioner.
Facebook on Friday said it was suspending Cambridge Analytica after finding data privacy policies had been violated.
The move means Cambridge Analytica and its parent group, Strategic Communication Laboratories (SCL) cannot buy ads or administer pages belonging to clients.
The newspapers, which cited former Cambridge Analytica employees, associates and documents, said the data breach was one of the largest in the history of Facebook Inc.
The Observer said Cambridge Analytica used the data, taken without authorization in early 2014, to build a software program to predict and influence choices at the ballot box.
It quoted whistleblower Christopher Wylie, who helped set up Cambridge Analytica and worked with an academic at Cambridge University to obtain the data, as saying the system could profile individual voters to target them with personalized political advertisements.
The more than 50 million profiles represented about a third of active North American Facebook users, and nearly a quarter of potential U.S. voters, at the time, the Observer said.
"We exploited Facebook to harvest millions of people's profiles. And built models to exploit what we knew about them and target their inner demons. That was the basis that the entire company was built on," Wylie told the Observer.
The New York Times said interviews with a half-dozen former Cambridge Analytica employees and contractors, and a review of the firm's emails and documents, revealed it not only relied on the private Facebook data but still possesses most or all of it.
The Observer said the data was collected through an app called Thisisyourdigitallife, built by academic Aleksandr Kogan, separately from his work at Cambridge University.
Through Kogan's company Global Science Research (GSR), in collaboration with Cambridge Analytica, hundreds of thousands of users were paid to take a personality test and agreed to have their data collected for academic use, the Observer said.
However, the app also collected the information of the test-takers' Facebook friends, leading to the accumulation of a data pool tens of millions-strong, the Observer said. It said Facebook's "platform policy" allowed only collection of friends data to improve user experience in the app and barred it from being sold on or used for advertising.
Facebook said it acted against Cambridge Analytica and SCL after receiving reports they did not delete information about Facebook users that had been inappropriately shared.
A Cambridge Analytica spokesman said GSR "was contractually committed by us to only obtain data in accordance with the UK Data Protection Act and to seek the informed consent of each respondent."
"When it subsequently became clear that the data had not been obtained by GSR in line with Facebook's terms of service, Cambridge Analytica deleted all data received from GSR," he said.
"We worked with Facebook over this period to ensure that they were satisfied that we had not knowingly breached any of Facebook's terms of service and also provided a signed statement to confirm that all Facebook data and their derivatives had been deleted," the spokesman said.
He said "no data from GSR was used by Cambridge Analytica as part of the services it provided to the Donald Trump 2016 presidential campaign."
Also under scrutiny are the firm's Russia ties, with Kogan having previously unreported connections to a Russian University — including a teaching position and grants for researching social media networks, the Observer reported.
According to The New York Times meetings were held between Cambridge Analytica executives and executives from Russian energy firm Lukoil in 2014 and 2015 where techniques for harvesting information on American voters was discussed.
The three meetings were reportedly held in London and Turkey, with SCL and Lukoil denying to the newspaper that they were political in nature, and SCL further denying any meetings took place in London.
The Russian executives were shown slides on "psychological operations" techniques used by the firm, according to the Observer.
"Alexander Nix's presentation didn't make any sense to me," said whistleblower Wylie. "If this was a commercial deal, why were they so interested in our political targeting?"
The Wall Street Journal Friday reported that Special Counsel Robert Mueller, who is leading an investigation into alleged ties between the Trump campaign and Russian, had requested Cambridge Analytica hand over internal documents.
Last month Cambridge Analytica chief executive Alexander Nix told MPs: "We have never worked with a Russian organisation in Russia or any other company. We do no have any relationship with Russia or Russian individuals."
Kogan told the Observer: "Nothing I did on the Russian project was at all related to Cambridge Analytica in any way. No data or models."
Trump's campaign hired Cambridge Analytica in June 2016 and paid it more than $6.2 million, according to Federal Election Commission records.
The firm has received backing from financier Robert Mercer, a key supporter of populist conservative organisations, with former White House chief strategist Steve Bannon having served on its executive board.