President Donald Trump's reelection campaign raised more money during the Republican National Convention (RNC) than the campaign of Democratic Presidential candidate Joe Biden did during the Democratic National Convention (DNC), according to figures announced Friday.
Over the four-day span of the RNC, Trump's campaign, the Republican National Committee and various joint fundraising committees were able to raise $76 million. During the August DNC, Biden's campaign along with the Democratic National Committee and their joint fundraising committees raised $70 million, separating the Biden campaign from President Trump's campaign by $6 million.
"With massive fundraising and record viewership, President Trump's renomination convention was a huge, unqualified success," Trump campaign communications director Tim Murtaugh said Friday to Fox News.
Though Trump raised more money, fewer people watched President Trump's nomination acceptance speech on Thursday than Biden's. Broadcast television ratings from Nielsen showed that Biden's address was watched by 21.8 million people. Trump's acceptance of his party's nomination was viewed by 19.85 million people. Those numbers do not represent people who watched online.
"We reimagined and reinvented our convention to reach, engage, and mobilize Americans everywhere while showcasing Joe Biden's positive, hopeful, and bold vision for the country," Biden campaign manager Jen O'Malley Dillon said in an August statement. "Our convention sent a resounding message to the millions of Americans who joined throughout the week: vote, vote, vote."
Newsweek reached out to the campaigns of both President Donald Trump and Joe Biden for further comment.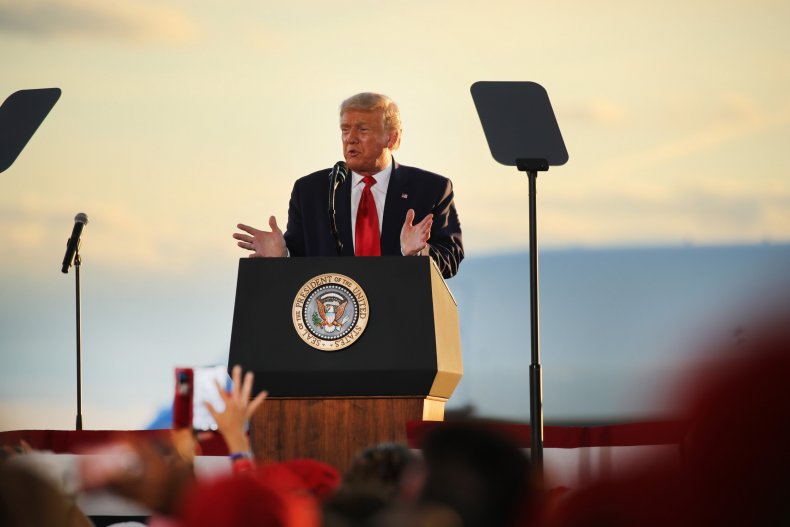 While the DNC presented a number of pretaped segments and employed celebrity hosts for each night of the convention, the RNC relied more on stories from Republicans who were not constantly in the public eye. Trump and Vice President Mike Pence also gave their acceptance speeches in front of live crowds.
Standard presidential campaign events—like fundraisers, rallies and party conventions—have all been altered by the coronavirus pandemic. Biden stopped holding large-scale events this past spring, opting for a number of virtual town halls to get his message across. Trump was interviewed on television numerous times, using that outlet to promote his reelection. President Trump has started holding in-person fundraisers again, appearing at August events in Texas and New Jersey.
Biden, who had not been seen in public often since March, indicated on Thursday that he was ready to hit the campaign trail again.
"One of the things we're thinking about is I'm going to be going up into Wisconsin and Minnesota, spending time in Pennsylvania, out in Arizona," Biden said during a fundraiser. "But we're going to do it in a way that is totally consistent with being responsible, unlike what [Trump's] doing." Biden also said that he would be traveling throughout the U.S. "where I can do it consistent with the state rules about how many people can be assembled."
During a campaign event in New Hampshire on Thursday, President Trump said that Biden was "better off" not returning to in-person campaigning. "Sleepy Joe [Biden] said he is coming out in 10 days," Trump said. "That is long. That's an eternity in Trumpville."
"That's all right," Trump added. "He's better off where he is."