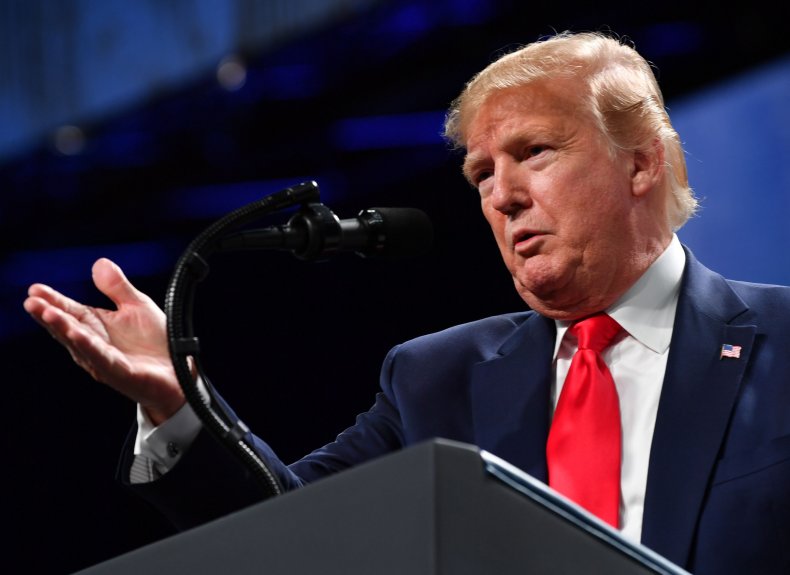 President Donald Trump's campaign says more than a million people have signed up to attend his campaign rally in Tulsa, Oklahoma on Saturday—his first since a temporary pause for the coronavirus.
Trump rallies are free and people who sign up aren't guaranteed to attend, so it's unclear how many will actually make it to the rally at the BOK Center, which seats about 19,000 people.
The arena has canceled or postponed other events through the summer, including concerts that were scheduled for Justin Bieber and Bon Jovi.
To sign up to attend Trump's rally this weekend, attendees have to acknowledge that they are at risk of catching coronavirus to be there.
"There is no better place than America's Heartland to restart our Make America Great Again Rallies," Michael Glassner, chief operating officer of Trump's campaign team said in a statement announcing the plans. "President Trump is fired up and ready to rebuild, restore and renew the American Dream. There's no doubt that the Great American Comeback is here, and we are looking forward to the tremendous crowds and enthusiasm behind President Trump."
It's Trump's first campaign rally—normally massive events that draw thousands—since March when things were put on hold because of the coronavirus pandemic shutdowns.
Trump's campaign manager Brad Parscale said on Twitter that attendees would go through a temperature check before entering and each would get a complimentary mask and hand sanitizer.
"There will be precautions for the heat and bottled water as well," he tweeted Monday.
The campaign didn't immediately respond to Newsweek's request for more details about how many people would be allowed in.
Tulsa is the second-largest city in Oklahoma, and its entire population is about 400,000.
Some Tulsa health officials have spoken out against the plan for a mass gathering while the COVID-19 pandemic continues.
The Tulsa World reported this weekend that the Tulsa City-County Health Department's director said he wishes the campaign rally would be postponed.
"I think it's an honor for Tulsa to have a sitting president want to come and visit our community, but not during a pandemic," Dr. Bruce Dart told the paper. "I'm concerned about our ability to protect anyone who attends a large, indoor event, and I'm also concerned about our ability to ensure the president stays safe as well."
The Health Department didn't immediately respond to Newsweek's request for comment.
According to the state Department of Health, there are 8,073 confirmed positive cases of COVID-19 in Oklahoma and at least 359 deaths as of Friday. The state's been seeing increases since shutdowns have scaled back.
Trump initially said he would have the Oklahoma rally a night earlier, but faced pushback because of the Juneteenth holiday. He moved it one day later, acknowledging the traditionally African American freedom celebration.