Trump Campaign Ready to Resume In-Person Campaign Rallies By End of June
President Donald Trump is expected to hit the campaign trail in person again within the next two weeks, according to Trump campaign manager Brad Parscale.
Trump's campaign has not held an in-person rally since February because of the threat of community spread of COVID-19 (coronavirus). Trump's presumed opponent in the 2020 election, Democratic former vice president Joe Biden, has held virtual campaign events since March. As states have begun to relax coronavirus mitigation protocols and rescind stay-at-home orders, Trump's campaign announced it was ready to get back on the road.
"Americans are ready to get back to action and so is President Trump," Parscale said in a Monday statement sent to Newsweek. "The Great American Comeback is real and the rallies will be tremendous. You'll again see the kind of crowds and enthusiasm that Sleepy Joe Biden can only dream of."
No itinerary has been announced for Trump's upcoming rallies. Newsweek reached out to Joe Biden's presidential campaign for comment. This story will be updated with any response.
Biden told NBC News in March that his campaign would follow recommendations from the CDC while planning campaign events. "If they conclude that there shouldn't be big indoor rallies, then we'll stop indoor, big indoor rallies," Biden said. "We're going to do whatever they say."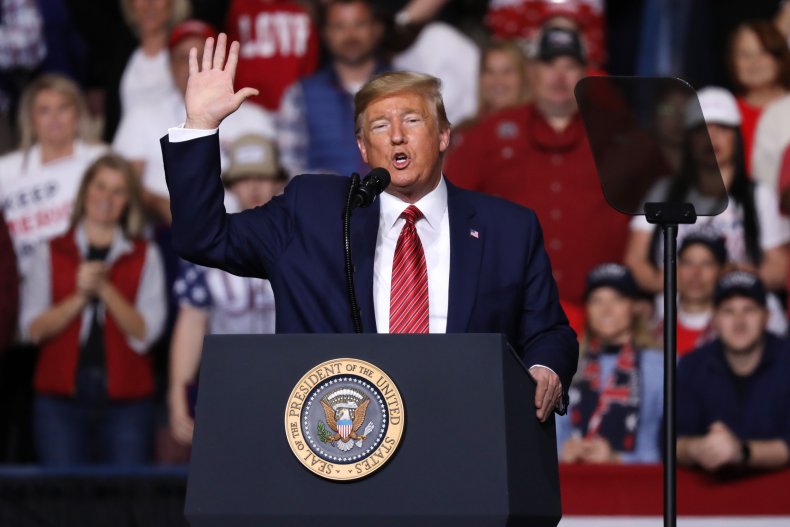 Trump publicly stated his desire to begin the rallies again in during a visit to Michigan in May. "We might do some outdoor big ones and we also may just wait until some of the stadiums can open up," Trump said. "The demand has been incredible to get going with the rallies."
One of the largest political events of the election year is the Republican National Convention, during which Trump is expected to accept the nomination for reeection. Originally slated to take place in Charlotte, North Carolina, Governor Roy Cooper told Trump's campaign last week that he could not guarantee the event could be held in a safe fashion.
Cooper suggested scaling down the event, but said the original plan to hold the RNC at Charlotte's Spectrum Center in August 2020 was "very unlikely" due to the continued threat of coronavirus.
"Neither public health officials nor I will risk the health and safety of North Carolinians by providing the guarantee you seek," Cooper wrote in a Tuesday letter.
Republican lawmakers in North Carolina have drafted proposed legislation to keep the RNC in the state. The bill suggests appropriating $50,000 from the general fund of the state's Department of Health and Human Services to cover coronavirus mitigation practices for the event. Included within the proposal are thermal temperatures scans, completion of daily health assessment questionnaires and "an aggressive sanitation protocol" for public areas.
Democrats have planned to hold their August national convention at the Fiserv Forum in Milwaukee, Wisconsin. Planners have not decided if the event will be held virtually or in-person.
"This isn't about option A (a full-scale event) or B (a virtual event)," said Democratic National Convention Secretary Jason Rae in May, "but it's about looking at all the pieces of the convention, how to scale up or down as we get close to August."