Trump Campaign Says Biden Lacks 'Firsthand Experience' of Being Infected With COVID-19
Erin Perrine, director of press communications for the Trump campaign, said Democratic nominee Joe Biden doesn't have "those firsthand experiences" fighting COVID-19 that President Donald Trump has.
In an interview with Fox News on Monday, Perrine said that Trump "has experience as Commander-in-Chief. He has experience as a businessman. He has experience now fighting the coronavirus as an individual. Those firsthand experiences, Joe Biden, he doesn't have those."
"Those firsthand experiences are what are going to get President Trump four more years," she added.
Trump tested positive for the virus Thursday and was hospitalized Friday at the Walter Reed Medical Center, where he remained as of Monday afternoon.
A senior adviser to the campaign also echoed Perrine's comments that the president's personal encounter with coronavirus will make him better equipped than Biden to handle the nation's response to the outbreak.
"He is going to be able to relate to those individuals who have been inflicted by coronavirus, who's lost a family member to coronavirus," Mercedes Schlapp told Fox News on Monday.
"Now I think the president is able to talk form the heart of how COVID has impacted him, has impacted his family and his staff," she added.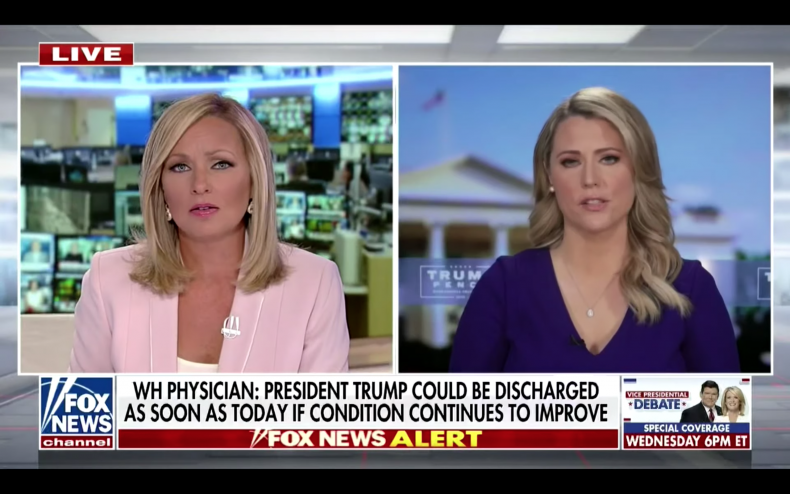 Trump has been criticized for his failure to curb the spread of the virus during the peak of the coronavirus pandemic. Interviews with journalist Bob Woodward recently revealed that the president purposely downplayed the severity of COVID-19, which has claimed the lives of more than 208,000 Americans, in efforts to win re-election this November.
Trump also claimed during a campaign rally last month that the virus "affects virtually nobody." Since his diagnosis, a number of people close to the president have tested positive for COVID-19, including his campaign manager Bill Stepien and White House Press Secretary Kayleigh McEnany.
Perrine said Trump has continued to campaign harder than Biden even though he has been infected with coronavirus.
"As the president fights the coronavirus, he's still maintaining a more rigorous schedule than Joe Biden. Joe Biden called the lid yesterday and the president was out thanking supporters for their support as he is fighting this head on," Perrine said.
Despite being contagious, Trump drove around Walter Reed in the back of an SUV with members of the Secret Service on Sunday to wave at supporters.
Newsweek reached out to the Biden campaign for comment but did not hear back before publication.