Trump Campaign Says It Didn't Hire Armed Guards To Patrol Early Voting Location in Florida
President Donald Trump's campaign said it didn't hire security guards to patrol a voting location in St. Petersburg, Florida Wednesday night after two armed men claimed to be working for the Trump campaign.
The men posing as security guards set up tents outside the voting location in Pinellas County, according to WFLA-TV. The two men were spotted by Trevor Mallory, the Democratic candidate running for Pinellas County property appraiser, while he was also at the early voting site on Wednesday. Mallory recorded the men and posted the video on his Facebook page.
The men reportedly told Pinellas County Sheriff Bob Gualtieri that they were working for the Trump campaign when he arrived on the scene, according to WFLA. However, it's unclear when the sheriff arrived at the voting location.
"The campaign did not hire these individuals nor did the campaign direct them to go to the voting location," Thea McDonald, the deputy national press secretary for the Trump campaign said in a statement to WFLA.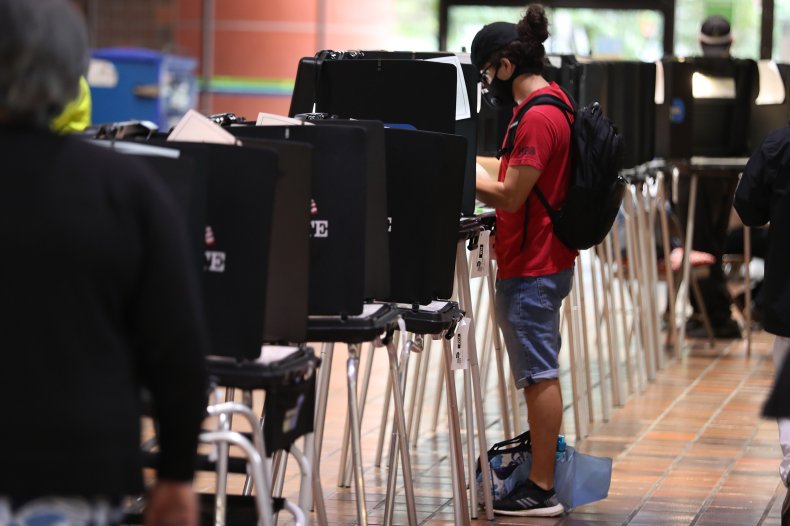 "Their mere presence does not constitute voter coercion or intimidation," Gualtieri told WFLA. However, Gualtieri said the men's presence does cause concern for potential voter cohesion and intimation.
"The sheriff and I take this very seriously," Julie Marcus, Pinellas County Supervisor of Elections, told the tv station. "Voter intimidation, deterring voters from voting, impeding a voter's ability to cast a ballot in this election is unacceptable and will not be tolerated in any way shape, or form. So we anticipated many things going into this election. Not only cybersecurity, but physical security and we had a plan in place and executed that plan."
Gualtieri said that the two men didn't violate any laws, since both men were standing outside and are reportedly licensed security guards employed by a security company in Crestview, Florida. It is unclear how these men were identified as licensed guards.
As a result of Wednesday night's event, Gualtieri plans to station deputies at all of the Pinellas County early voting locations to help make voting locations feel safer and eliminate potential intimidation.
"Deputies will be there as a resource and to be a calming presence so people know they do have unfettered, unrestricted, unintimidated access to those early voting sites," Gualtieri told WFLA. "I hope what it does is make people feel comfortable."
The Trump campaign and the local election commission didn't immediately respond to Newsweek's request for comment.