Trump Campaign Senior Legal Adviser Misgenders Transgender Pennsylvania Health Secretary: 'This Guy Is Making Decisions'
Jenna Ellis, attorney to President Donald Trump and his reelection campaign's senior legal adviser, misgendered Pennsylvania Health Secretary Dr. Rachel Levine on Twitter Monday morning.
Ellis' tweet linked to a Penn Live article published in May. The article focused on Dr. Levine, who is transgender, calling out a Pittsburgh reporter during an interview in which he misgendered her several times. Alongside the link to Penn Live's report, Ellis wrote: "This guy is making decisions about your health."
Ellis targeted other public health authorities on Twitter since then. Later on Monday, the Trump attorney reposted a tweet that suggests Dr. Sonia Angell's resigned from her role as California's Public Health Director due to COVID-19 reporting errors the state's health department acknowledged last week. In another tweet, Ellis described Los Angeles County health officials' response to a church that repeatedly violates COVID-19 health guidelines as "harassment."
Nate Wardle, press secretary at the Pennsylvania Department of Health, responded to Ellis' tweet about Dr. Levine in a statement to Newsweek on Monday afternoon.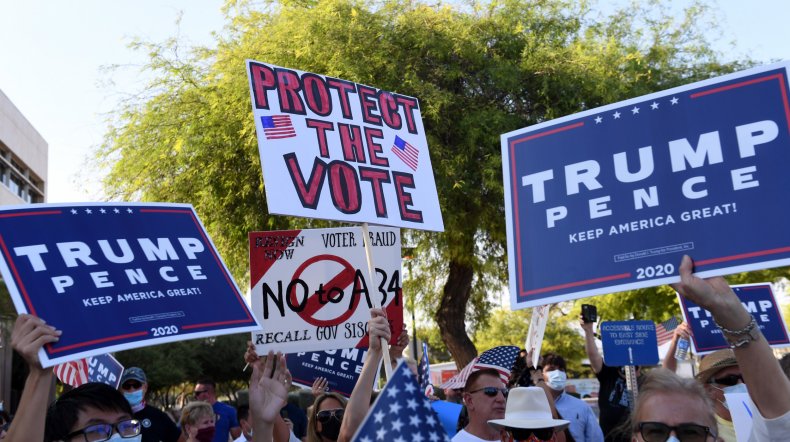 "Dr. Levine is laser-focused on assisting Pennsylvanians in the midst of a national pandemic," he said. "She does not have time for this nonsense."
Levine works closely with Pennsylvania Governor Tom Wolf to draft recommendations for reopening businesses and public spaces amid ongoing transmission of the novel coronavirus. Earlier on Monday, the Pennsylvania Department of Health released detailed protocols for schools to determine whether it is safe to resume in-person instruction, based on benchmarks for virus data.
Levine is one of many public health officials whose measured recommendations to reopen businesses and other elements of public life have garnered backlash from individuals with opposing views. Her guidance, which prioritizes COVID-19 metrics to influence policy decisions, has incited periodic criticism from state residents who sought hastier economic recovery plans.
In July, Pennsylvania residents criticized Levine in transphobic comments shared to a Facebook page associated with the Bloombsurg Fair, which was later deleted. Wolf openly condemned the individuals responsible for the Facebook post in a subsequent statement.
"Dr. Levine is a distinguished and accomplished public servant. She is committed to keeping Pennsylvanians safe and healthy, even those who direct hate-fueled attacks at her," Wolf said in the statement, acknowledging that the pandemic "has brought hate and transphobia into the spotlight."
Levine addressed the comments her own statement released the following week.
"I want to emphasize that while these individuals may think they are only expressing their displeasure with me, they are in fact hurting the thousands of LGBTQ Pennsylvanians who suffer directly from these current demonstrations of harassment," she wrote. "Your actions perpetuate a spirit of intolerance and discrimination against LGBTQ individuals and specifically transgender individuals. It is only one month ago that the Supreme Court prohibited discrimination in the workplace due to sexual orientation and gender identity."
The Human Rights Campaign, a national LGBTQ advocacy organization, issued a response to Ellis' tweet about Levine later on Monday. The non-profit's president, Alphonso David, praised Levine's work as health secretary and condemned the Trump attorney's language.
"Using a person's pronouns is a basic level of respect," David said in the statement, calling Ellis a "bigot" and citing a wider culture of transphobia within the Trump administration. "Trump and his allies have refused to acknowledge the epidemic of violence transgender and gender non-conforming people face, attempted to strip away their access to health care, and blocked these patriotic Americans from openly serving in the military," he continued.
In a statement to Newsweek, Ellis said she "won't apologize" for the tweet and rebuffed criticisms of its transphobia.
"To be called a bigot for simply acknowledging scientific fact is both hilarious and tragic," she said. "The truth of biology shows that human beings are created immutably male and female."
Leading health and medical authorities disagree. The American Psychological Association notes gender identity and assigned sex are different and discusses misgendering in its publication guidelines.
"Refer to a transgender person using language appropriate to the person's gender, regardless of sex assigned at birth," the APA writes. "For example, use the pronouns 'he,' 'him,' and 'his' in reference to a transgender man who indicates use of these pronouns."
Update: This story was updated on Tuesday, August 11, to include the HRC's statement and Ellis' comments.