Former Donald Trump Campaign Staffer Describes 'Reign of Terror' During 2016 Election
A former President Donald Trump campaign staffer said she was "subjected to a reign of terror" while trying to get the president elected.
Jessica Denson, who was hired as a phone bank administrator and later promoted to Hispanic engagement director, filed a class-action suit Wednesday to challenge the nondisclosure and non-disparagement agreements that employees of Trump's campaign were required to sign.
While speaking with Alisyn Camerota, Denson described being harassed while working for the campaign.
"I was subjected to a reign of terror by the man who hired me, a man by the name of Camilo Sandoval, who is currently still at the Veterans Affairs Department," said Denson. "He could not stand that a woman who he had hired, essentially to be a prop in his data department, got a meaningful promotion and was demonstrating her value. And he launched an all-out assault on my character. He tried to steal my personal laptop. He tried to engage other staffers in this theft and hacking of my devices."
She said that officials retaliated against her when she took her concerns up the chain of command.
Denson also called the nondisclosure agreements "un-American" and said, "I think the supporters of this campaign should be among the most outraged, that they have been taken for fools and used."
Sandoval did not immediately respond when contacted by Newsweek.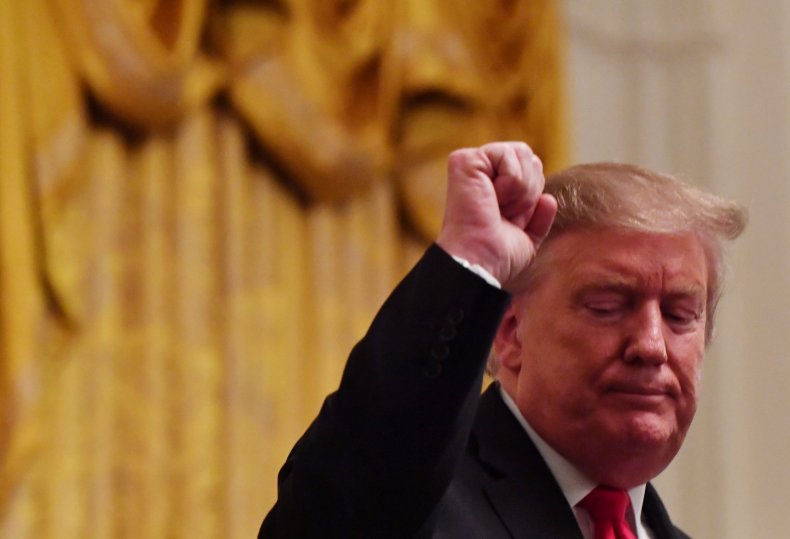 Denson filed a lawsuit in November 2017 claiming she was harassed and faced sexual discrimination during her time working for the campaign.
The campaign's lawyer responded by saying she had violated her NDA and should pay $1.5 million. An arbitrator ordered her to pay nearly $50,000, according to The Washington Post.
"My client believes that the campaign has been using these NDAs as a bludgeon against workers who want to speak out and anybody who wants to make a comment that could be construed as critical of the president of the United States," David Bowles, a lawyer for Denson, told The Washington Post.
The class-action suit said that the nondisclosure agreements were "impermissibly vague," according to The Hill.
Trump has tried to limit the information that former workers can disclose to the public.
Cliff Sims, a former White House employee who drew publicity for his book Team of Vipers, also challenged the NDAs. When Trump's lawyers filed an arbitration claim, Sims countered with a suit alleging that Trump was infringing his First Amendment rights.
Former White House aide Omarosa Manigault Newman wrote in her book Unhinged that Trump had filed arbitration action against her and said she had violated an NDA.