The Trump campaign is now telling supporters to wear a mask when social distancing is not possible, noting there had been "some confusion surrounding usage."
In a new email titled "Patriots Wear Face Masks," President Donald Trump tells supporters that he is not asking for campaign donations but rather for their help in wearing face masks to curb the spread of the coronavirus.
"I don't love wearing them either," Trump wrote. "Masks may be good, they may be just okay, or they may be great."
The president went on to refer to the coronavirus as "the China virus," a familiar remark that has been widely criticized for perpetuating racism against Asian Americans. According to an Ipsos poll from late April, more than 30 percent of Americans have witnessed someone blaming Asian people for the pandemic.
Trump also wrote that masks "can possibly help us get back to our American way of life that so many of us rightfully cherished before we were so terrible impacted by the China Virus." Trump wrote.
The request from the campaign comes four months after the Centers for Disease Control and Prevention's (CDC's) recommendation that masks should be worn in all public settings.
A campaign spokesperson told Newsweek that Trump has supported mask wearing since the CDC's announcement in late April. "President Trump has consistently expressed that all Americans should abide by CDC guidelines on mask usage," said Ken Farnaso, deputy national press secretary for the Trump campaign.
Masks have been the top recommendation from many health experts in the country, and most states have implemented mandates requiring them for businesses that have reopened.
Among these experts are the director of the National Institute of Allergy and Infectious Diseases, Dr. Anthony Fauci, whom Americans favor as a coronavirus expert over the president. According to a Quinnipiac poll released earlier last month, nearly two-thirds of the country trusts Fauci when it comes to the virus, compared with the one-third that approves of Trump's response to the outbreak.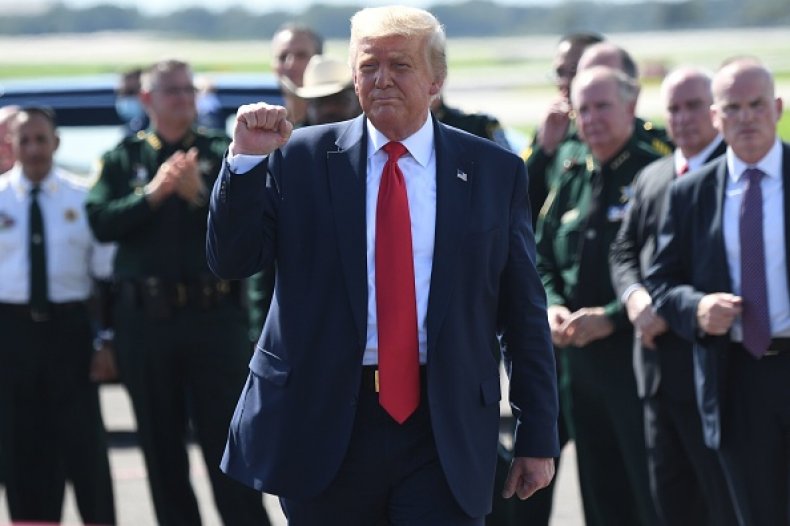 Trump has previously been against required wearing of facial coverings, saying he would not wear one and criticizing presumptive Democratic nominee Joe Biden for doing so.
Trump was seen wearing a mask for the first time last month during a visit to the Water Reed military hospital.
Since then, the president's messaging surrounding masks has changed starkly. With 90 days until the election, Trump said in the email that masks were a necessity for reopening the country.
"My feeling is, we have nothing to lose, and possibly everything to gain, including the next chapter to our country, and to keep things open whether it be schools or businesses," he wrote.
"I recently tweeted that many view wearing a mask as a patriotic act, and there is no one more patriotic than me and you. Why not give it a shot!" he added.
At the end of the email, the campaign included a link with more information on the benefits of masks and how to obtain one.
Although the president has pivoted to endorse face masks, he has yet to issue a federal mask order. While the majority of states have implemented mandates on facial coverings, there are still 16 that do not have statewide orders: Alaska, Arizona, Florida, Georgia, Idaho, Iowa, Mississippi, Missouri, Nebraska, New Hampshire, North Dakota, Oklahoma, South Carolina, South Dakota, Tennessee and Utah.
As of Tuesday, August 4, the U.S. has reported more than 4.7 million confirmed coronavirus cases and 155,478 deaths, according to data from a Johns Hopkins University tracker.