Trump Campaign Used Photo Of Florida School Shooting Survivor In Email Asking For Donations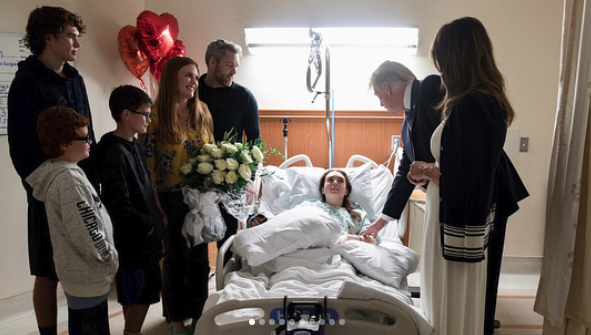 President Donald Trump's re-election campaign team used an image of a survivor of the recent Florida school shooting in its efforts to ask for donations from supporters.
The photo, showing Trump and first lady Melania Trump visiting 17-year-old Madeleine Wilford and her family at Broward Health North Hospital, was used in an email requesting donations.
"The nation has turned its attention to the senseless school shooting in Parkland, Florida," the email from the Trump campaign said, according to The Hill.
"The President is now engaging in an important national conversation about school safety and ways to prevent any future attacks. President Trump is taking steps towards banning gun bump stocks and strengthening background checks for gun purchasers," it continued, adding: "The President has made his intent very clear: 'making our schools and our children safer will be our top priority.'"
A link to donate to the Trump campaign was included towards the end of the email.
The Trump campaign did not respond to a request for comment.
Trump had previously shared the photo of his visit with the Wilford family twice on his Instagram page, with one post accompanied by the caption: "Melania and I met such incredible people last night in Broward County, Florida. Will never forget them, or the evening!"
The president has already faced backlash over photos taken with police officers and medics who responded to the shooting that saw 17 students and teachers killed, after images showing him grinning and making a thumbs-up gesture beside them were widely condemned as inappropriate.
Read more: Trump slammed for lack of empathy after thumbs-up pictures with Florida shooting first responders
The Trump administration has faced growing calls for tighter gun control in the wake of the massacre, with students who survived the mass shooting leading the charge.
The president has made a number of proposals to change U.S. gun laws in the wake of the shooting, including raising the age limit for buying certain types of weapons, tightening background checks, banning bump stocks and a more controversial call to arm teachers who have experience handling a weapon.
The National Rifle Association has pushed back against the U.S. leader's proposals, saying it does not support "any ban."