Trump Campaign Is Using a Photoshopped Time Cover of President's Head On Greta Thunberg to Solicit Text Signups
After another Twitter spat with young environmentalist Greta Thunberg, who was named Time magazine's Person of the Year Wednesday, President Trump's reelection campaign Twitter has posted a photoshopped picture of Trump as Thunberg to solicit text signups.
The image came via one of Trump's official campaign Twitter accounts, @TrumpWarRoom.
"When it comes to keeping his promises, there's only one Person Of The Year," the tweet read. It then checked off Trump's accomplishments, including a "booming economy" and the "#AmericaFirst trade deals."
On Wednesday, President Trump responded to the naming of Thunberg as Time's Person of the Year by calling the selection "So ridiculous."
"Greta must work on her Anger Management problem, then go to a good old fashioned movie with a friend!" he continued. "Chill Greta, Chill!"
Thunberg—as she did the previous time the President criticized her publicly—changed the text in her Twitter bio to read, "A teenager working on her anger management problem. Currently chilling and watching a good old fashioned movie with a friend."
Thunberg and the president last came into conflict in the wake of Thunberg's passionate speech to the United Nations General Assembly criticizing the politicians for not taking action against climate change in September.
"She seems like a very happy young girl looking forward to a bright and wonderful future. So nice to see!" the president tweeted.
Thunberg changed her Twitter bio to read, "A very young happy girl looking forward to a bright and wonderful future."
This is the third time in two months that an official Trump Twitter has posted a picture of the president with his head photoshopped onto the body of another person.
On November 27, the president posted a picture of himself photoshopped onto the body of fictional boxing legend Rocky Balboa, as portrayed by actor Sylvester Stallone, with no further comment added.
On December 10, the Trump War Room account posted a parody video featuring the president's head photoshopped over the head of genocidal Marvel Cinematic Universe villain Thanos. In the altered video, Thanos-Trump snaps his fingers, causing a group of House Democratic leaders announcing the introduction of articles of impeachment against the president for obstructing Congress and abuse of office to disappear.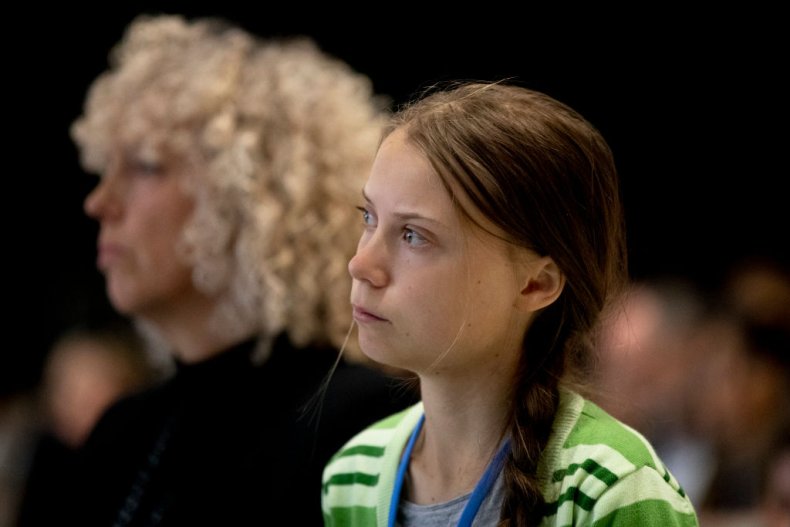 In 2017, The Washington Post noted that the president had multiple photoshopped Time magazine Person of the Year covers hanging on the walls of his properties. This resulted in Time requesting the covers be removed from the walls of the properties in which they had been placed.
The president was named Time magazine's Person of the Year in 2016.