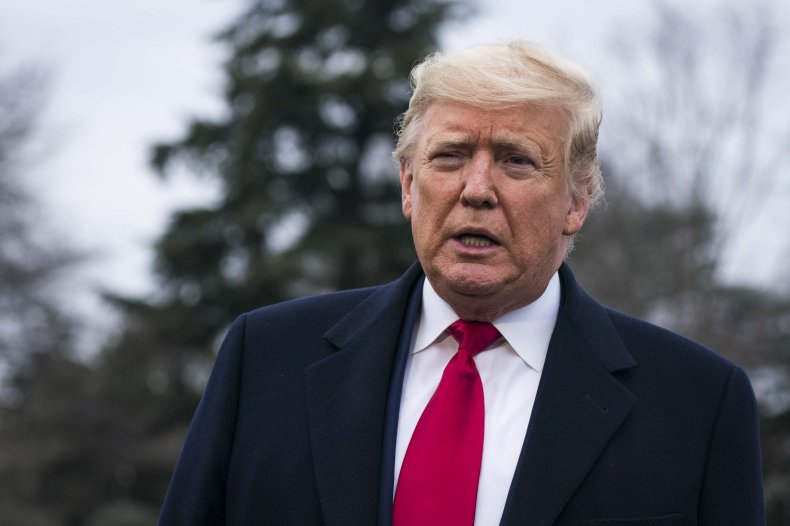 President Donald Trump's official campaign Twitter account released a Super Tuesday exit poll that asked voters to identify as "American" or "Socialist."
The first question in the "Official Trump 2020 Super Tuesday Exit Poll" asked voters, "Which do you identify as?," and gave those two options to choose from.
The 29 question exit poll was posted by the Team Trump account, which lists itself as "the official Twitter for the Trump Campaign," at 6 p.m. on Super Tuesday.
The exit poll goes on to ask voters how much they approve of "President Trump," "Crazy Bernie Sanders," "Quid Pro Joe Biden," "Elizabeth 'Pocahontas' Warren," and "Mini Mike Bloomberg." Another question asks voters if they voted for "Crooked Hillary" in the 2016 election. The last question asks: "Who will you vote for in November?" The options voters could choose from were "President Trump" or "A Big Government Socialist."
Newsweek reached out to the Trump campaign with questions regarding the composition of the poll and what the results were, but has not yet heard back.
Super Tuesday resulted in the virtually unopposed incumbent president easily winning the 12 states that held Republican primaries.
The Democratic primaries saw former Vice President Joe Biden win nine of the 14 states that participated. Biden over-performed in virtually all of the primaries, particularly in Texas and California, the biggest contests of the night with 228 and 415 delegates up for grabs, respectively.
Biden won Texas and even though he lost in California, he received 22.4 percent of the vote, according to the latest results from USA Today. Results are still coming in from both states and it may take some time before the candidates know exactly how many delegates they won on Super Tuesday.
Sanders won four states, with Maine results still too close to call. As of publication, Biden led with 33.6 percent of the vote to Sanders' 32.9 percent with 74 percent of precincts reporting according to the New York Times. Maine has 24 delegates for grabs.
Sanders needed a big win in California in order to maintain a delegate lead over Biden, but votes for Warren could have contributed to Sanders not getting more votes in the two biggest contests of the night.
In Texas, Warren received over 226,000 votes and stands at 11 percent in the state. California played out similarly. Warren received over 334,000, which translates to 12.1 percent of the vote. In both states, she is below the 15 percent threshold required to receive delegates.