Trump Can Invite Russia as Guest to G7 Summit, But Not as a Permanent Member
The United States can invite Russia to participate as a "guest" in the upcoming Group of Seven (G7) summit but cannot facilitate the country permanently rejoining the group, according to a leading official from the European Union.
The 2020 summit of world economic powers, which is being chaired and hosted by the U.S., is expected to take place later this year. Russia was a member of the group, then called the G8, from 1998 to 2014. They were expelled after the 2014 annexation of Crimea from Ukraine. President Donald Trump has been pushing for Russia to be readmitted to the group, but the EU's foreign policy chief Josep Borrell threw cold water on the idea when speaking to reporters on Tuesday.
"The prerogative of the G7 chair—in this case the United States—to issue guest invitations, which reflects the host's priorities," Borrell said. "But changing the membership, or changing the format on a permanent basis, is not a prerogative of the G7 chair."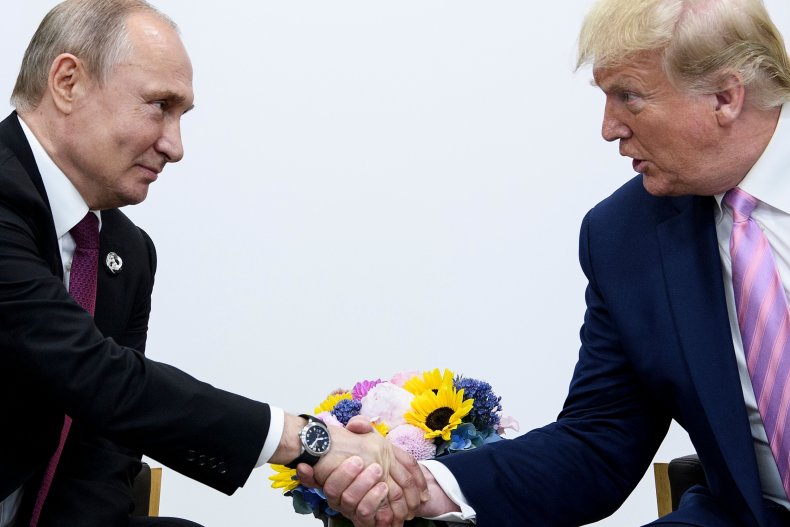 The EU, consisting of 27 countries—including three that are part of the G7 in their own right, is not one of the group's seven official member states but maintains a close relationship and is a regular invitee to summits.
Trump has repeatedly called for Russia to be permanently readmitted to the group. On Saturday, the president postponed the summit, which had been set to take place in June, until at least September. He also insisted that Russia would be invited, along with South Korea, Australia and India.
"I don't feel that as a G7 it properly represents what's going on in the world," Trump told reporters. "It's a very outdated group of countries."
On Monday, Trump discussed his plans for the summit during a phone call with Russian President Vladimir Putin, according to the Associated Press. It is unclear whether Putin intends to accept the invitation or attend the summit.
Regardless of the ability of the U.S. to invite guests as the summit's host, Trump does not have the power to dictate the group's permanent makeup. The other six current member states—Canada, the United Kingdom, France, Italy, Japan and Germany—have not expressed a willingness to allow Russia's reentry, while leaders from Canada and the U.K. have explicitly condemned the idea.
"Russia was excluded from the G7 after it invaded Crimea a number of years ago, and its continued disrespect and flaunting of international rules and norms is why it remains outside of the G7, and it will continue to remain out," Canadian President Justin Trudeau said at a news conference on Monday.
Newsweek reached out to the White House for comment. This article will be updated with any response.