Trump in Canada: G-7 Summit Schedule in Full
President Donald Trump will travel to Charlevoix, Canada, for a two-day summit with leaders of the G-7 after slapping controversial trade tariffs on all the key American allies attending the meeting.
The G-7 summit takes place from June 8 to 9 and is hosted by Canadian Prime Minister Justin Trudeau. Canada holds the G-7 presidency in 2018. Member states of the G-7 are the U.S., Canada, U.K., France, Germany, Italy, and Japan.
Under his "America First" policy, Trump authorized tariffs on steel and aluminum imports from the European Union, Canada, Mexico, Japan, and China. America will be hit with tariffs in response, risking a tit-for-tat escalation into a full-blown trade war. The EU has accused his administration of bullying it on trade.
Trump imposed the tariffs using his national security powers, which meant he did not need to secure new legislation from Congress and could instead force them through using executive orders. The president argues America's trade deficit weakens its national security by making it reliant on other countries. He wants to renegotiate trade terms with America's biggest partners.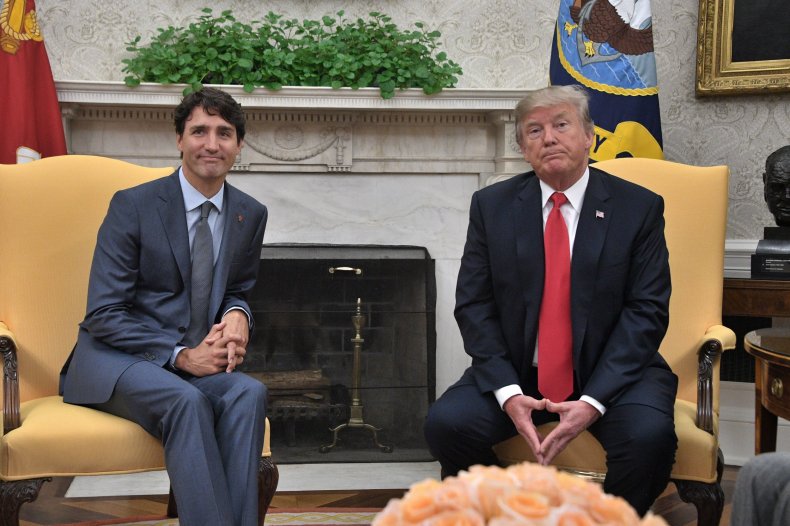 But Trudeau balked at the idea Canada is a national security concern to the U.S. "The idea that we are somehow a national security threat to the U.S. is quite frankly insulting and unacceptable," Trudeau said on NBC's Meet the Press.
He talked of the Canadian soldiers who had fought and died alongside their U.S. allies, from World War II to Afghanistan, and said Trump's move is "insulting to them."
"Next week we're hosting the G-7 summit of world leaders, and the airfield, the military base that Air Force One is going to land on, was put there during World War II to protect an aluminum smelter that was providing to the military effort," Trudeau said.
The Canadian prime minister said he doesn't know what Trump wants, pointing out that they share the same concerns about China's trading practices and that America actually has a $2 billion surplus in steel trading with Canada.
Trump may cut a lonely figure in the room as he is surrounded by a group of leaders united against his tariffs. But trade is not formally on the G-7 agenda—though other sticky points for the U.S. president are.
Among the discussions are "Gender equality and female empowerment" and "Climate change and clean energy."
Trump faces accusations of misogyny for his past comments about and treatment of women, including the infamous "grab them by the pussy" tape.
And he was condemned by allies and environmentalists for pulling America out of the Paris Climate Agreement, a major deal to keep the world's temperature rise this century below 2 degrees Celsius by curbing emissions.
Here's the G-7 summit agenda in full.
Friday, June 8, 2018
11:45 – 12:15
Official welcome of the G-7 leaders
Location: Terrasse St-Laurent, Le Manoir Richelieu
Participants: Leaders and spouses
Media: Photo opportunity
12:30 – 14:00
G-7 working lunch
Theme: Economic growth that works for everyone
Location: Le Point Cardinal, golf clubhouse, Le Manoir Richelieu
Participants: Leaders and sherpas
Media: Closed
14:00 – 14:30
G-7 family photograph
Location: Golf clubhouse, Le Manoir Richelieu
Participants: Leaders
Media: Photo opportunity
15:00 – 16:30
G-7 working session
Theme: Economic growth and the future of work
Location: G-7 Summit Room, Le Manoir Richelieu
Participants: Leaders and Sherpas
Media: Photo opportunity
18:30 – 20:00
G-7 working dinner
Theme: A more peaceful and secure world
Location: Black Bear Chalet, La Malbaie
Participants: Leaders
Media: Closed
21:00 – 22:00
G-7 cultural event
Location: L'Ovale, Le Manoir Richelieu
Participants: Leaders and spouses
Media: Closed
Saturday, June 9, 2018
08:00 – 09:00
G-7 and Gender Equality Advisory Council breakfast
Location: G-7 Outreach Meeting Room, Le Manoir Richelieu
Participants: Leaders, sherpas and council members
Media: Photo opportunity
09:00 – 09:30
G-7 signing of the scroll
Location: Main Lobby Le Manoir Richelieu
Participants: Leaders
Media: Photo opportunity
09:30 – 10:30
G-7 working session
Theme: Gender equality and women's empowerment
Location: G-7 Summit Room, Le Manoir Richelieu
Participants: Leaders and Sherpas
Media: Photo opportunity
10:45 – 11:45
G-7 working session
Theme: Climate change and clean energy
Location: G-7 Summit Room, Le Manoir Richelieu
Participants: Leaders and sherpas
Media: Closed
11:45 – 12:15
Official welcome of the outreach leaders
Location: Terrasse St-Laurent, Le Manoir Richelieu
Participants: Prime Minister of Canada and outreach leaders
Media: Photo opportunity
12:15 – 13:15
G-7 and outreach working session
Theme: Oceans
Location: G-7 Outreach Meeting Room, Le Manoir Richelieu
Participants: G-7 and outreach leaders, and Sherpas
Media: Photo opportunity
13:15 – 13:45
G-7 and outreach family photograph
Location: Press theatre, Le Manoir Richelieu
Participants: G-7 and outreach leaders
Media: Photo opportunity
13:45 – 15:15
G-7 and outreach working lunch
Theme: Oceans
Location: G-7 Outreach Meeting Room, Le Manoir Richelieu
Participants: G-7 and outreach leaders, and Sherpas
Media: Closed
16:00 – 17:00
Chair's press conference
Location: Press theater, Le Manoir Richelieu
Participant: Prime Minister of Canada
Media: Open coverage