Trump Cancels Republican National Convention in Florida Due to COVID-19
President Donald Trump said during a news briefing on Thursday that he was canceling the Republican National Convention (RNC) in Jacksonville, Florida.
Expected to take place in August, the RNC was scheduled to be held in Jacksonville. However, President Trump said he told his team the cancelation of the event was because of the recent surge of coronavirus cases in the state.
"The timing for this event is not right," Trump said. "It's just not right with what's happened recently, the flare-up in Florida, to have a big convention. It's not the right time."
Florida reported an additional 10,249 positive cases of coronavirus on Thursday, making a cumulative total of 389,868 cases statewide.
Trump said that the delegates will still convene in North Carolina for the presidential nomination process. "We've never taken that off," Trump said. "That's remaining as it is."
"We're going to do some other things with telerallies and online the week that we're discussing which will be really good," Trump added. "I think we're going to do it well and I'll still do a convention speech in a different form, but we won't do a big crowded convention per se. It's just not the right time for that."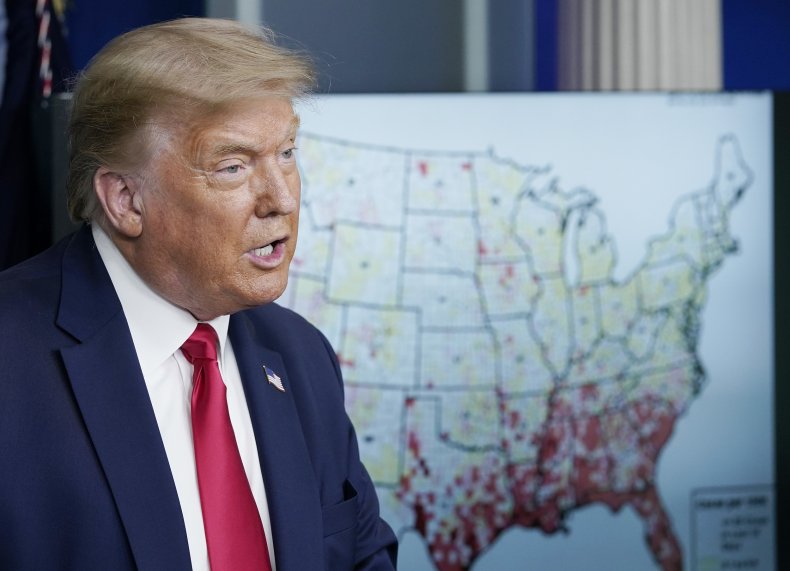 In a joint statement released after Trump's announcement, Jacksonville Mayor Lenny Curry and Sheriff Mike Williams said Trump made the right call in canceling the event.
"We appreciate President Donald Trump considering our public health and safety concerns in making this incredibly difficult decision," they wrote. "As always, in Jacksonville public safety is our number one priority. President Trump has once again reaffirmed his commitment to the safety of Jacksonville Florida and the people of the United States of America."
When contacted for comment, the Republican Party of Florida directed Newsweek to its statement on Twitter.
".@RealDonaldTrump made a selfless decision by cancelling the FL component of @GOP Convention," the tweet read. "He put the safety and wellbeing of Floridians first. His leadership will continue to energize voters and we look forward to helping him win FL on his way to a second term as President."
Florida's portion of the RNC was slated to be held at the VyStar Veteran's Memorial Arena, which has a maximum capacity of 15,000 people.
Sheriff Williams expressed concerns about arranging security for the convention on Monday, telling reporters that a lack of proper planning had hampered the efforts of local law enforcement.
"With a growing list of challenges-- be it finances, communication and timeline-- I cannot say with confidence that this event and our community will not be at risk," Williams said.
At a July press conference, Governor DeSantis said he thought the RNC could be held outside in a safe fashion, mentioning the Daily's Place amphitheater as a potential location.
"Safety is not, it's not negotiable," DeSantis said. "It's going to be a safe environment and I think you look at someplace like you know, like the Daily's pavilion, especially with Florida weather. I think you could do that in a way that would be very safe."
Updated 8:50 p.m. EST 07/23/2020: This story has been updated with a statement from the Republican Party of Florida.