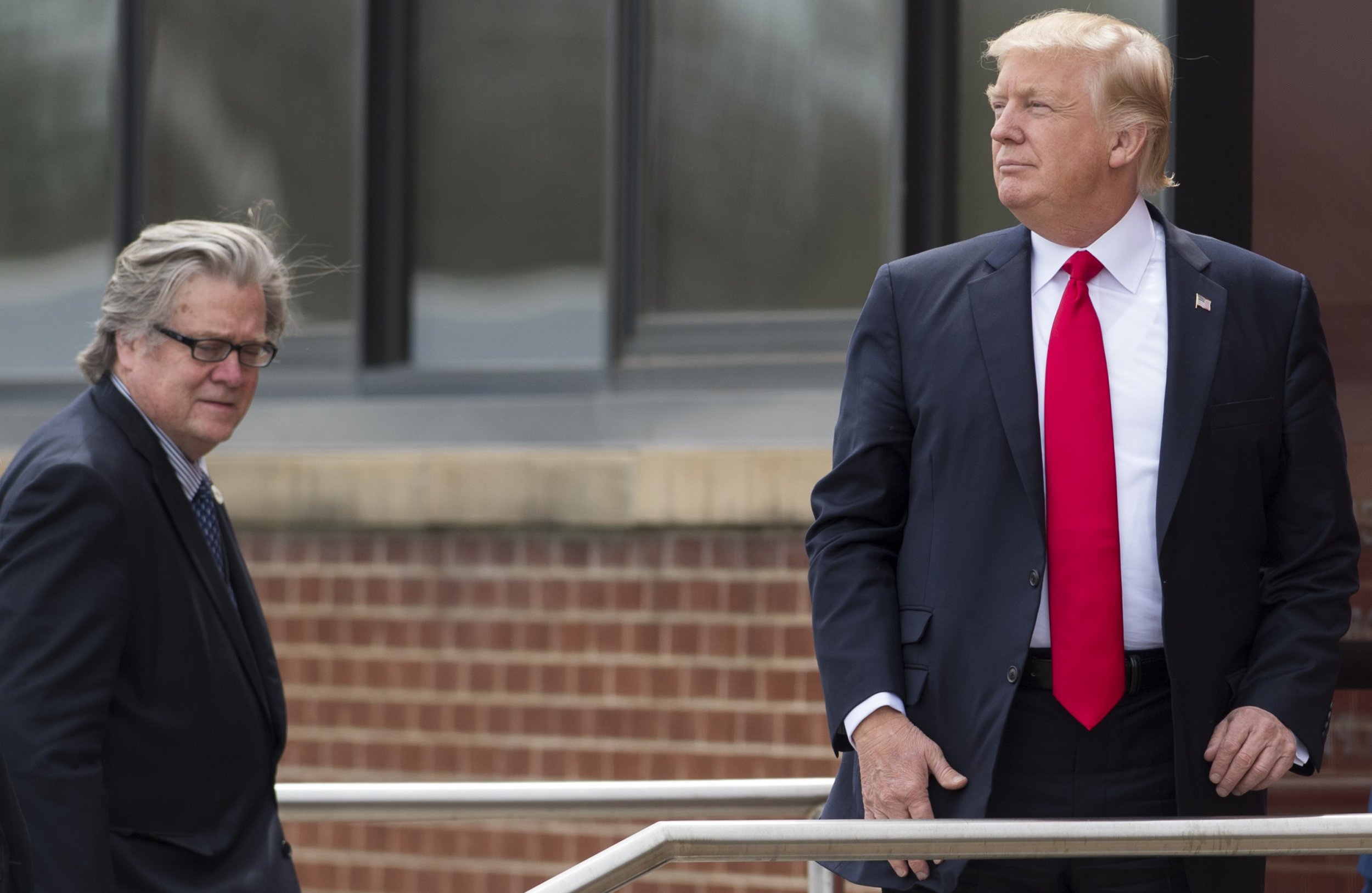 President Donald Trump can't remember the faces of his friends, with his staff treating him like a child and concerned he might be booted from office for being unable to perform his duties, a bombshell book claims.
Michael Wolff's Fire and Fury: Inside the Trump White House describes a tumultuous start to the 45th presidency with staffers attempting to coddle a commander in chief who had little focus and less patience. But excerpts from New York magazine and The Hollywood Reporter connect some dots about the president's mental fitness.
"At Mar-a-Lago, just before the new year, a heavily made-up Trump failed to recognize a succession of old friends," Wolff wrote about the president's trip to his Palm Beach, Florida, resort two weeks ago.
The president's mental fitness for office has been a topic inside the West Wing almost since Trump took office, with the president behaving, "in words used by almost every member of the senior staff on repeated occasions, 'like a child,'" Wolff wrote.
Former chief strategist Steve Bannon was increasingly convinced the president would not make it to the end of his first term, giving him equal chances of staying in office, being removed by Congress or being declared unfit by his own Cabinet under the 25th Amendment.
Bannon "was openly handicapping a 33.3 percent chance of impeachment, a 33.3 percent chance of resignation in the shadow of the 25th amendment and a 33.3 percent chance that he might limp to the finish line on the strength of liberal arrogance and weakness," Wolff wrote.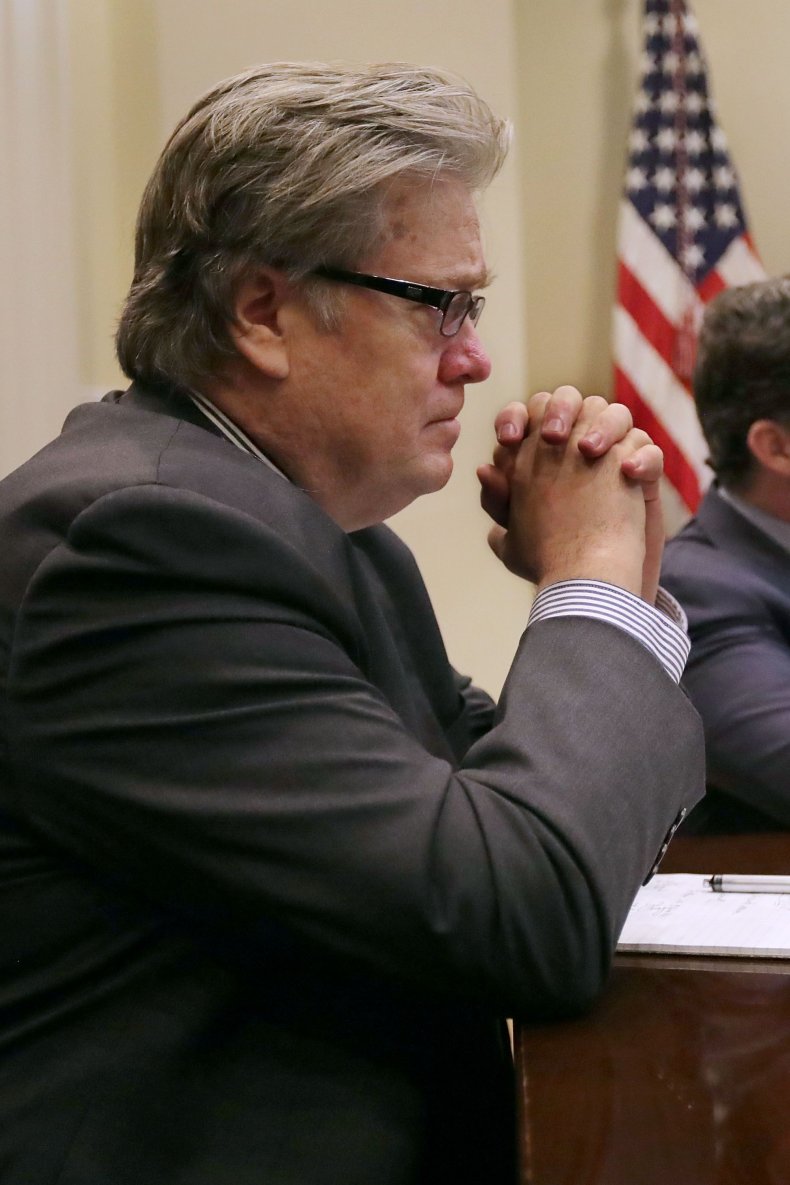 The topic of Trump's psychology comes up a lot in Fire in Fury, but it's front and center in Wolff's portrayal of the president's apparent need for approval from Fox News founder and right-wing kingmaker Rupert Murdoch, whom Trump repeatedly called after taking over the White House.
"Not grasping that he was now the most powerful man in the world, Trump was still trying mightily to curry favor with a media mogul who had long disdained him as a charlatan and fool," Wolff wrote in New York.
Members of Congress are also worried about Trump's stability, with more than a dozen members meeting in December with a Yale University psychiatry professor to discuss the president's mental well-being, according to Politico.
"We feel that the rush of tweeting is an indication of his falling apart under stress," the professor, Bandy Lee, told Politico. "Trump is going to get worse and will become uncontainable with the pressures of the presidency."
Lee was the editor of a collection of essays from psychiatrists on Trump's mental state, The Dangerous Case of Donald Trump, released in September.
Before Trump's presidency, psychiatrists had refrained for decades from discussing the mental health of a president, applying something called "the Goldwater rule," in reference to former presidential candidate Barry Goldwater. A group of psychiatrists had responded to a 1964 survey about Goldwater's health, and professional groups in turn banned diagnosing presidents from afar.
Some organizations have dropped that ban, including the American Psychoanalytic Association, which eliminated the requirement for members in July.
Trump has responded to the book's excerpts with a volley aimed at Bannon, who according to reporters appeared to spend a lot of time with Wolff during his 18 months of reporting. The president released a scathing statement on Wednesday, questioning Bannon's mental state.
"When he was fired, he not only lost his job, he lost his mind," Trump said in the press release. "Steve pretends to be at war with the media, which he calls the opposition party, yet he spent his time at the White House leaking false information to the media to make himself seem far more important than he was. It is the only thing he does well."
A cease and desist letter was sent to Bannon Wednesday night by Trump's lawyers, one of whom said that "legal action is imminent" due to Bannon's participation in Wolff's book.
"His actions of communicating with author Michael Wolff regarding an upcoming book give rise to numerous legal claims including defamation by libel and slander, and breach of his written confidentiality and non-disparagement agreement with our clients," attorney Charles Harder wrote.
Trump himself had at least one interview with Wolff, according to press secretary Sarah Huckabee Sanders.
There's no precedent for removing a president from office via the 25th Amendment because of mental illness, and aides and family have typically hidden the illnesses of past presidents from the public.
There were indications that President Ronald Regan was suffering from Alzheimer's while in office, according to his family, but any warnings were not made public.