How Trump Is Using Debate, Carson to Try to Unify Republican Party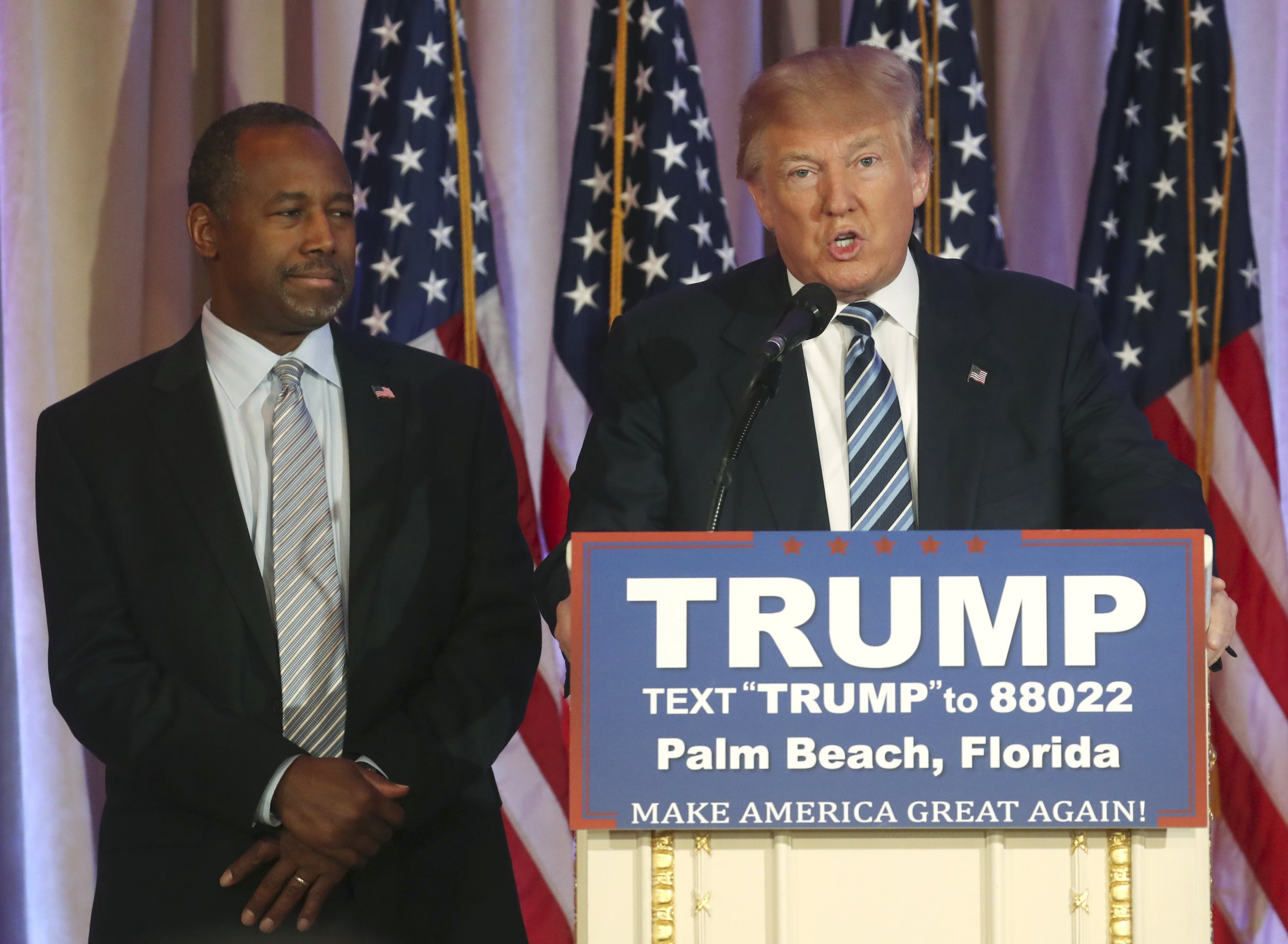 Mar-a-Lago, the 126-room Palm Beach estate now owned by the Trump Organization, was built in the 1920s. It was a labor of love for Marjorie Merriweather Post, of Post cereals, and her husband Edward F. Hutton, the investment giant who may be best remembered for an old series of commercials with the tagline: "When E.F. Hutton talks, people listen."
When Donald Trump speaks, people listen. And while the old ads were known for people leaning in to hear the whispered advice of E.F. Hutton brokers, Trump is known for his brawling style. But these days Trump is seeking a kinder, gentler image, as seen at his Mar-a-Lago press conference on Friday morning.
There's no better way to do that than to receive the endorsement of Ben Carson, the super-soft-spoken retired neurosurgeon known for his kindness (at least when he's not likening President Barack Obama to a Nazi).
Lining up Carson is part of Trump's strategy to unify the party. He's taken a deliberately softer line in an effort to make it easier for Trump foes to embrace his candidacy, as he moves closer to the 1,237 delegates needed to secure the nomination. During Thursday night's debate, Trump also had a softer tone—at one point, he even remarked how civil the debate was.
When Carson said during the press conference at Mar-a-Lago that "we've buried the hatchet," he was sending a signal, and the Trump campaign was sending a signal, for everyone to come together.
The other approach the campaign is taking, beyond shifting tone, is making the case that Trump has brought new voters into the party and that it would be a disaster to block the popular will. "The Republican Party would be very wise not to adopt a 'let's stop this guy' policy," Carson said.
The problem for the Trump campaign is that the animus against him won't go away easily, as evidenced by the full-frontal attack from former GOP presidential nominee Mitt Romney earlier this month. The establishment objections to Trump aren't just that he's a newcomer and considered a boor; they're based on real policy objections over trade, entitlements, taxes and other core GOP issues, where the real estate mogul has departed from Republican orthodoxy.
What's more, he still has to vanquish three Republican opponents who are going to stay in the race until at least Tuesday, when Marco Rubio and John Kasich face do-or-die contests in their home states of Florida and Ohio, respectively. Ted Cruz, who is only about 100 delegates behind Trump, is going to fight all the way to the convention and is convinced that he can become the beneficiary if Rubio and Kasich eventually fall short, or if they stay in and keep the field divided.
It probably didn't help Trump to keep denouncing protesters at his events the same week that a white attendee at his rally cold-cocked a black protester, an event that got national attention and raised questions about whether Trump has been condoning violence. On Friday, he blamed the protester and said police had been restrained when they cuffed and detained the young man.
Watch the press conference live: