Trump Casts Sally Yates as Democratic Operative Before Senate Hearing on Michael Flynn's Russia Ties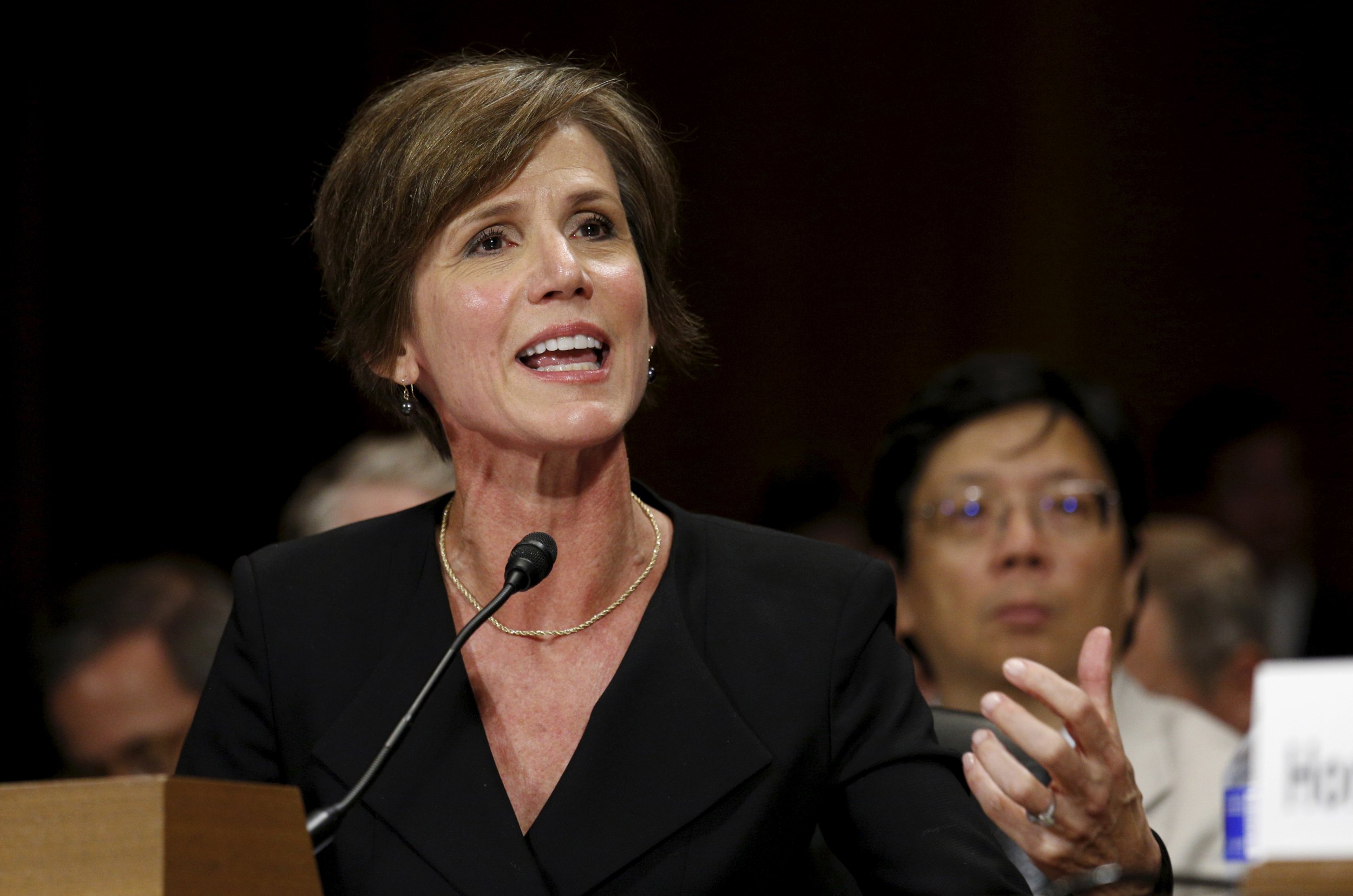 President Donald Trump cast former acting Attorney General Sally Yates as a Democratic political operative early Monday before her Senate hearing Monday about fired White House adviser Michael Flynn's ties to Russia.
Flynn, who was Trump's national security adviser for the first 24 days of his presidency, was fired on February 13 after it was revealed he had misled Vice President Mike Pence about his contacts with Sergey Kislyak, Russia's ambassador to the U.S..
Senator Dianne Feinstein—the ranking Democrat on the judiciary committee hearing Yates' testimony—said Sunday that Yates has a lot to say about "who knew what when" about Flynn's contacts with Kislyak. Flynn allegedly sent a potentially illegal signal to Moscow that the Trump administration would lift Obama-era sanctions laid down in December to punish Russia for alleged interference in the U.S. election.
Read more: Here's what to expect from Sally Yates's Senate testimony today
According to The Washington Post, Yates warned White House attorney Don McGahn about Flynn's communications in late January, indicating he was vulnerable to Russian blackmail.
When Trump appointed Flynn as national security adviser in November 2016, Flynn was receiving $500,000 to lobby as a foreign agent on behalf of the Turkish government. He did not report this, raising questions about his loyalties.
Read more: How Michael Flynn got a security clearance despite so many red flags
President Trump took a swing at Yates on Twitter early Monday, suggesting she is a Democratic operative who knows about leaks to the media of classified intelligence concerning FBI investigations of the Trump campaign. "Ask Sally Yates, under oath, if she knows how classified information got into the newspapers soon after she explained it to W.H. Counsel," Trump urged the Senate committee in a tweet.
The president accused former Obama National Security Adviser Susan Rice in early April of committing a crime after government officials revealed she unmasked the names of Trump transition team officials who were swept up in intelligence gathering against foreign targets. As Obama's security adviser, Rice was authorized to unmask the names.
In early March Trump accused former President Barack Obama of spying on his campaign and wiretapping Trump Tower before the election. Trump has said several investigations—by the FBI, CIA, and in Congress—into Russia's attempt to influence the U.S. election are a partisan "witch hunt."
Yates was appointed by Obama and was fired by Trump in January after she told Justice Department attorneys to ignore the president's executive order to bar people from seven majority-Muslim nations from entering the U.S. The order, and subsequent redraft, have been blocked by federal courts.
"What we now know is that the Trump transition was warned about Michael Flynn. Why was he then hired as national security adviser?" Feinstein asked on Sunday. "There are so many questions here," she said, "as to who knew what when, what was done with this."