Trump CDC Director Robert Redfield Warns More Dangerous Variant Than Delta Coming in Fall
As hospitals are already being pushed to their limits, Dr. Robert Redfield, former director of the Centers for Disease Control and Prevention (CDC), warned an even more infectious variant could hit the United States in just a few months.
The Delta variant's contagious nature is fueling spikes in cases across the United States and the more the virus is allowed to spread, the more likely it is to evolve. COVID-19 was already one of the most infectious diseases in humans at its outset, and Redfield warned it got a "jump-start" on being able to evolve at a rapid pace, making the need for vaccinations even more critical.
"Sadly I'm going to predict that within two, three, four months we're going to have another variant and that variant is going to be more infectious," Redfield told Fox News on Monday. "The one thing that we all can do to really confront the evolution of this next variant, slow it down, is to get our population vaccinated."
Aside from the immediate economic and human toll the pandemic is taking on the world, SARS-CoV-2 continuing to spread raises concerns about the future of the outbreak. Redfield pointed out that the virus is replicating at a high capacity in humans, making the risk of variant evolution "extremely high."
The emergence of a more infectious variant means more people could get infected, raising the possibility of additional hospitalizations. Health systems across the country, especially in areas with low vaccination rates, are feeling the stress of dealing with an influx of COVID-19 patients. Some are unable to sufficiently staff their hospitals, preventing maximum treatment of patients, others have had to turn people away because of a lack of beds and some are putting a hold on certain surgeries.
Without the ability to properly care for an increased number of COVID-19 patients, the death toll could rise, and eventually, a variant could pose a threat to those who are vaccinated.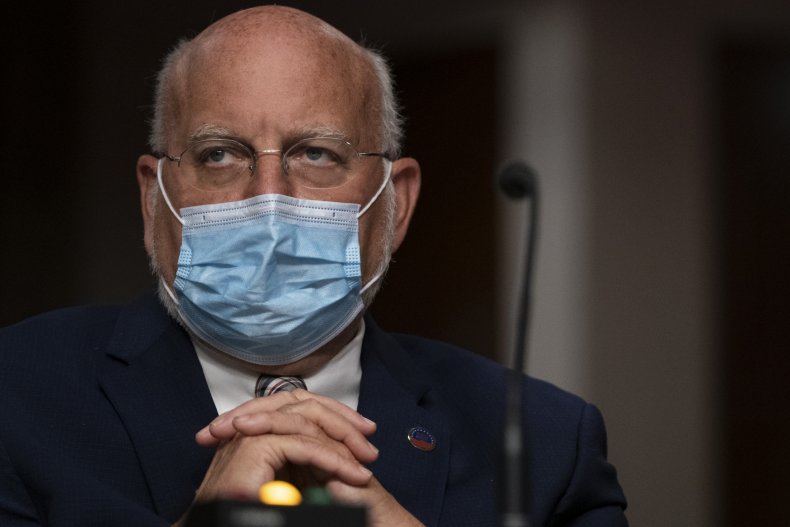 As SARS-CoV-2 spreads, officials are worried a variant will emerge that evades vaccines. A nightmare scenario, it would require scientists to develop a new vaccine and the world to revaccinate entire populations.
One way to help prevent a vaccine-resistant variant from emerging is to hinder the virus' ability to spread. While limiting interactions with other people and wearing a mask can help achieve this goal, Redfield and other health officials have been urging people to get vaccinated, as it's the best defense the world has against COVID-19.
Nearly 60 percent of America's population has received at least one dose of a COVID-19 vaccine and more than 70 percent of the country's adults are at least partially vaccinated. However, it's not enough to reach herd immunity and adults who haven't been inoculated are hesitant to get the shot.
States and cities have tried various incentives, including college scholarships, money and free food, to get people vaccinated, but it's failed to significantly move the needle. With increased vaccination requirements to dine indoors, go to work and serve in the military, officials are hopeful people will make an appointment to get vaccinated.
It's not enough to just vaccinate the United States, though, and the World Health Organization warned failing to vaccinate the world will only exacerbate the pandemic.
Along with increasing the number of people who are getting vaccinated, Redfield stressed the importance of maintaining immunity in America's most vulnerable populations. Focusing on those who are most likely to get seriously ill with COVID-19 could help reduce strains on hospitals and decrease the number of future deaths.