Trump Celebrates Jeff Zucker's CNN Resignation With Call to End 'Fake News'
In the latest development in their ongoing feud, former President Donald Trump is celebrating the news that CNN President Jeff Zucker's resignation.
"Jeff Zucker, a world-class sleazebag who has headed ratings and real-news-challenged CNN for far too long, has been terminated for numerous reasons, but predominantly because CNN has lost its way with viewers and everybody else," Trump said in a Wednesday statement.
Earlier Wednesday, Zucker announced his resignation, although he cited his failure to disclose his relationship with another top executive at the network for the departure—not due to CNN's ratings as Trump alleged.
"Now is a chance to put Fake News in the backseat because there may not be anything more important than straightening out the horrendous LameStream Media in our Country, and in the case of CNN, throughout the World," Trump said. "Jeff Zucker is gone—congratulations to all!"
In an abrupt move, Zucker is leaving CNN after nine years at the company, saying he had not disclosed a relationship with a colleague when asked about it during the network's investigation into former anchor Chris Cuomo.
While Zucker did not name the colleague, CNN host Brian Stelter has confirmed the relationship is with Allison Gollust, the network's chief marketing officer.
She will be remaining at CNN despite Zucker's departure.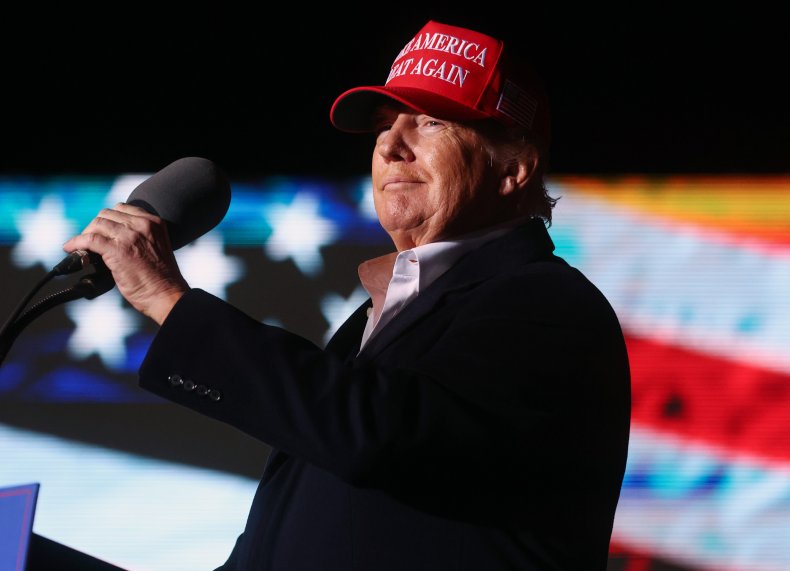 Zucker and Trump have had a long and contentious relationship, beginning when, as president of NBC Entertainment, the CNN head made the decision to green-light Trump's reality show The Apprentice.
In 2012, Trump vouched for Zucker when he was being considered for the top position at CNN, tweeting, "Great move by CNN if they sign Jeff Zucker. He was responsible for me and The Apprentice on NBC—became #1 show!"
However, the relationship soured as the two publicly sparred during Trump's 2016 presidential campaign and through his time in office, with the former president infamously dubbing CNN "fake news."
Two months before he won the election, Trump tweeted: "Jeff Zucker failed @NBC and he is now failing @CNN."
The former president also banned CNN reporter Jim Acosta from the White House.
In response to the 2018 ban, CNN issued a statement reading: "This President's ongoing attacks on the press have gone too far. They are not only dangerous, they are disturbingly un-American. While President Trump has made it clear he does not respect a free press, he has a sworn obligation to protect it. A free press is vital to democracy, and we stand behind Jim Acosta and his fellow journalists everywhere."
Critics have pointed out that while the relationship may not be as friendly as it once was, Zucker provided a platform for Trump, specifically by airing many of Trump's rallies during the 2016 election cycle.
When asked about the amount of coverage Trump received on CNN, Zucker told journalist Ben Smith in 2015 that, "I think it's our role to report what he says. What he does. It's really not our role to build up a campaign or take down a campaign. It's our role to be skeptical of what every candidate puts out there."