Donald Trump Challenges Rex Tillerson to an IQ Test: 'I Can Tell You Who is Going to Win'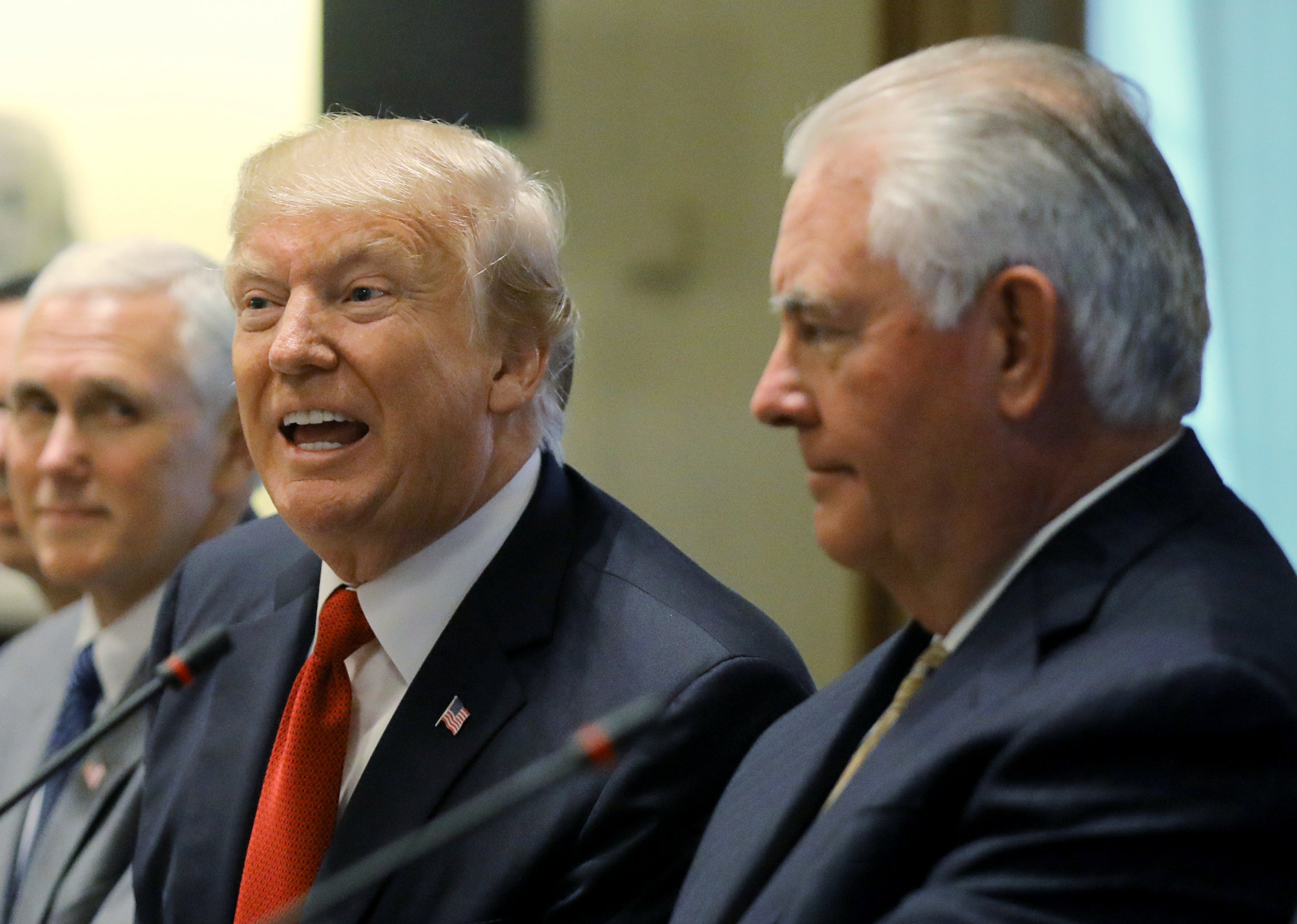 President Donald Trump is challenging Secretary of State Rex Tillerson to compare IQs nearly a week after reports surfaced that Tillerson called his boss a moron.
At first, after NBC News reported the Tillerson story, Trump said he thought it was "fake news."
Yet in a new interview with Forbes magazine published Tuesday, Trump said that if Tillerson "did that, I guess we'll have to compare IQ tests. And I can tell you who is going to win."
NBC News published the original story October 4 alleging Tillerson called Trump a moron. It followed a weekend where Trump appeared to undercut Tillerson's approach to diplomacy with North Korea over its intensifying nuclear weapons program.
After meeting with Chinese officials in Beijing September 30, Tillerson said during a press conference that America hoped to ease tensions with Kim Jong Un's regime "through talks."
Trump shot back the following day in a tweet that Tillerson "is wasting his time trying to negotiate with Little Rocket Man," a nickname the president gave to the North Korean dictator.
After the story about Tillerson insulting the president broke, Republican Senator Bob Corker, chairman of the Senate Foreign Relations Committee, came to the secretary of state's defense. Tillerson, Corker said, "is in a very frustrating place," where "he ends up not being supported in a way I hope a secretary of state would be supported."
Related: Tillerson, Mattis and Kelly are only thing saving U.S. "from chaos," says Republican Senator Bob Corker
When Trump was asked by Forbes about whether his comments undercut his chief diplomat, he said he tweeted because Tillerson "was wasting his time."
"I'm not undermining," Trump said. "I think I'm actually strengthening authority."
It's not clear who is smarter without the IQ tests to prove it. Tillerson led America's leading oil and gas company ExxonMobil for nearly a decade. He rose through the ranks at ExxonMobil after graduating with a civil engineering degree in 1975 from the University of Texas at Austin. The company had revenue of $218.6 billion in 2016.
Trump, on the other hand, owns the Trump Organization, which he has built himself and is valued at $9.5 billion. He graduated with a degree in economics in 1968 from the Wharton School of the University of Pennsylvania.
The president has often boasted about how smart he is. "I went to the Wharton School of Business," he said during a 2015 rally in Phoenix, Arizona, soon after announcing his candidacy. "I'm, like, a really smart person."