Trump's Chance of Winning Twice What It Was in 2016, Says Bookmaker
With less than two weeks to go until Election Day, Donald Trump has more than double the chance of winning than he had at this stage in the 2016 campaign, according to a leading bookmaker.
On Tuesday, Betfair put the president's odds of re-election at 7-4 (implying a 37 percent chance of winning re-election according to the bookmaker) to Joe Biden's odds of 4-7 (suggesting a 63 percent chance of taking the presidency). Those odds had not moved overnight and into Wednesday morning.
That is more than half the odds Trump was given two weeks before the 2016 vote.
Betfair data showed the president's chance of winning the election the first time around was given at 11-2 (implying a 15 percent chance of victory) 14 days out from Election Day. Hillary Clinton, on the other hand, had odds of 2-11 at the same point, suggesting she had an 85 percent of winning.
Betfair spokesperson Sam Rosbottom said: "Joe Biden's odds on Betfair Exchange of 4-7 (63 percent) puts him ahead of Donald Trump (7-4, 37 percent), but if 2016 is anything to go by, this election is far from over.
"At this stage in 2016, Trump had just a 15 percent chance of winning compared to Hillary Clinton's 85 percent, so is clearly no stranger to producing a stunning comeback. With key swing states like Florida too close to call, the race looks a good bet to go right to the wire."
Biden improved his odds by 4 percent during the first presidential debate, according to the Betfair exchange, and Trump will be hoping for a reversal in that trend after the second and final event in Florida on Thursday.
In that crucial swing state, the parties can't be separated with each candidate 20-21 (51 percent) to win. Trump won Florida in 2016 by just 1 percent of the vote—a state where 13 of the last 14 U.S. presidents have come out on top.
The odds in 2016 pointing to a decisive Clinton victory mirrored polls at the time which largely put her in the lead right up to polling day. The RealClearPolitics polling average showed Clinton's lead was 2.1 percent up to November 7, 2016—a day before the election.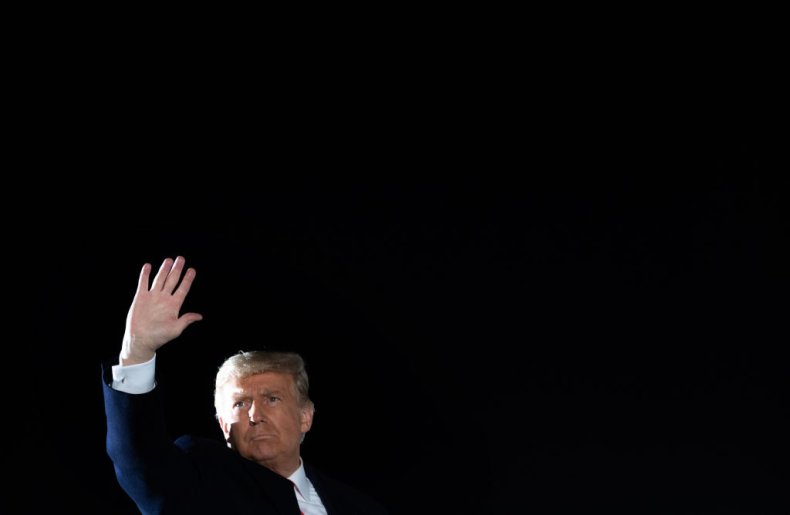 However, while it may be tempting to draw conclusions from the similarities between odds then and now—and the resulting defeat for the Democratic nominee—pollsters have warned against direct comparisons.
"I get comparing the polls now against the 2016 exit polls or post-election American National Election Study. That can help tell you where Biden is doing worse/better than the actual 2016 vote," Chris Jackson, head of public polling at Ipsos, told Newsweek in September.
"Comparing current polls against the polls at this time in 2016, however, I've never quite understood. Given how eventful this year is, I think it is pretty reasonable to temper any attempt to predict what will happen next."