Trump Calls for 'Change' in Iran, Sides With Protesters in Bloody Street Battles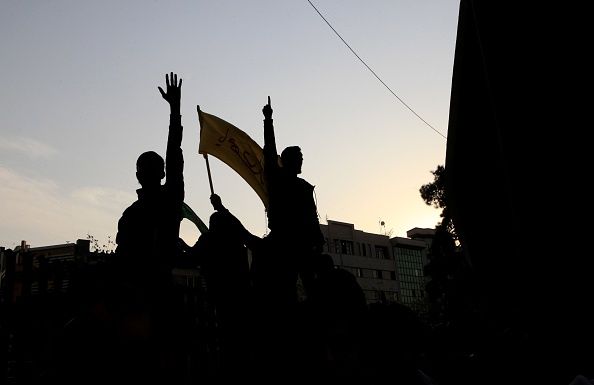 As large street protests spread quickly across Iran, President Donald Trump weighed in on Monday by calling for "change" in the Islamic Republic.
"Iran is failing at every level despite the terrible deal made with them by the Obama Administration. The great Iranian people have been repressed for many years," Trump tweeted. "They are hungry for food & for freedom. Along with human rights, the wealth of Iran is being looted. TIME FOR CHANGE!"
It is the second time Trump has mentioned the protests since they began on Thursday. "The USA is watching very closely for human rights violations!" Trump tweeted Sunday.
Trump's comments contrast significantly with those of former President Barack Obama in 2009 during similar street protests in Iran. Obama was cautious and tried not to weigh too heavily into Iran's internal affairs. But Trump, who has consistently taken a hard line against Iran and Obama's nuclear agreement with the country, made no effort to hide that he supports anti-government protesters.
But these overtures from Trump could actually hurt the protest movement, experts warn.
"The Iranian government uses anti-American sentiment—even though it has lost so much of its credibility now—as a propaganda tool to keep its revolutionary ideals alive. When U.S. officials comment on organic movements, they make it easier for the Iranian government to discredit public protests and suppress the crowd," Omid Memarian, an Iran analyst based in New York, told Newsweek. "If you want to help the government to accuse people with real demands, with real grievances of being pro-American or connected to the U.S., then send a message from Washington in support of them."
The protests that have spread across Iranian cities over the past four days are the largest since 2009, when some disputed the re-election of then-President Mahmoud Ahmadinejad.
Protests and vocal opposition to the government are rare in a country where the country's Revolutionary Guard maintains firm control over public order. The current demonstrations began in response to a sharp spike in the price of eggs, which many people saw as a symbol of the economic difficulties Iran faces. The country's leadership had promised that Iran would experience substantial economic growth after international sanctions were lifted in response to the nuclear deal struck between Iran and former President Barack Obama's administration. But although the sanctions have been lifted, and Iran has experienced some economic growth, protesters complain that the benefits have done little to boost the living standards of ordinary Iranians.
The protests quickly turned political. Protesters began calling for the release of political prisoners and an end to the regime of religious clerics. Some protesters also criticized Iran's focus on foreign policy issues, such as the conflict in Syria, saying that the government should focus more on what is happening at home.
"People are overwhelmed with the level of corruption, economic inequality and favoritism, and that there is no public forum to speak their minds. The frustration has been doubled since the nuclear deal. In order to sell the deal to the people, [President Hassan Rouhani] raised the expectations so high, but the deal did not translate to meaningful changes in people's daily lives," Memarian told Newsweek.
At least 10 people were killed on Sunday as the protests turned violent. Armed protesters tried to storm police stations and military bases, and were met by armed security guards. The government also made moves to shut down social media channels where people organized the demonstrations and spread calls to action.Hundreds are believed to have been arrested.
In an address broadcast on state television on Sunday, Rouhani said Iranians have the right to criticize authorities, but he also warned that violence would not be permitted. "The government will show no tolerance for those who damage public properties, violate public order and create unrest in the society," Rouhani said.
The president also used the opportunity to slam Trump for saying that the world is watching what is happening in Iran. "This gentleman in America, who is now trying to sympathize with our nation, appears to have forgotten that he called the Iranian nation terrorists several months ago," Rouhani noted.