Impeach Trump? Charlottesville, Russia and Health Care Are All Bad News for White House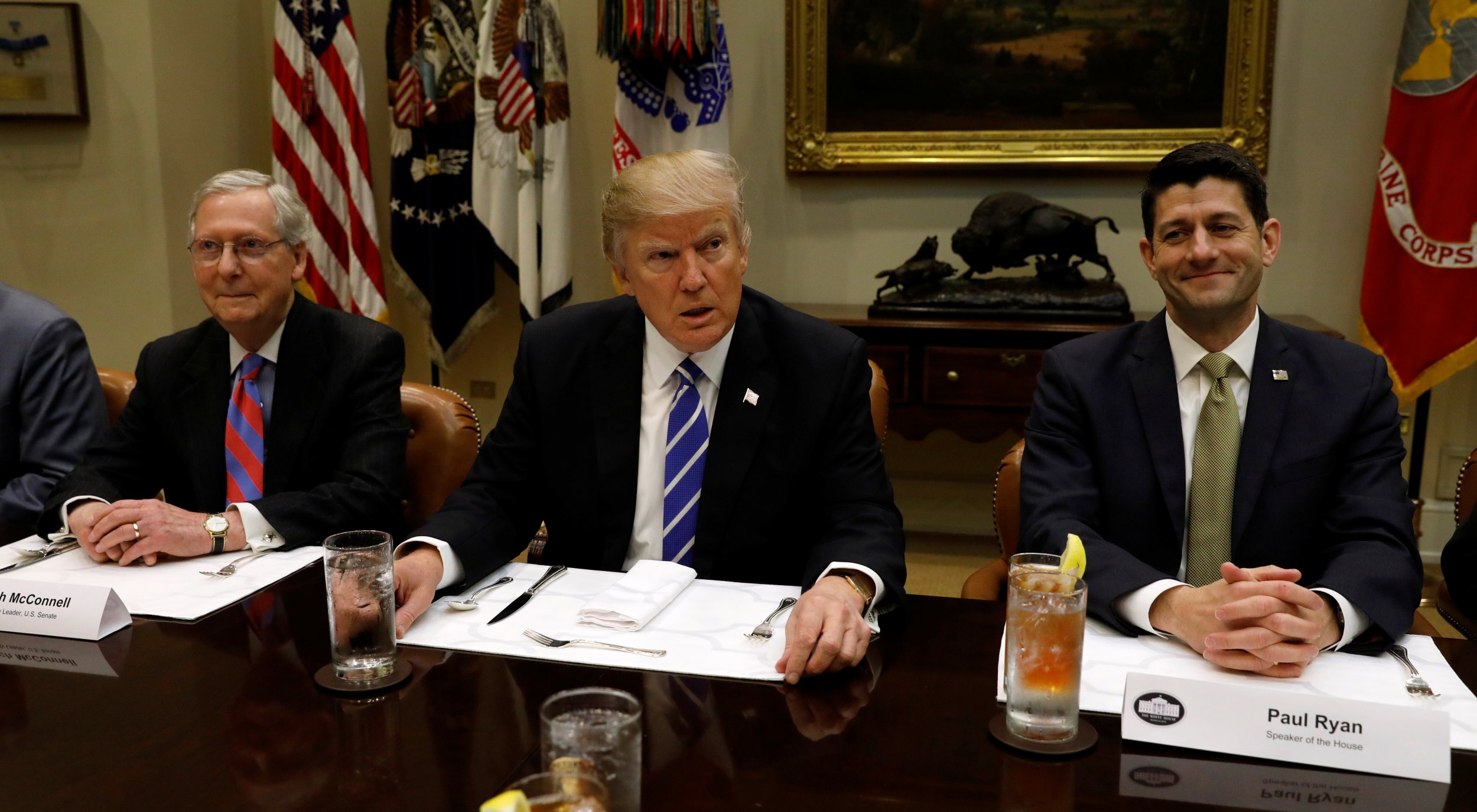 Already engaged in a war of words with the leadership of his own party, President Donald Trump may have further imperiled his future with his initial failure to condemn white supremacists in the aftermath of violent rallies held in Charlottesville, Virginia, over the weekend. One woman was killed and 19 others injured when a car plowed into a group of counterprotesters on Saturday.
Related: Trump should have condemned AntiFa, say supporters, after president finally calls out white supremacists
Addressing the incidents, Trump initially declined to specifically call out the rallying white supremacists and neo-Nazis and instead condemned the "egregious display of hatred, bigotry and violence on many sides—on many sides."
The comments were swiftly criticized by several leading Republicans for not going nearly far enough.
"We should call evil by its name. My brother didn't give his life fighting Hitler for Nazi ideas to go unchallenged here at home," tweeted Orrin Hatch of Utah, the president pro tempore of the Senate.
The message was echoed by Colorado Senator Cory Gardner. "Mr. President—we must call evil by its name. These were white supremacists and this was domestic terrorism," he wrote on Twitter before expanding on his remarks Sunday on CNN.
"This isn't a time for innuendo or to allow room to be read between the lines," said Gardner, a Coloradoan who is considered a rising star in the party. "This is a time to lay blame,"
"This president has done an incredible job of naming terrorism around the globe as evil," Gardner continued. "He has said and called it out time and time again. And this president needs to do exactly that today."
Lindsey Graham, who has been one of the few Republicans willing to rebuke Trump in the past, shared similar sentiments.
"When it comes to President Trump, I'm with Cory Gardner," the South Carolina senator told Fox News. "He missed an opportunity to be very explicit here. These groups seem to believe they have a friend in Donald Trump in the White House. I don't know why they believe that, but they don't see me as a friend in the Senate, and I would urge the president to dissuade these groups that he's their friend."
Florida Senator Marco Rubio, who ran against Trump in the Republican primary but has thus far been supportive of him as president, had a similar message for the president.
"Very important for the nation to hear @POTUS describe events in #Charlottesville for what they are, a terror attack by #whitesupremacists," he wrote.
The White House later released a statement specifically calling out the KKK, neo-Nazis and "all extremist groups," but it was not signed by the president himself. It wasn't until Monday that Trump specifically called out those groups and stated that "racism is evil."
Still, the reaction from Republicans to Trump's initial remarks represented the strongest criticism yet of the president from his own party since he ascended to the White House. Coupled with Trump's engaging in fierce criticism of Senate Majority Leader Mitch McConnell, it is further evidence of a sizable rift opening up between the president and his own party, with the potential for dramatic consequences for the man in the Oval Office.
In his initial months in the job, Trump has suffered record-low approval ratings, been lambasted for controversial policies and seen a ratcheting up of an investigation into potential collusion between his campaign and Russia. Yet Republicans have for the most part fallen in line with the president, eager to make the most of a historic opportunity: control of the White House and both houses of Congress.
That began to change when Trump openly criticized his attorney general, Jeff Sessions, last month over his decision to recuse himself from the Justice Department's Russia investigation. Multiple Republicans criticized his comments and rejected any notion of Trump forcing Sessions out of his job.
Then came the dramatic failure to pass a bill repealing and replacing Obamacare. In the aftermath, Trump lashed out at McConnell, a man who, at least for the time being, will need to be instrumental if Trump is to register any legislative achievements. McConnell hit back, laying the blame at Trump's inexperience and his "excessive expectations."
The party's third-ranking Senate member, John Thune, signaled that the attitude among Republicans had shifted. "I wouldn't say ignore the White House, but certainly not be distracted by it," he said earlier this month.
While Trump painted himself as an outsider during his campaign, openly criticizing the Republican establishment, his rift with the party comes at a particularly perilous time. Potentially emboldening Republicans to speak out against the president are his plummeting approval ratings, which indicate his key supporter base is shrinking. Following the events in Charlottesville and Trump's reaction to them, his approval rating from Gallup reached a new low on Sunday, dropping to just 34 percent. At the same time, his disapproval rating reached a new high, increasing to 61 percent.
Trump's approval rating is now just 10 points higher than it was for Richard Nixon when he resigned after his party abandoned him amid the Watergate investigation, signaling that his impeachment was inevitable. That means that a loss of Republican support could endanger Trump's very future in the White House.
Thus far, while some Democrats have gone as far as to call for his impeachment, he has been insulated from the investigation into possible ties between his campaign and Russia by Republicans on House and Senate committees and Republican control of the House and the Senate. Yet should his approval numbers continue to fall, it may just be a matter of time before the Republican drift away from Trump becomes a stampede.