White House Chief of Staff John Kelly to Leave 'At the End of the Year,' Trump says
Amid reports that White House Chief of Staff John Kelly would either be resigning or forced out in the coming days, President Donald Trump confirmed on Saturday that Kelly will be leaving "at the end of the year" and that he will announce his replacement in the next day or two.
"John Kelly will be leaving, I don't know if I can say retiring but great guy," Trump told reporters on the South Lawn of the White House. "John Kelly will be leaving at the end of the year. We will be announcing who will be taking John's place, it might be on an interim basis."
Kelly, a retired four-star Marine general who was brought on to end the chaotic nature within the West Wing, replaced former chief of staff and former Republican National Committee Chairman Reince Priebus in July 2017. This summer, it was reported that Kelly was asked by Trump to remain in his position until at least 2020. Last month, the president told various outlets that the White House was running smoothly and Kelly was doing a fine job.
The relationship between Trump and his chief of staff had reportedly been soured for some time, however, becoming so poor recently that the two men reportedly no longer speak to one another. It was also revealed that Kelly given an interview to special counsel Robert Mueller within the past few months, answering a narrow set of questions on potential obstruction of justice committed by the president, according to a CNN report.
It's not the first time officials within the White House and administration had said they believed Kelly would soon be forced out. There were reports of the chief of staff's imminent departure from the West Wing dating back to February, with numerous other reports emerging multiple times since then.
This time, those familiar with the matter suggested things could be different--and they were right.
Rumors have swirled around the possibility that Vice President Mike Pence's chief of staff, Nick Ayers, could be Kelly's replacement. The affluent, 36-year-old political consultant, worth roughly tens of millions of dollars, would be a stark contrast to that of the 68-year-old retired Marine general.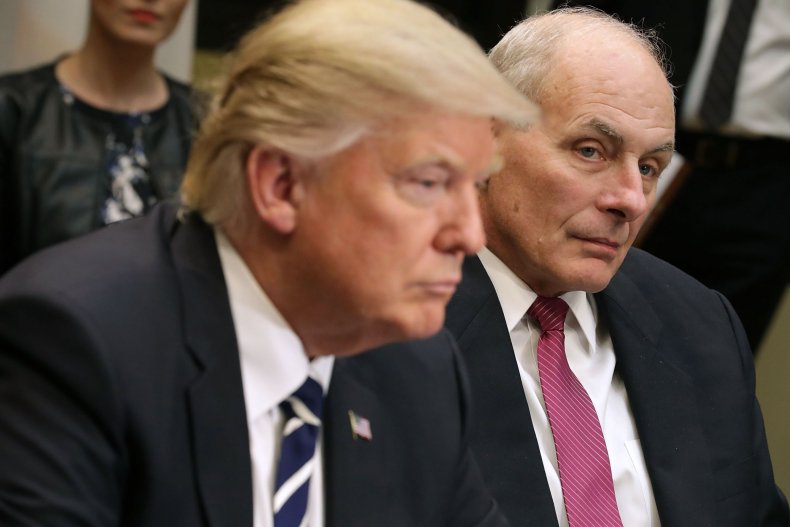 No matter who the president will pick to replace him, Trump's ghostwriter and co-author of Trump: The Art of the Deal, suggests that it will not be able to curb the reported chaos inside the White House as Mueller's investigation continues to produce bombshell reports about the president's former close confidants. In essence, Tony Schwartz, the man who came to personally know Trump after writing his 1987 book, told Politico that Trump's new chief of staff pick will not make a bit of difference.
"A chief of staff for Donald Trump is a factotum and will have virtually no influence," Schwartz said. "Trump's chief of staff is Trump and always will be."
Schwartz, who now heads the consulting firm The Energy Project, has been an outspoken critic of the president since he took office.
When asked if he believed there were any of Trump's past advisers in the business world who successfully restrained him from his brash statements and decision-making, Schwartz said "No, and not even close."