Trump's Acting Chief of Staff on Administration Doing Quid Pro Quo: 'We Do That All the Time'
Acting White House chief of staff Mick Mulvaney admitted Thursday that the administration temporarily withheld aid to Ukraine for President Donald Trump's political gain. Then when reporters noted that was a "quid pro quo" deal, Mulvaney told them to "get over it."
"We do that all the time with foreign policy," Mulvaney said during a White House press briefing. "There's going to be political influence in foreign policy."
ABC News correspondent John Karl kicked off the issue by asking Mulvaney why the administration decided to suspend nearly $400 million in U.S. support to boost the nation's effort to fight off Russia. The order to withhold the funds was made days before Trump July 25 phone call with Ukrainian President Volodymyr Zelensky, during which Trump asked the foreign leader to do him a "favor" and investigate former Vice President Joe Biden and his son.
"You were directly involved in a decision to withhold funding from Ukraine. Can you explain to us now differently why, why was funding withheld?" Karl asked.
In a lengthy answer, Mulvaney told reporters that the decision to withhold aid had "absolutely nothing to do with Biden" and instead was connected to an investigation of the hacking of the Democratic National Committee during the 2016 election.
"The look-back to what happened in 2016, certainly, was part of the things that he was worried about in corruption with that nation, and that is absolutely appropriate," Mulvaney said. He later added that Ukraine did eventually get the withheld funds.
"But to be clear, what you just described is a quid pro quo, it is funding will not flow unless the investigation into the Democrats' server happens as well," Karl asserted. That's when Mulvaney admitted that quid pro quo deals happen often in foreign policy.
"I have news for everybody: Get over it," Mulvaney said. "That is going to happen. Elections have consequences, and foreign policy is going to change from the Obama administration to the Trump administration."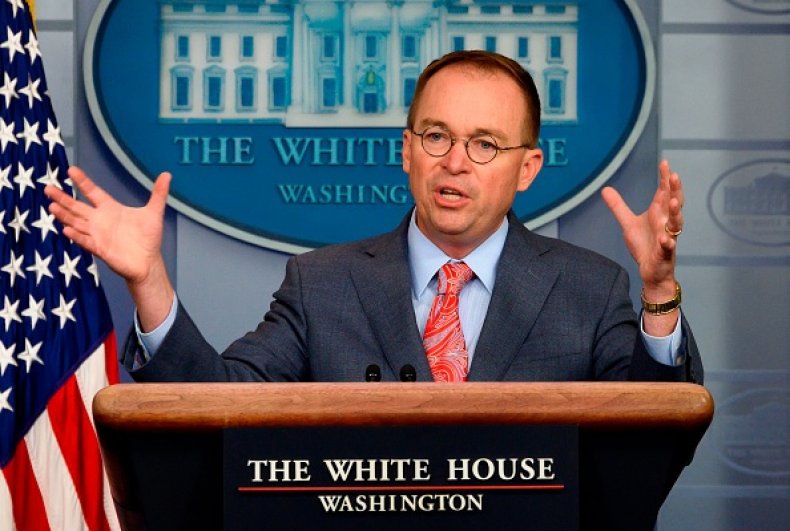 The White House has vehemently denied any quid pro quo deals between Trump and Zelensky. The administration also released a rough transcript of the phone call between the two leaders, which showed that Trump never explicitly used the term "quid pro quo."
But the phone call was so concerning to one official in the intelligence community that they filed a whistleblower complaint. The complaint detailed concerns that Trump was "using the power of his office to solicit interference from a foreign country in the 2020 U.S. election.
News reports of the whistleblower complaint prompted House Democrats to launch an official impeachment inquiry against Trump. As part of the inquiry, lawmakers requested testimony from U.S. Ambassador Gordon Sondland, who has emerged as a key figure in the Ukraine controversy.
Leaked text messages show that Sondland reassured another envoy that there was no quid pro quo between Trump and Ukraine. The ambassador is expected to tell lawmakers on Thursday that his claim is based on what he was told directly from Trump and that he has no knowledge of whether or not the president was being truthful.
"I asked the president: 'What do you want from Ukraine?'" Sondland said in a planned statement to House investigators. "The president responded: 'Nothing. There is no quid pro quo.'"